zář 06 27
Pokud jste ještě neslyšeli/nečetli, Atlas do svých služeb zařadil českou podporu ICQ (článek na Lupě). Chtěl jsem si zkusit, jestli se ICQ třeba nějak pozitivně nezměnilo od doby, co jsem ho před lety opustil jako reklamami přetékající barevnou kýčovitou ohavnost (dobře, moc jsem tomu nevěřil).
První pozitivní věc: web ICQ.com sám pozná, že jste z ČR (asi určitě z IP) a rovnou vám nabídne Atlas mini web. Už samotná instalace je celá česká, jednoduchá a docela rychlá. Nějakou divnou lištu do prohlížeče jsem určitě nechtěl, tedy, jak vypadá a co umí, netuším.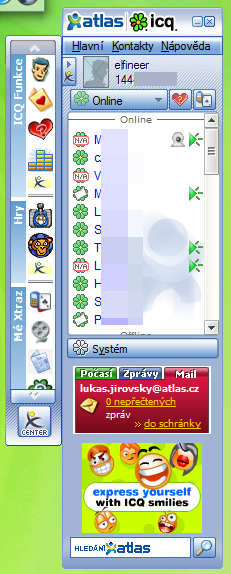 Pak se po krátkém vyplnění čísla&hesla ozval zvuk sirény (který jsem po tak dlouhé době už skoro zapomněl), naskočily mi moje kontakty (nezbývá než doufat, že všechny) a k tomu ještě pár zbytečností. Poznámka ke kontaktům: udivilo mě, kolik lidí si mě vůbec neautorizovalo – Miranda to pro zobrazení stavu nevyžaduje, tak sem to po nich asi nechtěl ani já :-). Zbytečnosti: když mi vyskočilo okno, že když se zaregistruju na Atlasu, tak získám 1GB mail a přístup k novým Atlasovým službám, tak jsem si tedy založil lukas.jirovsky­@atlas.cz. Sem mi prosím nikdy nic neposílejte, rozhodně ji nechci používat, byl jsem zvědavý na ty speciální služby. Mám ale pocit, že jediná změna oproti bez registrace je, že mi záložka mail říká 0 nepřečtených mailů. Integrace mailu do icq je pro normálního uživatele věc možná hezká, pro mě bohužel něco mezi hmmm… a k ničemu.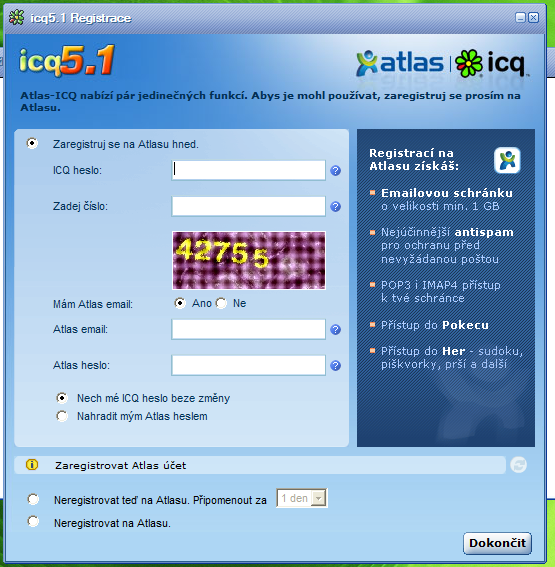 Chtěl ozkoušet všechny ty super služby. Už jsem absolvoval několik velmi podobných rozhovorů ve stylu:
Proč ti nejde ta hra?
- Já mám Mirandu.
Co to je?
- To je jako kdyby tvůj mobil uměl jen smsky a nic víc.
A proč?
- Protože nechci barevný hnusný icq s reklamama…
Ty mi nevaděj a icq se mi líbí. K***a dej si icq, ať si můžem zahrát…
No, ICQ welcome není tak úplně služba, spíš funkce, která by mě osobně vadila (já vím, že se dá vypnout, prý to dělá jen 10% uživatelů). To, že ji Atlas převedl do české podoby byl IMHO geniální tah, protože uživatelé (kteří ji často fakt jen neumí vypnout) už nejsou otravováni USA nesmysly a Atlas získá hromady (byť jen příležitostných) čtenářů. Hodně lidí příjde do práce, zapne počítač a hele, Sámer už zase (ne)spí s Agátou!. Jen moc nechápu, proč ICQ naprosto ignoruje defaultní prohlížeč a otevírá vše v IE (zvolený prohlížeč respektuje i můj RSS zápočťák :)).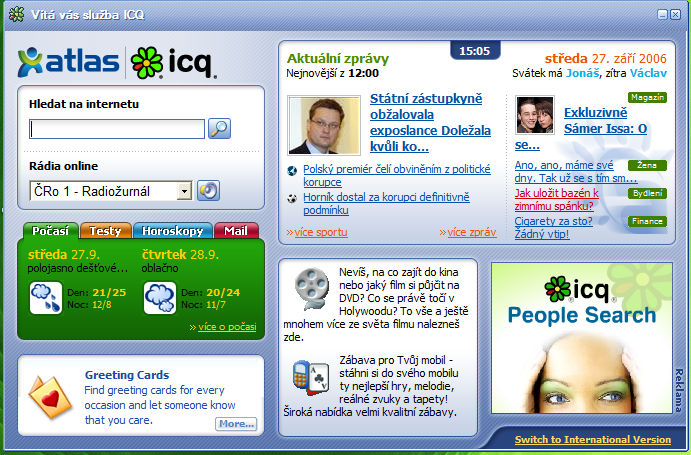 Na smsky zdarma na mobil jsem se docela těšil – sice by mě nedonutily přejít na originálního klienta (s O2 Pohoda mi stejně dost SMS ještě propadne), ale posílaly by se hezky pohodlně. Bohužel to zatím nejde (i když u O2 by snad už prý pomalu mělo), ale určitě pak půjdou i v Mirandě nějakým plug-inem.

O vysílačce (push-to-talk) jsem si ze začátku myslel, že to je jen marketingový nesmysl, ale je to docela hezká funkce. Naštěstí musíte potvrdit výzvu (to je zrovna divný překlad) před každým vysílačkovým pokecem, nehrozí, že by se vám jen tak znenadání ozvalo z počítače Kde jsi, vole?. Jinak je samozřejmě dostupný tradiční Voice chat.
Překvapením pro mě bylo, kolik lidí prý má webkamerku… Tak jsem na ni zkusil kliknout, jestli se třeba objeví nějaký další informace nebo jestli to začne rovnou volat. Volat to začalo (to by i smysl dáválo), ale moc úspěšný jsem nebyl.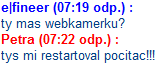 Mezi další funkce patří třeba tlačítko se zprávami, novinkami z filmů, vlastní tlačítko poblíž statusu mají hry na mobil od Redbosse (to sice chápu z pohledu vydělávání peněz, ale trochu mi uniká, co to má společného s ICQ a tak).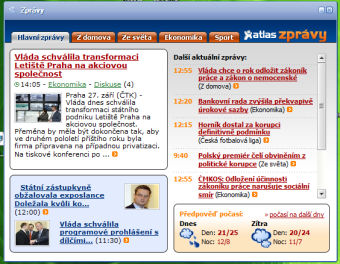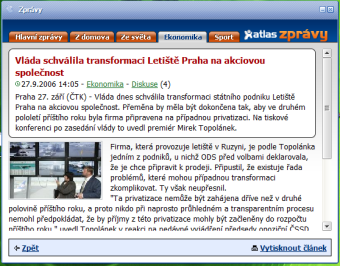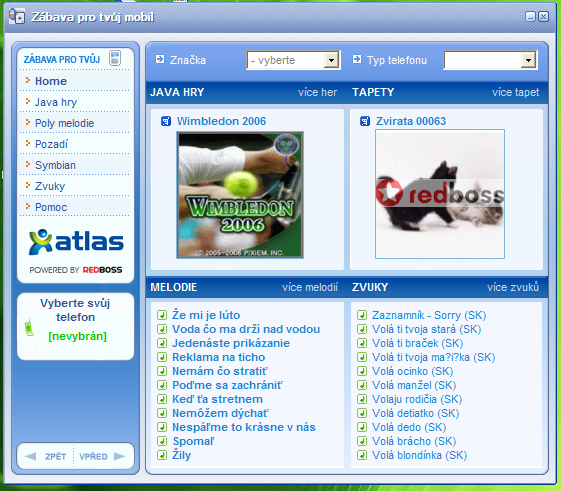 I v české verzi samozřejmě zůstávají Xtraz věci jako nakreslení vlastního smajlíka nebo InstantMatch. To je snad jeden z největších nesmyslů, který šlo do ICQ přidat – u každého kontaktu zvolíte na teploměru své sympatie či co a pokud jste si navzájem s někým jiným zvolili nejvíc, tak vám to řekne, že byste spolu měli chodit. Tak bacha, ať se třeba neukliknete u kontaktu Táta.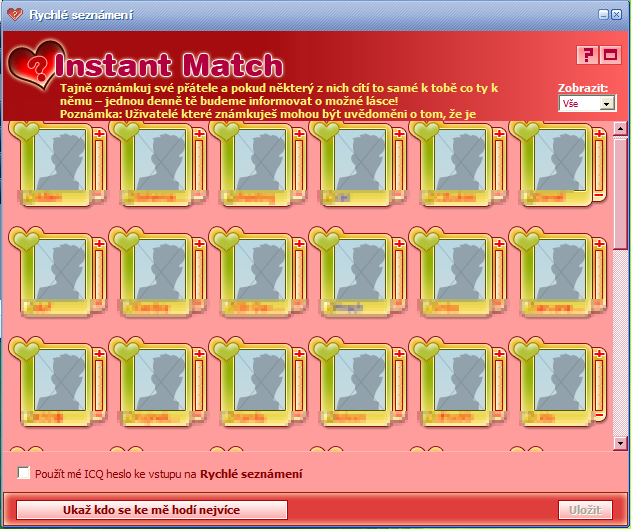 Myslím si, že se ICQ Atlasu vážně povedlo. Ale je přesně jen pro ty uživatele, kteří jej používali doteď v angličtině a teď získávají jen hromadu českých výhod (nejen jazyk). Pokud jste přešli na něco jiného (Trillian, Miranda…), asi moc dobře víte proč :). Mě osobně vyhovuje Miranda, případně Skype (mikrofon, posílání souborů), už třeba proto, že ten jde cestou normálního programu a ne nečeho divně barevného, kde skoro nemůže okraj okna ani svírat pravý úhel. Jo a taky mě nechce s nikým seznamovat...
pondělí 27. září 2006, 23:01 - 27533× shlédnuto - RSS komentářů - tagy: icq atlas portály
Nepřehlédněte
Média a svět (ČT24) o souboji Atlasu a Centra

(13. 11. 2006)

Včerejší pořád Média a svět na ČT24 byl věnován souboji o pozici dvojky na českém portálovém trhu. Hosty byli Aleš Miklík z Lupy a Jakub Unger z Aktuálně.cz. Naprostý laik se jistě dozvěděl něco nového a ani zběhlý čtenář Lupy se nenudil. Mimo metodiky měření NetMonitoru a mírné nahlédnutí k Aktuálně se řešilo také zvyšování návštěvnosti Idosem, nové reklamy či inspirace obou portálů americkým Yahoo!.

Pohled na nové Centrum.cz

(28. 09. 2006)

Nová verze Centra bude pravděpodobně kompletně spuštěna 4. října (aspoň tak soudím podle bannerů), už teď ale můžete náhlednout do beta verze kliknutím na záložku na hlavní stránce.
---
Reklama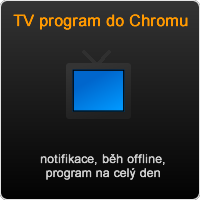 Reklama
Kvalitní domény, levný webhosting
Vyzkoušejte spolehlivý Český hosting. www.cesky-hosting.cz
Facebook tipy
Moje weby
---