led 09 06
Když jsem dopoledne četl Suchoschův článek o smazání videí na YouTube, schválně jsem koukal, jak si stojí má dvě novácká videa – už pár let starý videoklip z první řady SuperStar, na kterém jsem si chtěl taky zkusit na YouTube něco nahrát, a pak ukázka nové znělky zpráv, protože např. znělky (identy) různých televizí mi přišly docela zajímavé. Dopoledne tam ještě obě videa byla.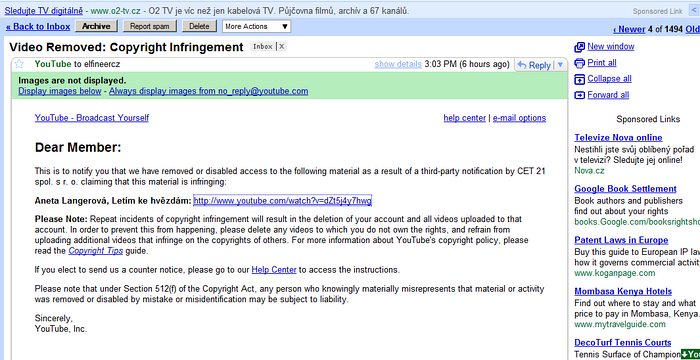 /
Odpoledne mi přišly dva maily o postupném smazání obou videí (přesněji řečeno v 15:03 a v 15:26) – mimochodem první AdSense v mailu se povedla. Upřímně řečeno mi to je úplně fuk, Nova na to ale právo určitě má. O tom, jestli to má smysl, bych si dovolil pochybovat. Neřekl bych, že YouTube je jenom bezva reklama a všichni pak půjdou na web Novy hledat další kvalitní obsah – když třeba budete chtít někomu ukázat jednu scénku, tak YT postačí bohatě. Ale obecně svou roli v propagaci určitě sehrát může, např. videoklip Óčka se mi vnutil jako doporučené video (Recommended for You) a video pochází přímo z oficiálního kanálu Óčka. Podobně tak dává na internet část zpráv Z1.
Potvrdilo mi to ale, že je dobře, že jsem si nespojil YT login s Google Accountem (nezablokovali mi ani YT login, ale kdyby to chtěli udělat, tak – čistě pro jistotu – nespojovat to s téměř 5 lety mých e-mailů, i když nemyslím, že by pak rušili celý GA). Zajímalo by mě, jestli Google televizím zpřístupní nějaké rozhraní, kde si jen vybírají videa, která jsou jejich, a nebo nějaký brigádník prochází přes Related Videos a kopíruje adresy do výhružného mailu :).
Například videa americké NBC jsou rozpoznávány samy, viz můj loňský pokus.
sobota 6. ledna 2009, 22:47 - 26658× shlédnuto - RSS komentářů - tagy: youtube televize webdesign
---
Reklama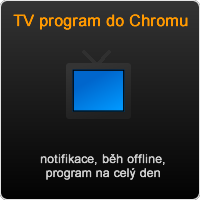 Reklama
Kvalitní domény, levný webhosting
Vyzkoušejte spolehlivý Český hosting. www.cesky-hosting.cz
Facebook tipy
Moje weby
---