zář 10 26
Letos jsem byl prvně na WebExpu a zde je mých pár poznámek k přednáškám, na kterých jsem byl. Nesnažím se o nějaké vyčerpávající informace, takže to nebudu ani cpát na Weblogy, ale poslední dobou zjišťuji, že se mi blog dost hodí i na poznámky pro mě.
Den první
Bohužel jsem přišel hned o první přednášku (SEO nástoje), protože jsem stál stále ve frontě.
Každopádně Petra Brodilová, 6 tipů pro online video byla perfektní přednáška. Zábavná, až do oběda jsem slyšel v hlavě "ňam, ňam, bobík!" a třeba nikdy dřív jsem si neuvědomil, jaký může mít video SEO význam (snaha vnutit uživateli ve vyhledávání video, když nemám tak dobrý web). Jinak analytické nástroje na video na YouTube jsem i myslím znal (dost na to, co potřebuji – tzn. na video bohatě základ).
David Špinar, Search Engine Marketing v roce 2010 – super, zábavné, ale myslím, že jsem si odnesl jen "pozor na informační architekturu". Seděl jsem přitom ale tak nešikovně na schodech, že mi dost úsilí zabrala snaha pohnout nohou, abych s ní mohl ještě někdy hýbat a přitom nenakopnout slečnu vedle mě do zadku a nebo nešlápnout do tašky sobě nebo člověku přede mnou. Takže mi možná věco uniklo.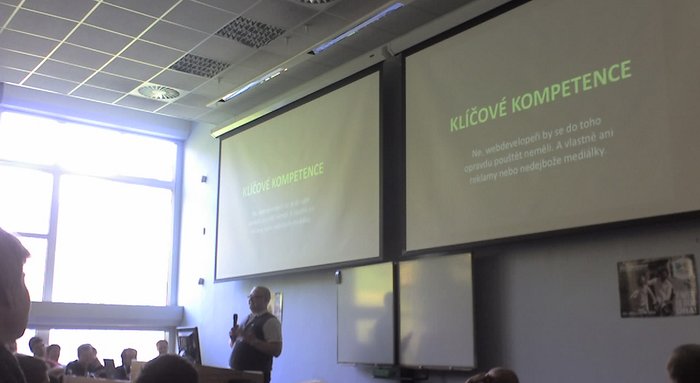 Po obědě jsem si, přiznávám, trochu hrábnul do medu a vybral přednášky špatně. Nebyla to chyba přednášejících, měli to perfektně připraveno, byla to chyba moje, byly nějak příliš developer. Každopádně jsem přitom přišel o jedny z nejlepších z celé konference (podle ostatních), takže doufám, že pak budu moc na Streamu dohánět.
Petr Dvořák, Mobilni webové služby pohledem iPhone developera – fajn, jen já v Objective-C nikdy nic nepsal, hned tak asi nebudu, spíš mě zaujalo pár obecných tipů jako zamyslet se nad granulitou aplikace (malé kusy, rychle se natahují, ale zase velká latence sítě či naopak velké kusy…), používat správné HTTP kódy a ne všude 200 či pár poznámek o rychlosti, což jsou věci, které se mi můžou hodit v mobil HTML webech. Jo a zmínka o kódu 418 dobrá :).
Lukáš Hurych, Příprava Cappuccina za 30 minut – pěkná přednáška s ukázkou frameworku Cappuccino – krásná věc, ale pro mě není. Dělám weby, nedělám něco jako Mac aplikace běžící z prohlížeče. Koncept je to zajímavý, ale prostě nevyužiju (ani se toho Mac vzhledu nezbavíte).
Michal Till, Mobilní HTML5 aplikace se Sencha Touch – na tento framework jsem před pár dny koukal, říkal jsem si, že si počkám, co se dozvím na WebExpu chytrého a dozvěděl – pro mě není. Myslel jsem, že jde o něco jako iUI no a ono ne, přímo bylo zmíněno, že to není na "rozhezčení" HTML a přesně něco takového bych chtěl já. Ne nějakou divnou aplikaci, která celá běží někde mimo a body má prázdné. Spíš tedy něco na vyrobení firemní aplikace, ale ne třeba mobilní verze nějaké služby, kde chci, aby se chovala podobně jako zbytek webu a byla jen uzpůsobená pro mobil. Jo a navíc se za to platí 100 dolarů.
Peter-Paul Koch, The Touch Events – to byla bezvadná přednáška :). Extrémně zábavná (minimálně na developer rozhodně), perfektně připravená (sledující měli za úkol za si otevřít web quirksmode.or­g/touchevents/ a na něm si zkoušet, jak se různé věci chovají na různých telefonech – "porovnejte se sousedem a jeho Androidem".) I zajímavé úvahy nad budoucností jiných událostí v prohlížečích, než různé touch-start… Ale zase – já využiju v mobilu kliknutí a snad nic víc. Dovedl bych si ještě představit doubleclick nebo nějaký základní drag-n-drop, ale je mi tak nějak fuk, jak můžu na Apple věcech hýbat třemi kostičkami najednou. Ale ještě jednou, přednáška super, navíc třeba tip na službu PerfectoMobile byl dobrý (přesně ty věci, které bych od přednášek čekal, že se dozvíte něco, co by vás ani nenapadlo hledat).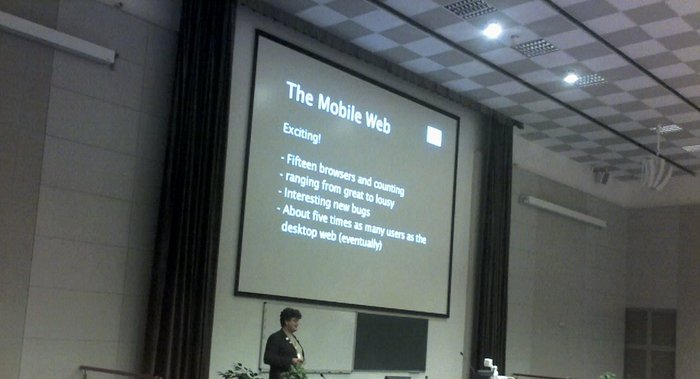 Laurence Moroney, WebMatrix: Development reloaded – prezentace "nějaké" Microsoftí věci, kde snad jako server je balík (nenastavujete propojení typu Apache-PHP, PHP-MySQL…) + spousta helperů, které až nápadně připomínají před 10 lety JavaApplety a takový ten Ctrl+C,V javas­cript. Mám trochu pochybnosti o budoucnosti této věci.
No a David Grudl, Nette Framework 1.0: příští VELKÁ věc a Digit, hlavně ten Digit bomba, u Nette jsem spíš obdivoval některé funkce.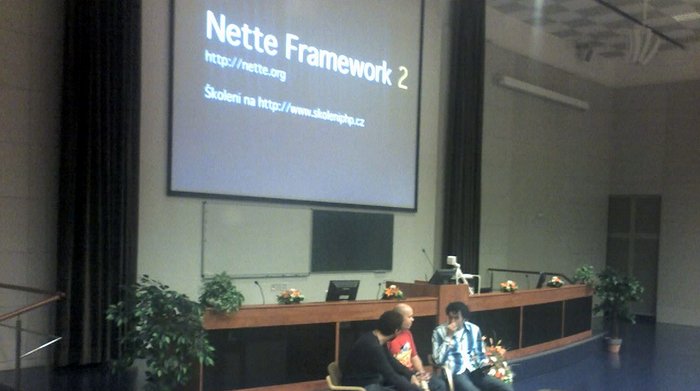 Den druhý
Už původně jsem měl většinu věcí vybraných na druhý den do Design hall, po poučení z dne prvního jsem radši vyházel i zbytek z Developer :).
Jiří Sekera, Vzory: dobrý sluha, ale špatný pán i Lukáš Zaplatílek, Kašlete na uživatele – obě velmi zajímavé přednášky, trochu podobné, vedoucí k zamyšlení (šířka koňského zadku → šířka něčeho na raketoplánu), ani u jedné jsem nekoukal na hodinky (občas to dělám, i když vysloveně netrpím :)), ale pravda, z ani jedné nemám nějaké výraznější poznámky.
Richard Fridrich, Čo ma naučili epické zlyhania na Centrum.cz – zajímavý, ale nesouhlasil bych s tím, že redesign je vždy zlo. Z nového Twitteru jsou nadšení snad všichni. Předělání vtelevizi.cz se mi taky asi povedlo :). Ale uživatelé Centra budou asi dost konzervativní.
Petr Douša, Lukáš Marvan, Testování použitelnosti – bezva, nevím, jestli bych na webu Fler.cz našel všechny věci, co našlo testování.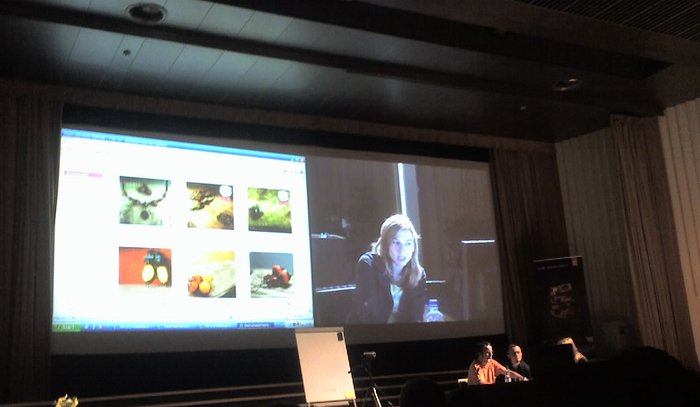 Jan Sládek, Ondřej Válka, Webdesignérův průvodce webem, který tu už máme – pěkně připravená přednáška, hlavně na uvědomění si všemožných zařízení jako mobil, lepší mobil, iPad.
Zi Bin Cheah, Designing for the Mobile Web – pamatuju si, že Opera má nějaký vykoumaný debugovací nástroj a zaujalo mě varování, že rozlišování klientů podle user-agentu apod. nemusí být úplně nejlepší. Neviděl bych to až tak vážně, ale když to říká někdo z Opery, tak na tom asi něco bude.
Radek Pavlíček, Přístupnost – návrat ke kořenům – používejte alt a nadpisy; co mi uniklo si pak přečtu na Poslepu.
Startup Show 2010 – žádná zajímavější přednáška to nepřebila, tak jsem zůstal v Design hall. Soutěžící projekty zajímavé (Bijk, Nicereply, HotGloo, SuperScout), vyhrál Bijk.
Ryan Singer, Designing from start to finish – na tu přednášku jsem se těšil asi nejvíc a zajímavá byla, ale možná jsem čekal něco jiného a ne jen nepoužívejte wireframy, když nemusíte.
A jinak
Na jednu stranu obdivuju organizátory za pořádný kus práce, s Dufem se ale dá téměř nic než jen souhlasit, i když bych nedělal z ČZU něco jako vesnici daleko za Prahou.
Páteční registrace byla fakt hrozná. Ve frontě jsem stál asi 40 minut.
Desky plné odpadu vážně mohly mít program a mapu. Nebo by stačilo, kdyby mi web předtím řekl, ať si program a mapku vytisknu (naštěstí jsem si vytisknul ten Osobní). Developer hall jsem hledal docela dlouho a díky absenci jakýchkoliv výraznějších popisků jsem nebyl sám.
iCal export osobního programu byl dobrý nápad.
Časy přednášek – mnohem lepší by bylo, kdyby bylo jasně vidět, od kdy do kdy přednášky jsou (a dodržovat to) a byla šance mezi nimi více přebíhat. Takle to bylo spíš vybrat si blok (vždy tak 3) a v něm setrvat, jinak člověk chodil různě doprostřed a podobně.
Microsoft měl fajn stánek.
U oběda bylo fajn potkat náhodou spokojeného uživatele mého webu, protože jsem si název napsal hrdě na jmenovku.
Stejně jako ostatní jsem získal nemorální Foursquare badge - fotka.
Je ale pravda, že nemám pocit, že bych si odnesl nějaké konkrétní tipy jako většinou z Google DevDayů, uvidíme ještě podle přednášek, co chci dohánět z videa (doufám, že bude) - jako na nový seriál na torrentu se budu těšit na přednášky z design hall - tu o kreslení obrázků, přednášku Lukáše Plíhala o kreativitě a tu následující. Jo a dost lidí bylo nadšených z nějakého architekta :).
pondělí 26. září 2010, 19:32 - 14556× shlédnuto - RSS komentářů - tagy: webexpo weby
---
Reklama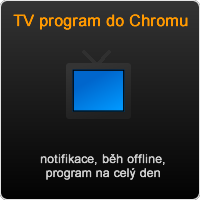 Reklama
Kvalitní domény, levný webhosting
Vyzkoušejte spolehlivý Český hosting. www.cesky-hosting.cz
Facebook tipy
Moje weby
---