lis 09 18
UPDATE (3/9/2011): Google se rozhodl službu Subscribed Links zrušit, viz informace na Google blogu.
Subscribed Links je funkce Googlu, která mě velmi zaujala na přednášce na Google Dev Dayi (článek o GDD na tomto blogu) a docela se divím, že jsem o ni do té doby neslyšel a podle ohlasů v sále na tom byli ostatní podobně.
Subscribed Links vám jako webmasterovi umožní vkládat do výsledků vyhledávání své odkazy a případně i další informace v nich. Řeknete, na jaké klíčové slovo se má zobrazit jaká odpověď, odkaz či gadget. Tato data se navíc aktualizují mnohem častěji než údaje o vašem webu. Jedinou podmíknou je, že uživatel nejprve na vašem webu potvrdí, že chce, abyste mu takto vylepšovali vyhledávání.
Příklad
Nejlepší bude příklad: naučný slovník může takto pro Google vyexportovat všechna slova se základními popisy a odkazem pro další významy, synonyma… Horoskop na dotaz "horoskop", "horoskop býk", "býk" a podobné může vypsat základní informace pro dnešní den s možností prokliku na web na další dny. Cestovka na dotaz "Egypt" zájezdy, oblíbené kino na aktuální název filmu čas, zpravodajské servery mohou klidně exportovat aktuální zprávy na klíčová slova jako "Paroubek", "ODS".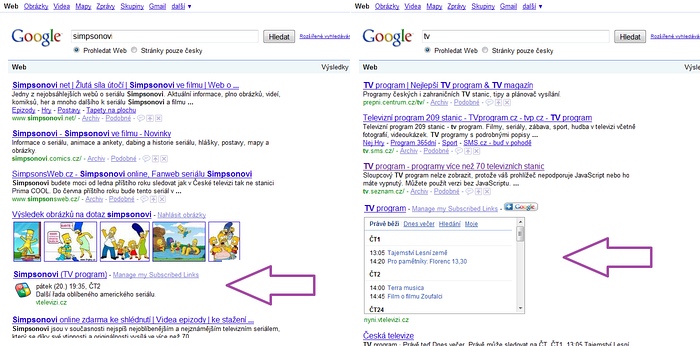 TV program
Já jsem toto řešení použil u svého TV programu. Uživatel klikne na odkaz, kterým potvrdí, že má o takovéto údaje zájem a potom, hledá-li například jméno filmu či seriálu, objeví se mu ve výsledcích vyhledávání na jakém kanálu a kdy pořad běží. Díky tomu, že Google si data aktualizuje velmi často, není problém používat například relativní datum (dnes, zítra...). Sami si to můžete vyzkoušet zde.
Navíc, protože můžete do vyhledávání vkládat i gadgety, po zadání dotazu "tv" se zobrazí gadget ukazující, co právě běží v televizi (obyčejný gadget pro iGoogle).
Technické řešení
Podrobný technický popis můžete najít na webu http://www.google.com/coop/manage/subscribedlinks/, kde také nejprve musíte svůj kanál zaregistrovat, já spíše popíšu svoje řešení.
Máte více možností, jak svoje informace Googlu poskytovat – například TSV (to samé jako CSV, ale místo středníků tabulátory), ale hlavně XML. V něm uvedete, na jaký dotaz má vyhledávač reagovat (Query) a jak má reagovat (Response). Můžete zadat, že půjde o gadget (format ="gadget") nebo sem u obyčejného odkazu napsat, kam povede a to s jakým textem a s jakým popiskem. Vzorový příklad: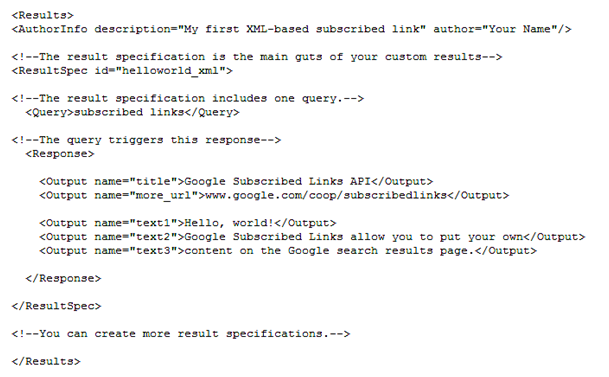 Pro ladění můžete jak použít funkci Test and troubleshoot a nebo si toto vyhledávání přihlásit a vyzkoušet, jak se chová, jak vysoko se zobrazují vaše odpovědi a podobně. Díky tomu, že je nutné se přihlásit, tak nikdo jiný vaše pokusy neuvidí. Tím se také dostáváme k tomu, jak získat odkaz, který pak budete nabízet svým uživatelům – v sekci Get button code naleznete tlačítko, které si můžete vložit na web, stačí z něj ale URL, na které vede odkaz.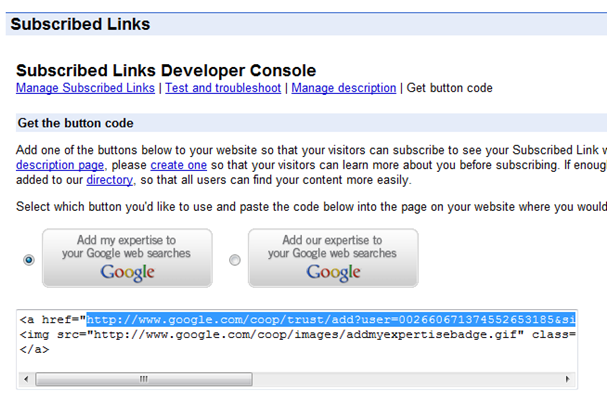 Já si nejprve vytvořil ručně XML s pokusným textem (stáhnout), to nahrál na web a jeho adresu vložil do administrace Subscribed Links pomocí Submit a new feed.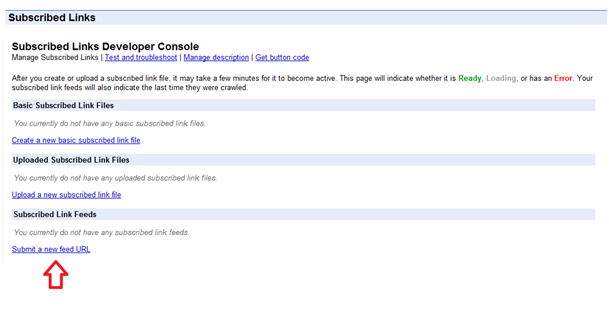 Testovací XML a výsledek: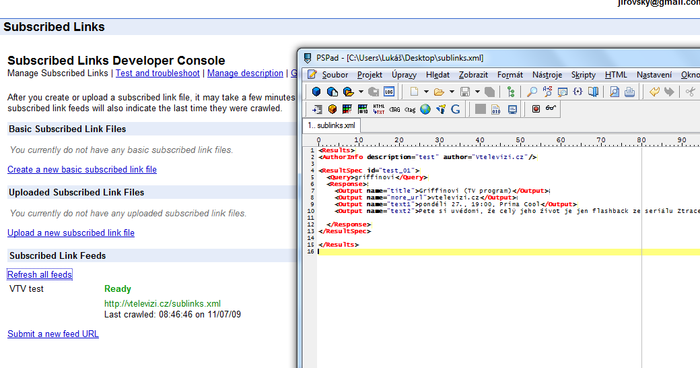 Jak přidat gadget?
Gadget do vyhledávání můžete přidat podobně, jen je nutné uvést adresu XML, které gadget popisuje (stáhnout jako text):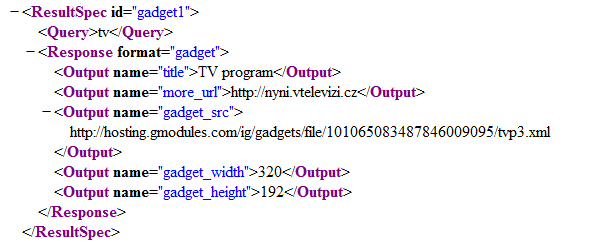 Ještě pár tipů
To je asi tak základní návod, jak generovat data do Subscribed Links, ještě pár tipů:
Tyto odkazy se zobrazují i v mobilní verzi Googlu na obyčejných telefonech (foto z Nokie N73). Nevím, jak moc uživatelů má přihlášený Google na mobilu (moc k tomu není důvod), ale hodí se o tom vědět a například s možností mobilu počítat a na cílovou stránku přidat rozskok podle UA (=User Agent).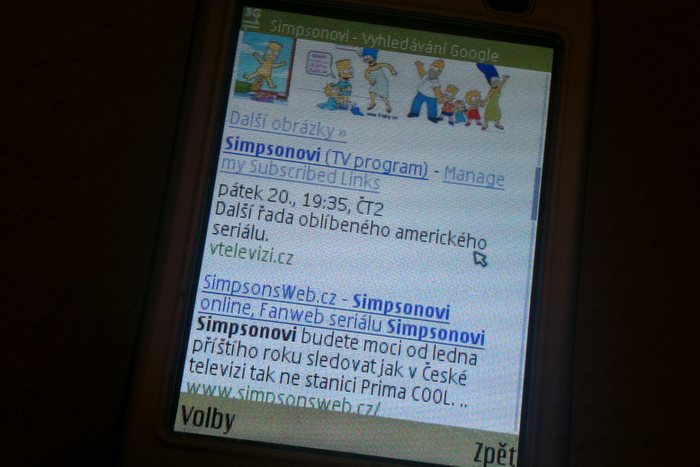 Pozor na diakritiku. V dotazech nefunguje něco jako (nějaká ze shod) u AdSense - dotaz musí sedět přesně (kromě velkých a malých písmen, ty ignoruje). Takže například "události, komentáře" nejsou to samé jako "udalosti komentare" nebo dokonce "komentare udalosti".
Nepovedlo se mi najít v administraci možnost zjistit, kolik lidí si vaše odkazy přihlásilo (jako se to např. dozvíte u Google Readeru). Doporučuji proto alespoň ukládat počet kliknutí na odkaz vedoucí na potvrzení u Googlu (např. přes Google Analytics a nebo odkaz zkrátit přes bit.ly) - stále ale nevíte, kolik lidí se zaseklo na tom, že nemá Google Account.
Nevadí, máte-li pod sebou více stejných dotazů (například uvedete-li dotaz jednou s háčky, podruhé bez nich, ale protože už původní neměl háčky, tak jsou stejné). Těžce ale Google nese pokud vám chybí popis (otevřete popisový tag Output a hned ho zavřete). Také pozor na více stejných ID výsledků pod sebou (ResultSpec id).
Pokud jsem na něco důležitého zapomněl nebo jste sami něco vymysleli, napiště prosím. V dokumentaci Subscribed Links najdete ještě více možností, jak je využít.
UPDATE (3/9/2011): Google se rozhodl službu Subscribed Links zrušit, viz informace na Google blogu.
sobota 18. listopadu 2009, 11:43 - 23179× shlédnuto - RSS komentářů - tagy: google webdesign
---
Reklama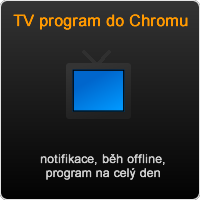 Reklama
Kvalitní domény, levný webhosting
Vyzkoušejte spolehlivý Český hosting. www.cesky-hosting.cz
Facebook tipy
Moje weby
---