srp 14 04
V červnu zavedl Wedos virtuální servery (VPS) používající SSD. Sešlo se to i s tím, že mi web přišel občas pomalejší a při zkoumání topu se ukázalo, že % idle jsou prakticky na 0 a to, co nezabere us zbylo na wa (waiting for I/O).
23. července jsem si pokusně objednal VPS SSD hosting za podobnou cenu, jako platím za standardní VPS (resp. tento první měsíc byl se slevou 33% – a v době psaní stále je – do budoucna to ale bude trochu dražší).
Pro porovnání
Dřívejší standardní VPS:
2 vlákna Xeon 1,8 GHz, 4 GB RAM, 60 GB místa, 484 Kč.
Nový SSD: 2 vlákna Xeon 1,7 GHz, 8 GB RAM, 40 GB místa, 593 Kč.
Cena SSD je 532 Kč, ale 61 Kč stojí měsíčně IP adresa z IPv4 (prý z důvodu použité architektury) – přiznávám, že na pokusy s IPv6 chybělo odhodlání.
První testy dopadly jednoznačně lépe pro SSD hosting, např. dle Which Loads Faster:
První dojmy z SSD hostingu jsou pozitivní - rychlejší a top po 100 opak.: load average: 0.04, 0.06, 0.04 (@wedoscom) pic.twitter.com/D2zKT3DPzR

— Lukáš Jirovský (@elfineer) July 23, 2014
Dík patří Jirkovi za jeho test ApacheBenchem, ze kterého vyšly hostingy podobně: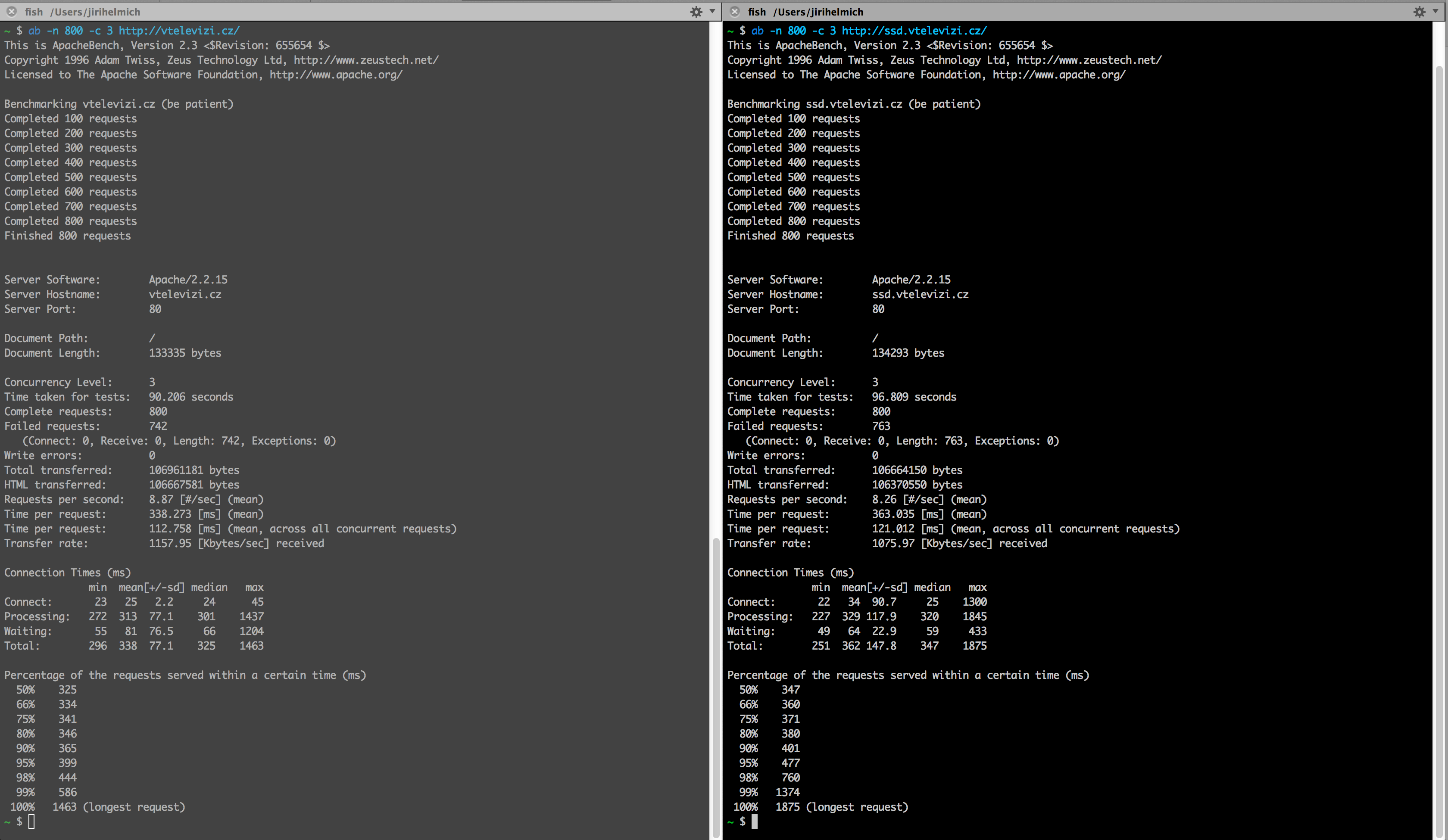 ...rozdíl v hostinzích se ale projevuje hodně v rychlostech načítání dalších dat (obrázky, CSS, JS...).
O víkendu tedy došlo na kompletní přestěhování na SSD (hostingy platím po měsících a moc se mi nechtělo živit oba). Po tom, co bratříček dostal za úkol nastavit si na serveru, co potřebuje pro svoji Windows 8 aplikaci a při té příležitosti ještě udělal upgrade na PHP 5.5 a pár dalších drobností, zbývaly už jen emaily (pro připomínací maily). Nerad bych se tu zbytečně ztrapňoval, ale za zmínku stojí, že jsem po jeho úpravách v konfigurácích našel komentář #takhle se to ma delat, ty osle!.
Samotná instalace postfixu byla v pohodě, ovšem do objevení volby setsebool -P httpd_can_sendmail 1 jsem asi hodinu upřímně trpěl.
V neděli ráno jsem přehodil DNS z minulého VPS na nový VPS SSD - trvalo kolem hodinu, než se změna propsala (testováno na ISP UPC a O2) a od té doby jede vše na SSD. Vypadá to, že zatím jediný dopad na návštěvníky byl červený pruh během stěhování, kdy se ukazovalo upozornění, že návštěvník je na starém serveru, kde se jakékoliv změny už neuloží (registrace, nastavení pořadů) a odkaz na provizorní adresu ssd.vtelevizi.cz.
Zatím vypadá převod úspěšně - load average v topu ukazuje 0.08, 0.14, 0.12 a idle je trvale nad 90% (wa 0.0% - 0.2%), Chartbeat ukazuje v hodnocení rychlosti raketu a ptáčka, z dřívejška už znám i slimáka, takže fajn.

Pokud byste narazili na nějaké chyby či měli nějaký tip, ocením v komentářích.
středa 4. srpna 2014, 10:57 - 24994× shlédnuto - RSS komentářů - tagy: weby
---
Reklama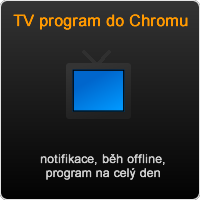 Reklama
Kvalitní domény, levný webhosting
Vyzkoušejte spolehlivý Český hosting. www.cesky-hosting.cz
Facebook tipy
Moje weby
---