pro 07 17
(UPDATE 4. prosince 2009) Dnes bylo oznámeno, že Videopůjčovna ČT do konce roku (17/12) končí. Následuje text z webu ČT:
Vážení zákazníci,
děkujeme Vám za zájem o pořady z naší nabídky. Musíme Vám však oznámit, že ke dni 17. 12. 2009 bude provoz Videopůjčovny ČT ukončen. Prosíme proto, abyste využili doby, kdy bude videopůjčovna ještě v provozu, a vyčerpali kredity z Vašich účtů zapůjčením pořadů z našeho katalogu.
Děkujeme za pochopení a přejeme Vám hodně zábavy.
Dál pokračuje původní článek na blogu, nyní už má spíš jen historický charakter...
---
Myslím, že jde o novinku opravdu starou jen pár hodin – naposled jsem na web ČT zavítal dnes odpoledne, když jsem se chtěl podívat na kus Otázek VM a to vypadal on-line archiv normálně, až večer se objevil velký černý panel s odkazem do videopůjčovny.
Jde o standardní video na vyžádání, ale upřímně řečeno, je to mnohem horší bída, než jsem čekal. Ale popořadě…
Pro používání této videopůjčovny si musíte nainstalovat program. Samozřejmě jen pro Windows, snad to zase běží na nějakém .net frameworku – hlavně je celý tento program zbytečný a neumí snad nic speciálního, co by nevyřešil webový prohlížeč (maximálně stahování souborů, ale i tak by mohla být možnost stáhnout soubor přímo z webového prohlížeče).
Miniupdate (19. 12)
Přiznávám drobnou změnu názoru na samotný program. Ono by to asi šlo nějak vyřešit i bez něj (jako že by podobně jak u i-legálně WMPlayer spustil stránku pro získání licence). Ale až tak úplně zbytečný ten program není, lépe navede nezkušené uživatele (i když nejdřív stáhnout soubor zdarma a pak ho licencovat je trochu zvláštní) a přeci jen stahovat gigové soubory není pro prohlížeč úplně ideální. Obecně ale spíše než instalace programu, je pro alternativní uživatele problémem celé Windows DRM.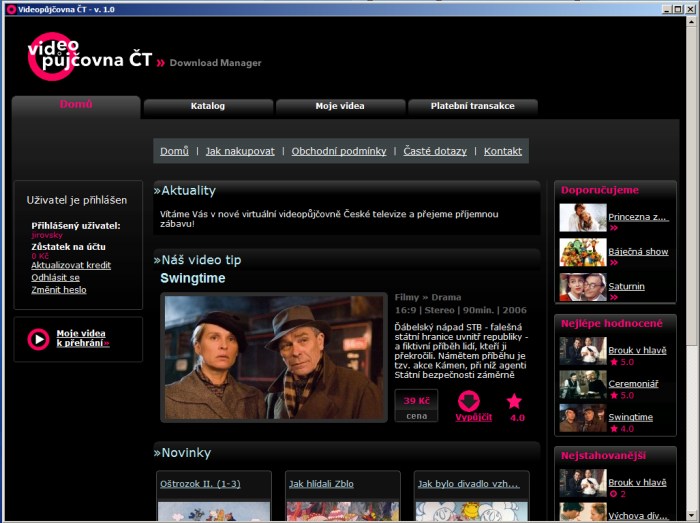 Téměř všechnu vlastní průběžnější tvorbu dává ČT na internet zdarma – za to ji patří pochvala, téměř až potlesk. Co se týká příjmů televize – já jim přeji jak poplatky, tak i reklamy – oboje mi příjde na rozumné úrovni. Ale to, jestli si ČT zaslouží vybírat za filmy a seriály nemalé poplatky za sledování po internetu, to nechávám k diskuzi :). Mně to příjde tak nějak mezi… (nějaký manipulační poplatek určitě).

Ceny
Samotné ceny jsou nejčastěji 39 Kč za film a 95 Kč za 5 seriálů (prodávají se po balících). Platí se dobíjecím kupónem, převodem z účtu, přes eBanku, kartou a mobilem. To znamená, že dobíjecí kupóny (pokud se vůbec rozšíří) budou pěkné pro věrné diváky, ale ne pro ty, kteří se rozhodnou, že si pustí něco přes Videopůjčovnu ČT, aniž by to dopředu plánovali. Podobně převod z účtu (rychlost u eBanky asi bude lepší, ale zas tak moc lidí ji nemá). Takže z rozumných možností zbývá platební karta a mobil. Platební karta bude asi do budoucna dobrá možnost, momentálně mi nefungovala (stále to jen načítalo stránku zabezpečené brány a nic). Takže by z toho měl nejlépe vyjít mobil… Měl.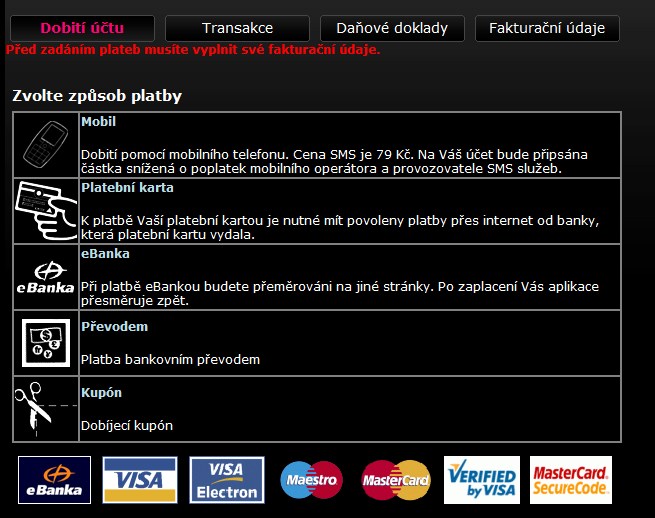 Malým textem (naštěstí ale ne úplně přehlédnutelným) se dočtete, že ze 79 korunové SMSky vám na váš virtuální kredit přijde… (teď se podržte…) 40–46 Kč (podle operátora). 33–39 Kč jde na provize všemožných firem kolem. Já věděl, že podobné provize jsou dost velké, o to víc mě překvapila SMS jízdenka od DPP, ale tohle je moc.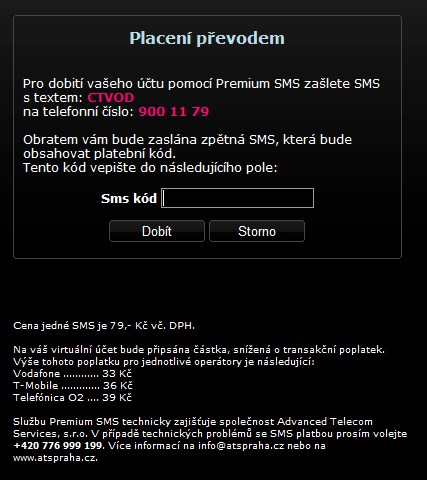 Filmy
Samotné filmy jsou větší než obvyklých 700 MB (většinou pirátských :-) ). Zkoušel jsem si stáhnout (a SMSkou zaplatit, když karta nešla) Dvojroli. Film má hodinu a půl, velikost 1,28 GB, rozlišení 720×572. Co musím uznat: soubor se stahoval největší možnou rychlostí – 500KB/s.
Jen dočasné!
Čím si to u mně tato služba rozlila nejvíc, je omezená doba půjčení. Není to nic nového nebo šokujícího – ale proč? Proč ČT, která od vás vybrala koncesionářské poplatky, měla z vás peníze na reklamách, sebrala vám za stažení filmu 40 korun a chtěla po vás vědět poštovní adresu, proč vám tato ČT dává jen 72 hodin na shlédnutí?
A proč to tato ČT nenapíše někam viditelně (třeba při objednávání filmu), ale tuto informaci se můžete dozvědět jen různě okolo (fakt, že je film k po třech dnech k ničemu je podle mě příliš důležitý na to, aby byl zašoupnut v Častých dotazech, Podmínkách služby a Návodu k používání – několik odstavců po tom, že váš počítač potřebuje třeba připojení k internetu).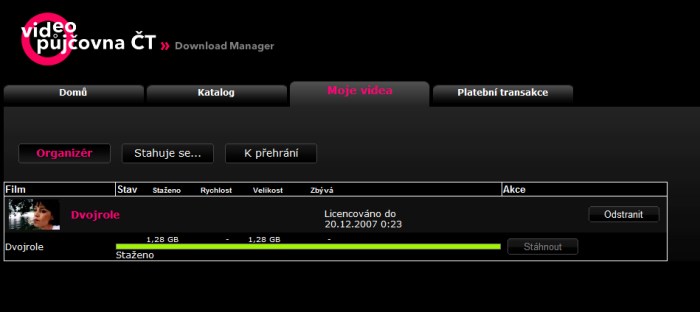 Závěr
Ačkoliv obecně je můj názor na ČT až nadprůměrně pozitivní a samotný zadarmo archiv je opravdu perfektní, tato služba se mi zdá čím dál více jako výsměch. Nehodnotím to, že se aplikace někdy chová divně a že nabídka zatím nic moc – to je (skoro) v pořádku, je to první verze, jsou to začátky. Ale časové omezení, DRM, nemožnost se na to tím pádem rozumně podívat v televizi… Udělat tuto službu před rokem, zasloužili by si velkou plus za odvahu, průkopnictví… Ale dneska už jim nic moc jiného nezbývá.
TIP: Můj článek z března o přechodu televizí na internet
Update (19. 12. 2007)
Dneska odpoledne jsem chtěl film dokoukat, ale ouha... licence už asi vypršela. Podle všeho měla vypršet až po půlnoci, ale místo toho se tak stalo už dnes odpoledne. (Žádné pokusy s nastavením data nebo program z komentářů jsem nezkoušel.) No, už to nebudu nijak řešit, jen jsem dal 80 korun za hodinu filmu... To už asi hodně dlouho nezkusím :-)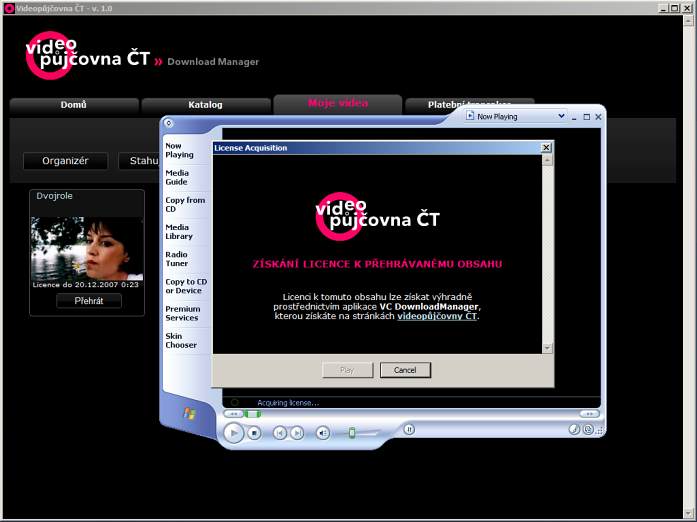 pondělí 17. prosince 2007, 01:51 - 47563× shlédnuto - RSS komentářů - tagy: ct televize webdesign
---
Reklama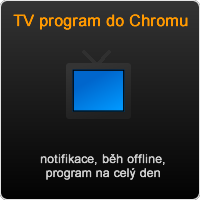 Reklama
Kvalitní domény, levný webhosting
Vyzkoušejte spolehlivý Český hosting. www.cesky-hosting.cz
Facebook tipy
Moje weby
---