lis 13 06
Jedna ze slibovaných novinek z posledního Google Analytics Summitu (keynote na YouTube) – údaje o demografii se mi před třemi týdny začaly objevovat v některých profilech GA, nyní už ji mám u všech – pokud GA používáte, pravděpodobně už je máte také.
GA vám nyní ukáží věkovou skupinu (na úrovni 18–24, 25–34, 35–44, 45–54, 55–64, 65+; pod 18 let se údaje nezobrazují schválně) a pohlaví. Podle těchto parametrů lze také tvořit vlastní segmenty.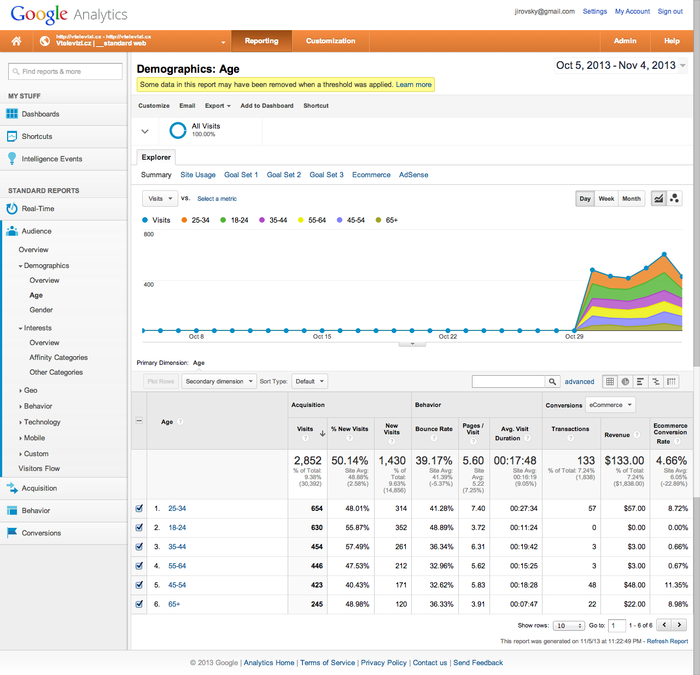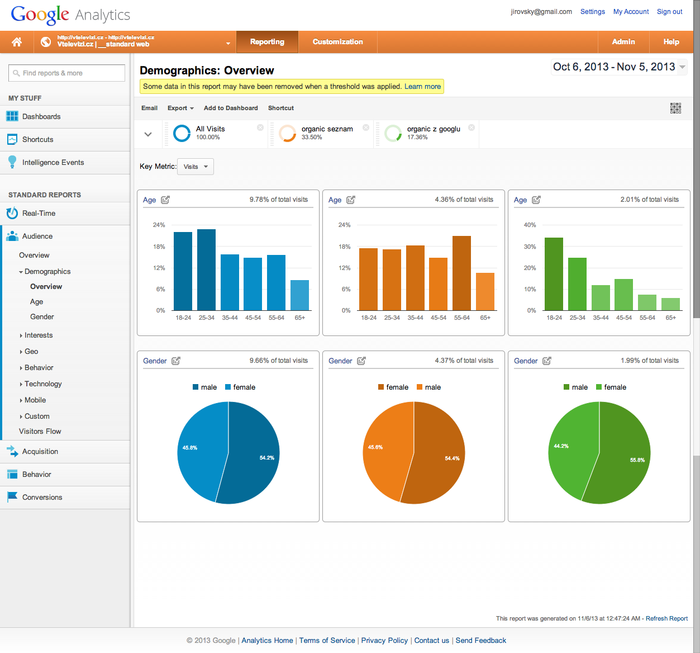 Kromě toho také GA zobrazují zájmy a to ve dvou typech, "Affinity Categories" a "Other Categories". Other Categories jsou přesnější (např. "Games/Online Games", "Arts & Entertainment/Mo­vies/Comedy Films"…), Affinity Categories by měly spíše odpovídat životnímu stylu ("TV lovers", "Sport fans"). Tomu odpovídají i počty, za necelý týden měření na TV programu mi GA zobrazují 83 různých "lifestylových zájmů" a 317 přesnějších.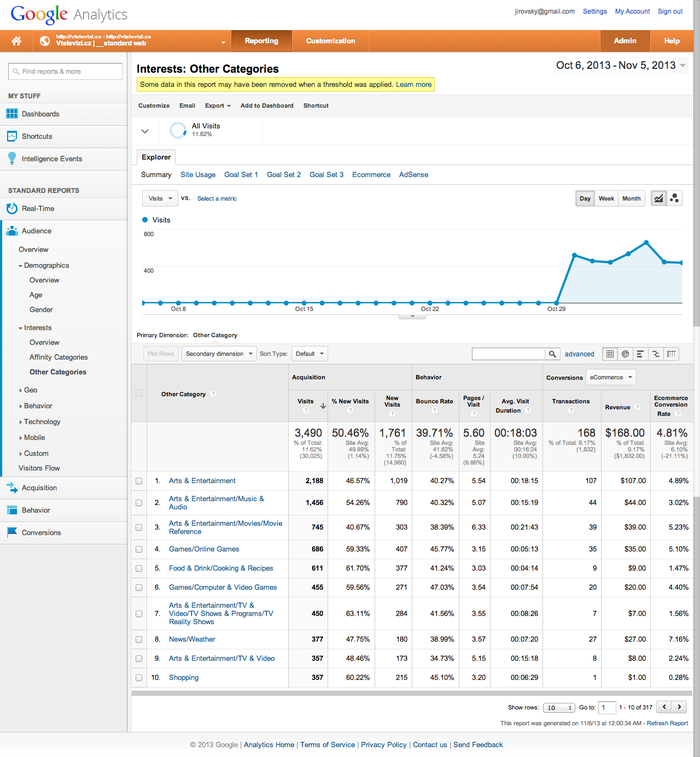 Na první pohled vypadají data poměrně reálně, například:
zatímco skupina 55–64 tvoří u TV programu nejvíc příchodů ze Seznamu (21%), u příchodů z Googlu je to méně (7%), zde vede 18–24
nejenom, že na webu pro švadlenky tvoří 4 z 5 návštěv ženy, také mají dvakrát větší počet shlédnutých stránek za návštěvu i průměrnou dobu trvání, ale také poloviční bounce rate
na mé diplomce o teorii grafů mají návštěvníci se zájmy Science/Mathematics či Computers & Electronics/Pro­gramming 3× větší počet shlédnutých stránek než Home & Garden.
Samozřejmě i zde se ale najdou výjimky, zájmy se překrývají a z návštěvností kolem 100 visits denně (z toho zájmy měřené ze třetiny) nelze dělat přesné závěry, ale je vidět, že nějak zásadně se Google nejspíš nemýlí.
Pokud vás zajímá, co si myslí Google o vás, můžete si to ověřit na stránce http://google­.com/settings/ad­s.
Jak data získat
Pokud chcete povolit sbírání těchto údajů na svém webu, je nutné nejprve v Audience – Overview – Demographics kliknout na Enable a následně změnit kód, aby se měřící soubor ga.js nenačítal z původní adresy, ale nově jako dc.js ze serverů DoubleClicku. Update: pozor, pokud používáte Universal Analytics, viz komentáře dole.
Toto měření s sebou ale nese i požadavek na vás jako autora webu, abyste návštěvníky upozornili, že data sbíráte a že se mohou opt-outnout v nastavení reklam (link výše) – podrobněji popisuje Google zde
Závěr
Z pohledu tvůrce webu se mi nová data líbí hodně, i když je asi nevyužiju. Mít ale na starosti web, který se snaží něco vnutit specifické skupině (au-pair pobyty pro studentky, mobilní tarify/virtuálové pro mladé, nabídky práce pro ženy v domácnosti…) tak z dostupných dat skáču radostí. Podobně v nedávných volbách pro měření, které body z programu zaujaly jakou skupinu, webový server o čem by mohl dále psát, o co se zajímají jeho čtenáři…
Z pohledu návštěvníka webu s tím problém nemám – sice obvykle ochrana soukromí bývá jednou z prvních věcí, co mě u podobných novinek napadá, ale takto agregovaná data se mi zdají OK.
pondělí 6. listopadu 2013, 10:59 - 33044× shlédnuto - RSS komentářů - tagy: google_analytics analytika weby webdesign
---
Reklama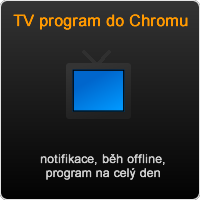 Reklama
Kvalitní domény, levný webhosting
Vyzkoušejte spolehlivý Český hosting. www.cesky-hosting.cz
Facebook tipy
Moje weby
---