pro 09 31
Nejvýraznější novinkou bylo spuštění nové verze v tomto roce.
Původní web tv.elfineer.cz (teď už tam nic není), vznikl, aby bylo kam odkázat z gadgetu a taky jako pokus, jak vypisovat program horizontálně (v lednu 2008 ještě tv.seznam.cz neexistoval). Když ale web získával nové funkce a kód začínal být lehce neudržitelný (jak na straně PHP/MySQL, tak i u CSS, JS atd.), bylo nutné začít znovu.
V nové verzi web neprošel nějakou extrémní změnou z pohledu pro uživatele (než, že by došlo k nějakému výraznému redesignu, tak šlo jen o dolaďění (zmenšení výšky řádků, horní pruh...)), ovšem díky kompletně přepsanému vnitřku bylo možné přidat nové funkce. Například možnost navolit si, jaké kanály vůbec přijímáte (javascriptové přehazování pořadí už je jen taková jQuery třešnička na dortu) bylo v minulé verzi nemožné.
A spolu se spuštěním nové verze se objevilo mnoho funkcí.

Nejvýznamnější ze všech je Windowsí aplikace, kterou napsal Karel Koliš a nemá smysl ji tu znovu popisovat, kdybyste ji neznali, podívejte se přímo na web, vyzkoušejte a uvidíte :). I díky této aplikaci to ale Vtelevizi.cz dotáhlo v listopadu (17. :) ) na titulní stránku Živě.cz – odkaz na článek.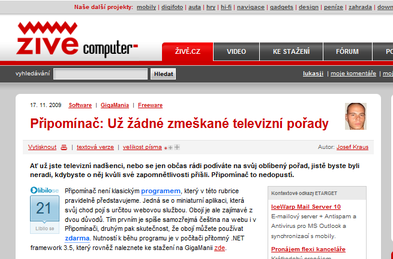 Uživatelé také ocenili možnost mít osobní program jako jednu stránku a tu si například přidávat do oblíbených nebo jako rychlé záložky – nyní je to druhá nejnavštěvovanější stránka webu, zatímco okno nebylo nic moc.

Web také získal pár odkazů z různých fór díky programům Barrandova a Primy Cool, letos spuštěných nových kanálů.
Další novinky jsou mnohem chytřejší mobilní verze, TV program na Twitteru… – když tak článek ze září.
Když už píšu o úspěších, tak teď někdy v polovině prosince automat Googlu (nebo možná někdo ručně?) zařadil gadget TV program (kvůli kterému vůbec tohle všechno vzniklo) mezi doporučené, což se stále projevuje v nárůstech návštěvnosti i počtu uživatelů.

Jaké budou nové funkce?
Vymýšlení nových funkcí mi jde mnohem lépe než jejich realizace, ale pár náhledů do budoucna :).
Funkce, která se objeví již v lednu, budou Kamarádi.
Pokud někdo z vašich kamarádů používá taky Vtelevizi.cz, uvidíte jeho fotku/ikonku u pořadu, budete se moct podívat na jeho profil, nechat si doporučovat pořady atd. Samozřejmě bude možné nějaký pořad schovat.
Už vás asi napadlo, jak to bude realizováno – pomocí Facebook aplikace. Přesněji řečeno, informace o kamarádech uvidíte i normálně na webu, bude ale nutné, aby měli oba svůj Vtelevizi.cz účet propojený s Facebookem. Technicky to není problém, vše je již vyřešeno, trochu náročnější bude to sepsat tak, aby to bylo snadno pochopitelné. Web také dostane nějaké informace o osobních údajích a tím nemyslím jen typickou patičku "Prohlášení o ochraně osobních údajů", ale opravdový a poctivý popis, jaké informace stáhnutelné přes Facebook API budou ukládány (ve zkratce: seznam kamarádů a nic jiného, což je jen hromada bezcenných čísel (dvojic Facebook ID); rozhodně nepůjde o osobní informace, ke kterým se může každá aplikace dostat velmi, velmi snadno).
Další funkce: nový pohled na TV program. Výpis do řádků je hezký, ale s přibývajícími kanály se stáva nepoužitelným. Bude možné se přepnout na výpis do sloupců a také na "jízdní řád" – seznam pořadů, jak jdou za sebou (nyní v osobním programu).
A ještě další, ale ty už nejsou tak na dohled. Kromě toho ještě spousta detailů jako podpora WebSlices ("gadgety" v IE8), dolaďená verze pro dotykové telefony atd.
Poděkování a čísla
Dík také patří uživatelům webu, co přispívají tipy a názory do Facebook skupiny či na Twitteru - jmenovitě dík například ScottymuCZE, Carnerovi (shodou okolností tam má zrovna jako poslední twít popis nějaké menší chyby, takový je hold život :)) ) a dalším.
Také si cením chvály na Twitteru, alespoň na pár twítů odkázat musím :) - 1, 2, 3... Na Facebooku web akorát překonal hranici 200 fanoušků (když jsem to napsal do statusu, tak se propadl na 198 :), teď je na 201), na závěr ještě vývoj počtu uživatelů.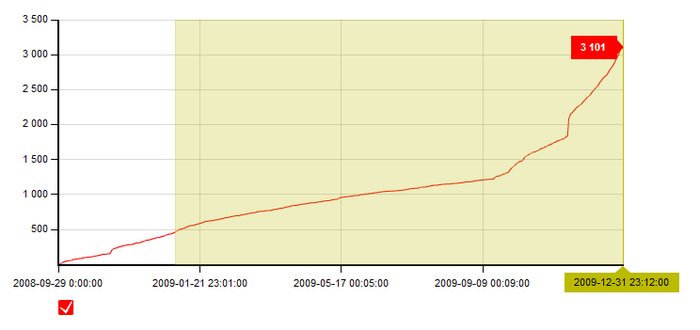 Vše nejlepší do nového roku! (nepřeje webová služba, to by byla blbost, přeji jako autor :).
sobota 31. prosince 2009, 13:46 - 9401× shlédnuto - RSS komentářů - tagy: televize
---
Reklama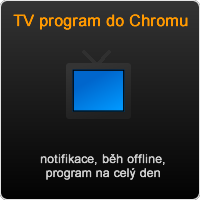 Reklama
Kvalitní domény, levný webhosting
Vyzkoušejte spolehlivý Český hosting. www.cesky-hosting.cz
Facebook tipy
Moje weby
---