srp 09 25
Za prvé děkuji za zájem :).
Za druhé – co už funguje a dá se zkoušet, resp. co se změnilo:
Nový design
Nejde o žádný extrémní redesign, web vypadá podobně, ale dostal rozumnější menu, řádky s programem se zmenšily, aby se jich vešlo více a podobně. Také si můžete vyzkoušet kontextové menu (pravým tlačítkem kliknout na pořad), i když zatím má omezené možnosti.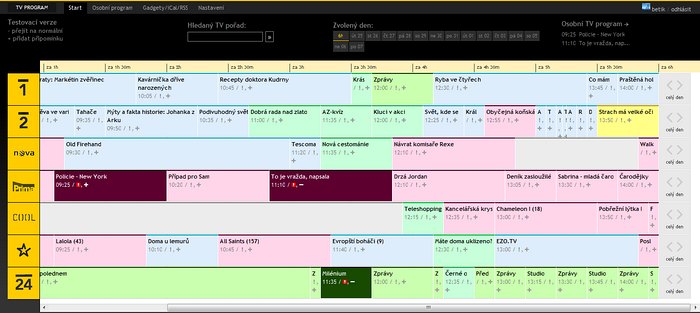 Nový osobní program
Osobní program již není jen okno, ale samostatná stránka, myslím, že teď skoro nejdůležitější z celého webu. Změnilo se i přidávání do něj – nyní je možné kromě všech vysílání (+) přidat jen jedno vysílání pořadu (!). Také můžete vyhledávat klíčové slovo a to i v popisu (jméno herce, "Kriminálka"…). Stránku jde také snadno vytisknout, zmizí z ní údaje typu za 6h25m a místo toho se objeví datumy.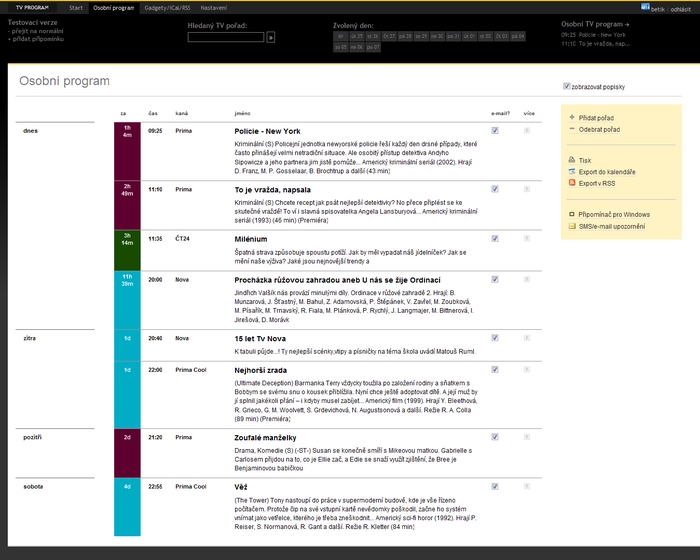 Připomínání pořadů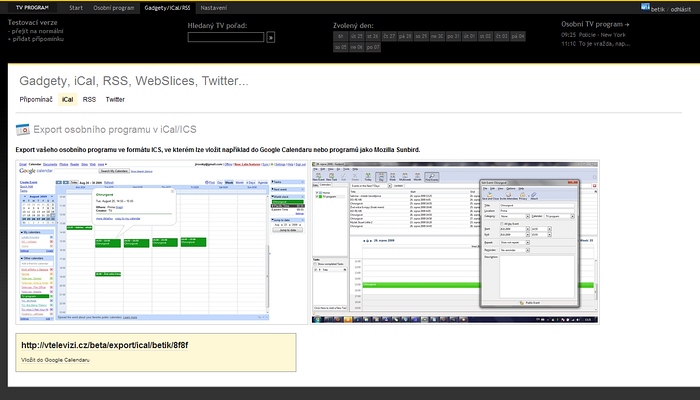 To je asi největší změna celého webu. Aktuální verze umí exportovat osobní program přes iCal do kalendáře. Nová podporuje také RSS (ačkoliv to vypadá, že se pro tyto účely nehodí, mít lehce přístupný program v Firefoxu je velmi užitečné – ozkoušeno).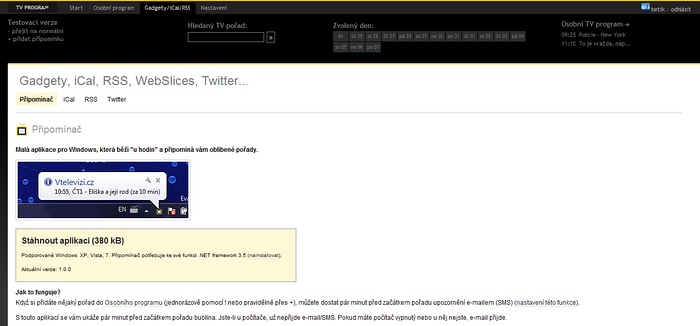 Ale hlavně: Můžete si zapnout posílání připomínacích e-mailů (a ty si například přesměrovat na mobil). Ty lze rozšířit Windows aplikací (v .NET frameworku), která ukazuje připomínací bubliny u hodin. Pokud jste u počítače, objeví se jenom bublina a e-mail nepřijde. E-maily lze také omezit například jen na noc nebo na večer (aby nechodily v době, kdy jste v práci). Pokud nemáte .NET framework, práva pro instalaci nebo si aplikaci prostě instalovat nechcete, stačí nechat zmenšený prohlížeč – místo bublin vyskočí alert okno, výsledek je stejný, e-mail nepřijde. V titulku stránky běží odpočítávání do nejbližšího pořadu.
Nový detail
Nový detail pořadů – větší, přehlednější… Odkaz na pořad lze (konečně) poslat po ICQ atd. Vyzkoušet můžete také vložení do profilu na Facebooku či na Twitter.
Co bude dál?
Tato verze ještě není kompletní, chybí nové mobilní verze, chybí nový iGoogle gadget, chybí WebSlices, chybí veřejné profily a také slibované nové kanály… Ale jako autor webu budu moct vděčný, pokud se vám bude chtít otestovat nový osobní program – jak přidávání (chodí-li všechno jak má (určitě nebude :)), tak připomínání – ideálně i s aplikací :).
Další informace
Loginy má tato beta jiné než aktuální verze – je nutné se zaregistrovat. Po skončení testu budou všechny loginy smazány (místo nich budou převedeny ze staré verze).
PS: Explorer 6 zatím ne (ale pak půjde)
pondělí 25. srpna 2009, 12:12 - 39077× shlédnuto - RSS komentářů - tagy: televize
---
Reklama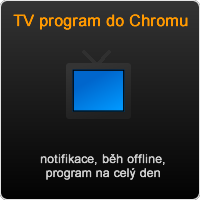 Reklama
Kvalitní domény, levný webhosting
Vyzkoušejte spolehlivý Český hosting. www.cesky-hosting.cz
Facebook tipy
Moje weby
---