lis 09 11
Google se na svém Mobile blogu pochlubil dvěma zajímavými funkcemi pro službu Latitude – možností ukládání historie a upozorněním, je-li někdo z přátel nablízku. Pokud víte, co je Latitude, následující odstavec klidně přeskočte :).
Jak funguje Latitude
Latitude je aplikace (resp. další funkce mapové aplikace do mobilu), která běží ve vašem telefonu na pozadí a z údajů mobilní sítě (číslo základnové stanice - BTSky) a GPS zjišťuje, kde jste a umožňuje vám tyto informace sdílet s lidmi, které vyberete (případně vystavit na web). U některých telefonů to není možné, například u iPhone si musí uživatel otevřít web, kde se aplikace zeptá na vaší polohu – odpadá možnost trvalého automatického sledování.
Přátelé
Nejprve k přátelům – aplikace by měla ze začátku chvíli zkoumat váš pohyb, aby pochopila, že v určitém čase jste na určitém místě často, takže není nutné vám třeba v práci říkat, že tam jsou kolegové apod. Ovšem přijdete-li do práce v sobotu a nebudete sám, měl by se Latitude ozvat, protože to je nestandardní čas. Já se nechystám Latitude používat trvale a navíc mám málo Latitude-kámošů, takže tato funkce pro mě nemá smysl.

Historie polohy
Nově se můžete na webu podívat na historii a přehrát si ji i jako animaci. Možný je i export do KML (Google Earth). Tuto funkci musíte nejprve ručně povolit na webu.
Test
Zkoušel jsem s Nokií N73 (telefon bez GPS) - spustíte aplikaci, zadáte Google Account a aplikaci vypnete – zeptá se vás, má-li zůstat běžet na pozadí (ano) a je to, není dokonce ani vidět v běžících aplikacích při alt-tabování delším podržením tlačítka.
Na telefonu jsem pak nic nedělal, abych neovlivnil počítadlo přenesených dat (viz níže), a vyrazil na cestu metrem z Budějovické do Kobylis s krátkou zastávkou na I. P. Pavlova. Výsledek si můžete prohlédnout tu.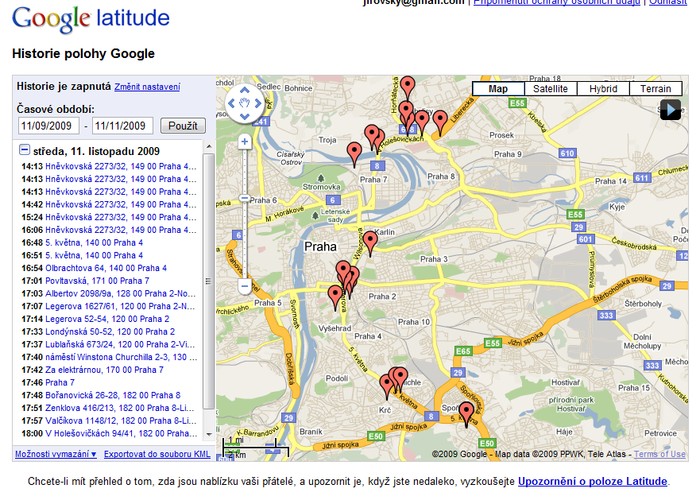 Pokud se vám zdá, že jsou nějaké body lehce uhnuté, je to tím, jak Google získává data o poloze jednotlivých BTS (bere údaje z telefonů, které mají GPS - zná tak přesné souřadnice i číslo buňky; nejde tedy např. o přesná místa, které by poskytli mobilní operátoři). Proto se Google Maps chovají hodně nepřesně, když se pokusíte použít aktuální polohu v metru.
Když na špendlík kliknete, objeví se okruh, v jakém jste byli.

Mapu si můžete přehrát jako animaci, jak postupně naskakují body podle času.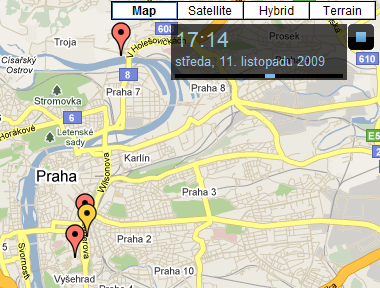 Jakýkoliv bod můžete vymazat, snadno také všechny výsledky vyhledávání (třeba celý den). Do Google Earth můžete exportovat pomocí KML (viz video). Historii nemůžete sdílet např. na blogu.
Přenesených dat
Při tomto pokusu aplikace přenesla 66kB - přijatých: 31kB, odeslaných 35kB. Dokud se telefon nehýbal, tak to bylo asi 1kB za hodinu, ale tato čísla berte s rezervou. Při ceně 0,06 Kč za kilobajt by to byly 4 Kč.
Využití
Možná se vám hodí mít historii, kde jste kdy byli (pro mě to zní zajímavě a ve skutečnosti to nepotřebuji nikdy). Také si třeba můžete nechat starý mobil schovaný někde v autě pro případ krádeže (stejně byste ho ale museli nabíjet) - na serióznější využití jako třeba Car Control to ale není. Historie je poměrně výrazný upgrade oproti pouhému sledování na mapě - obecně se při zkoumání nakládání s osobními údaji kouká hlavně na archivaci (způsob, dobu, přístup...).
Soukromí
Google vám všude možně připomíná, že může jít o citlivá data, nabízí možnost vymazání, dušuje se, že ty údaje při smazání zmizí navždy, pravidelné maily, abyste na to, že sdílíte polohu, nezapomněli. Stejně to je velmi významný osobní údaj a informací, které (dobrovolně i nedobrovolně) dáváme Googlu už jsou opravdu obří. Také sledovat kohokoliv je ještě pohodlnější než s původním Latitude bez historie.
Já tu službu zatím používat nebudu - zaprvé aktuálně používám iPhona, kde ji nerozchodíte (běh na pozadí), zadruhé to nepotřebuji (i když třeba kdyby Google při hledání radil věci, které mám po cestě, to by se mi líbilo). A asi vážně není nutné nějaké další firmě říkat, kde jsem, nikomu do toho nic není (argument "Slušný člověk se stydět nemusí." je na facku). A proč další firmě - operátoři musí tyto údaje ukládat o všech mobilech půl roku (děkujeme, EU).
Ale Google Latitude History je pěkná hračka, zpracované tradičně povedeně a třeba se to bude někdy hodit. Jen natrvalo asi já: ne.
http://www.google.com/latitude/apps
sobota 11. listopadu 2009, 16:37 - 37242× shlédnuto - RSS komentářů - tagy: google mapy webdesign
---
Reklama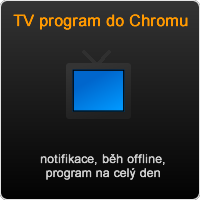 Reklama
Kvalitní domény, levný webhosting
Vyzkoušejte spolehlivý Český hosting. www.cesky-hosting.cz
Facebook tipy
Moje weby
---