říj 10 22
Tuto funkci představil Facebook před více než dvěma týdny (6. října přesněji) a umožňuje stáhnout všechny údaje, co jste do něj nacpali (fotky, videa, statusy…), jako jeden velký ZIP soubor.
Tuto funkci najdete v Nastavení profilu (pravý horní roh) a neobjeví se zatím, pokud máte Facebook v češtině. (Nevím, jestli angličtina znamená automaticky, že zde odkaz najdete, nebo jestli Facebook spouští postupně.)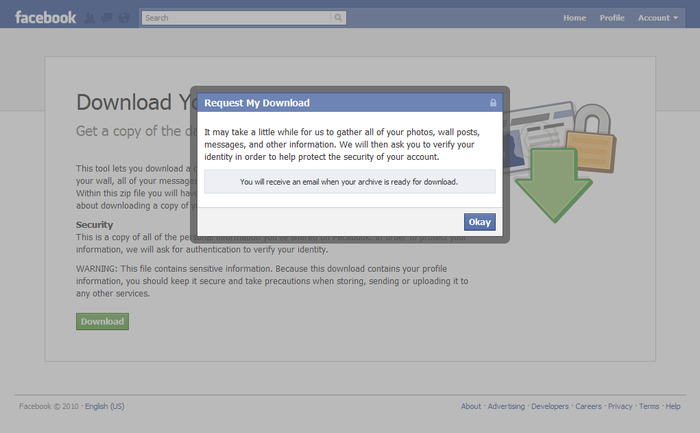 Zadáte-li, že chcete všechno stáhnout, Facebook začne vytvářet ZIP s tím, že až bude hotový, pošle vám mail. V mém případě to trvalo hodinu, výsledný soubor měl 30 MB (z toho polovina byly videa (5) a druhá fotky).
Zabezpečení
Facebook sice v nápovědě píše, že vám může poslat nějakou ověřovací SMSku nebo se zeptat, kdo je kamarád na fotografii, v mém případě nic podobného neudělal – dokonce nebylo nutné ani kliknout na odkaz v mailu, stačilo jen na Facebooku znovu zvolit stažení ZIPu v nastavení a to se zeptalo opět jen na standardní heslo.
Řekl bych, že tady by to chtělo lepší zabezpečení – mám nastavené SMSky kvůli každé pitomosti včetně přihlášení se z cizího počítače a tohle mi na mobil nepřijde.
Čekal bych, že tak dlouhá doba (hodina) je spíše prvek bezpečnosti než technická nutnost – Google vám zvládne zabalit přílohy v mailu snad okamžitě, pochybuji, že by Facebooku trvalo 30MB hodinu (pokud služba není přetížená).
Samotný soubor
Archiv po rozbalení nabízí složky s fotkami, videem a pak složku html, která obsahuje samotné texty a také umožňuje video a obrázky procházet – podobně jako když třeba v Picase zvolíte vytvoření webové galerie, kterou pak někam nakopírujete jako celek.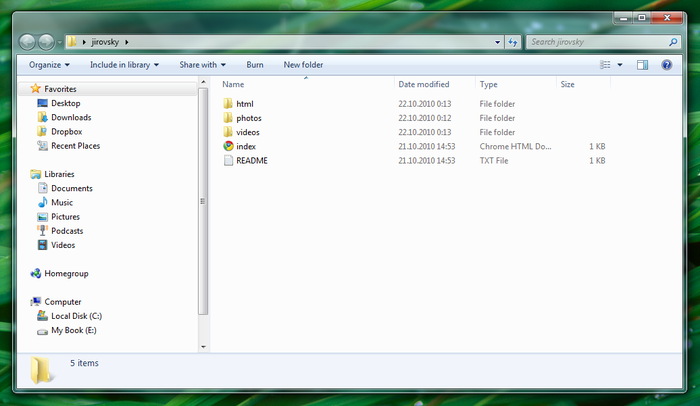 Po otevření index.html se objeví vaše údaje jako datum narození, zaměstnání, vzdělání, moudro pod fotkou, skupiny, stránky…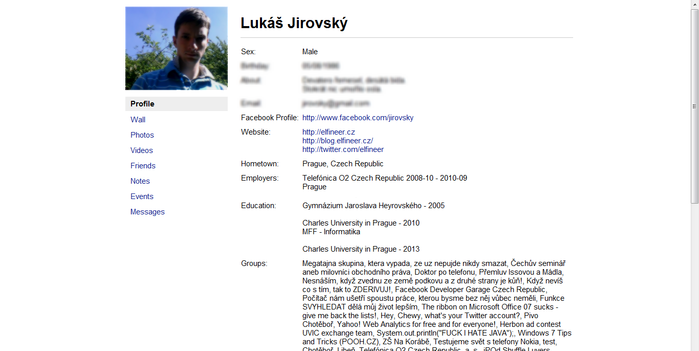 Zeď
Zeď je z celého ZIPu asi nejcennější – opravdu každý status, každý komentář, přání k narozeninám… – našel jsem tu i svoje začátky na Facebooku.
Jediné, co už z Facebooku nedostanete, je, kdo přesně vám dal palec (s tím se dá žít).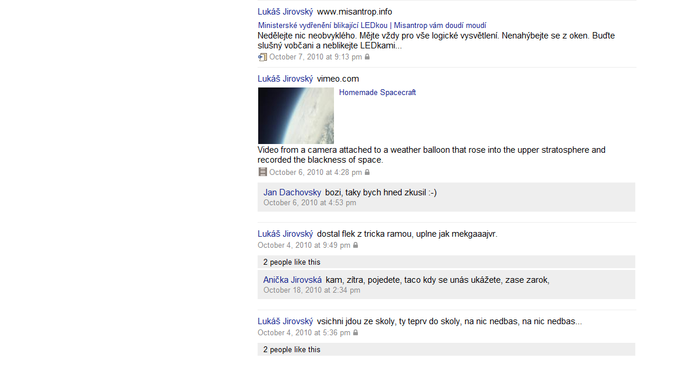 V ZIPu najdete přibalené svoje soubory (fotky…), ovšem například náhledy u odkazů se stahují z internetu – ty Facebook nepřibalí.
Fotogalerie
K fotkám se můžete samozřejmě taky proklikat přes HTML, v ZIPu jsou ale uloženy přehledně – Facebook nezvolil třeba nějakou nesmyslnou řadu čísel, které by bez přiloženého webu nedávaly smysl, ale co složka, to jedno album. Jako název je použitý název alba (jen české znaky utrpěly), podobně jsou řešeny i názvy fotek.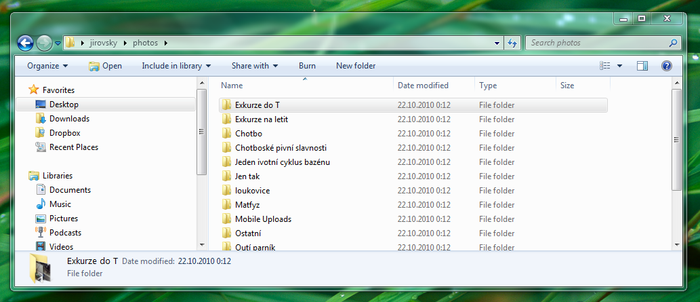 Všechny fotky jsou upravené Facebookem – nejsou to ty původní soubory, které jste tam nahrávali – všechno je zmenšeno na přibližně 600px (na výšku či na šířku podle fotky). U fotek také nejsou v HTML palce, jen komentáře (možná dočasná chyba).
Videa
Videa jsou všechna ve formátu MP4.
Další údaje
V HTML jsou také všechny vaše události (kromě odmítnutých či smazaných), poznámky (užitečné, používáte-li jako blog) a zprávy (včetně "Updates") – dokonce i konverzace jsou spolu. A seznam kamarádů – jen jejich jména.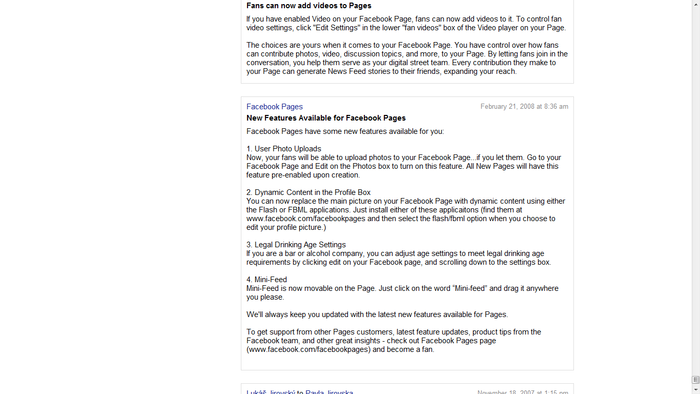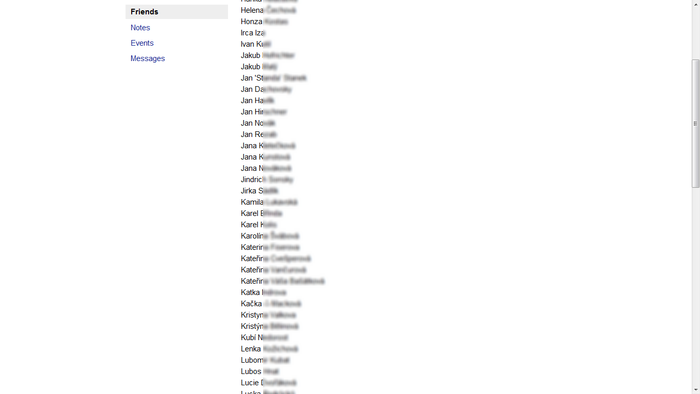 Jak vypadá HTML?
HTML vypadá, že by mělo jít bez větších problémů zpracovat a využít pro import – náhled.
Závěr
Je dobře, že Facebook začal umožňovat tento export dat – opravdu to ale chce dávat si pozor na heslo. Čekal bych, že brzo se najdou služby, které budou import nějak využívat (i třeba jen na fotky).
Taky určitě nejsem sám, kdo by ocenil stejnou funkci pro zdi stránek, které mu patří.
pondělí 22. října 2010, 14:11 - 29948× shlédnuto - RSS komentářů - tagy: facebook zaloha webdesign
---
Reklama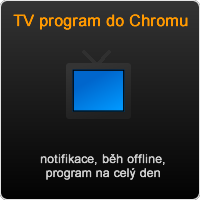 Reklama
Kvalitní domény, levný webhosting
Vyzkoušejte spolehlivý Český hosting. www.cesky-hosting.cz
Facebook tipy
Moje weby
---