lis 07 22
SMS jízdenka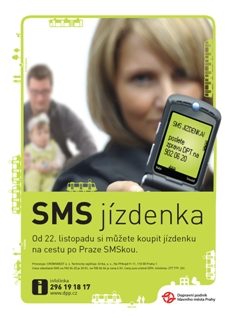 Kde se vzalo, tu se vzalo, najednou si můžete koupit přestupní jízdenku SMSkou. Co já vím, tak to DPP nikde dopředu nesliboval, poprvé jsem o tom slyšel v poledních zprávách na ČT a odpoledne při cestě metrem už na to viděl reklamu v metru. Pošlete SMSku na DPT na číslo 902 06 20, přijde vám nějaké potvrzení a můžete nastoupit do MHD. Asi se Dopravní podnik snaží zlepšit si image kvůli dalšímu výraznému zdražení. Více na webu DPP.
Jen trochu nechápu, proč zavádět tuto službu měsíc před plánovaným zdražením, které přinese změnu telefonního čísla. Taky jestli DPP doplácí nějakou výraznou provizi… (cestující platí stejných 20 korun, jinak by to asi ani moc nešlo). Myslím, že až budete revizorovi ukazovat mobil a on bude vytahovat svoje MDA pro kontrolu, tak bude podobně nadšený, jako když jsem v knihovně místo normální karty s čárovým kódem použil opencard a paní knihovnice musela odněkud z pod stolu vyndat čtečku na RFID karty :).
Ale určitě si DPP body za snahu zaslouží, navíc jestli fungují Premium SMS pro roaming, tak je to užitečná služba pro turisty – obzvlášť kdyby jim o tom třeba přišla SMS při zapnutí mobilu na letišti nebo prvním příjezdu do Prahy.
Zastávky v Google Maps
Zastávky MHD (i s linkami) najdete nyní v Google Maps. Taky pěkné, jen by bylo o mnoho lepší, kdyby byly v Google Maps nahrané i časy linek a šla vyhledávat cesta i s informací, kdy to jede. Můžete si to zkusit třeba na příkladu Portlandu (OR, USA).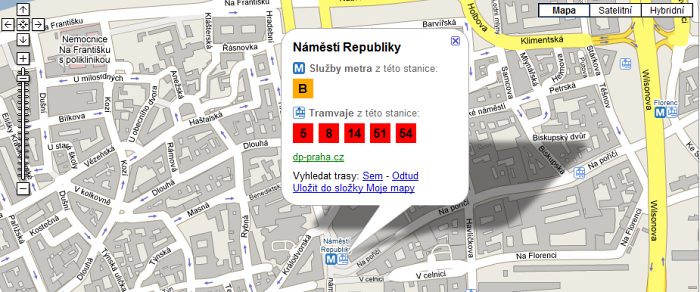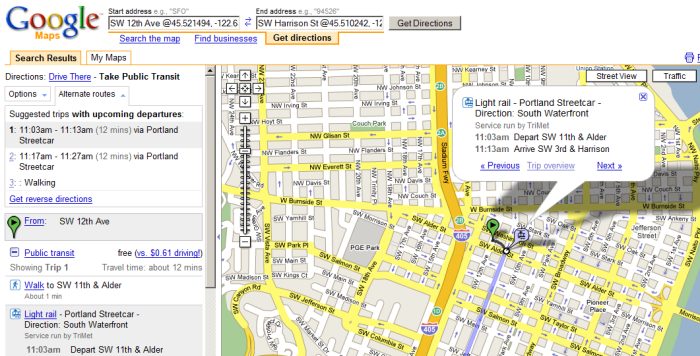 Ale taky je to užitečné :). Kromě toho jsou nyní v mapách i obrysy budov. Je to všechno pěkné, ale stále u mě vítězí Mapy Seznamu.
Google News
A jen krátce k novým českým Google News – je fajn, že jsou, používat je asi moc nebudu (myslím, že nemám problém s nedostatkem zpráv; RSS čtečka a u "normálních" mi stačí kanál Aktuálně a iDnesu na iGoogle), ale kdybych je chtěl používat, tak ocením možnost volby, které zdroje jsou pro mě nejdůležitější. Nevím, jestli teď dostává přednost ten, kdo přišel se zprávou první, ale třeba já bych si nastavil, aby hlavní odkaz vedl na Aktuálně, související na iDnes a třeba až pak by byl zbytek jako Tiscali, České Noviny nebo web ČT24.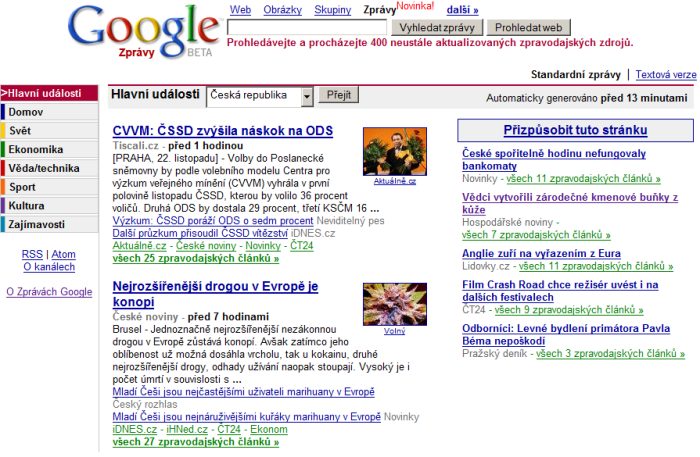 Jazyky v Google
Jak u Google Maps, tak u Google News mám trochu problém s jazykem – kvůli Gmailu mám nastavenou angličtinu (nové funkce rychleji, "Inbox" je kratší než "Doručená pošta"), takže třeba i když chci české Google News, tak mi někdy vyskočí anglické apod. Škoda, že nejde nastavit, že jsem z ČR, ale chci mluvit anglicky :) (teda nastavit to jde, ale asi se to nastavení moc neprojevuje).
sobota 22. listopadu 2007, 20:43 - 27561× shlédnuto - RSS komentářů - tagy: google dpp webdesign
---
Reklama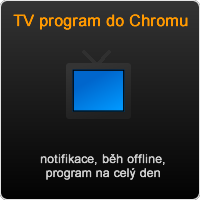 Reklama
Kvalitní domény, levný webhosting
Vyzkoušejte spolehlivý Český hosting. www.cesky-hosting.cz
Facebook tipy
Moje weby
---