čer 07 12
Beta verzi Safari 3 pro Windows si můžete stáhnout ze stránek Applu, ale…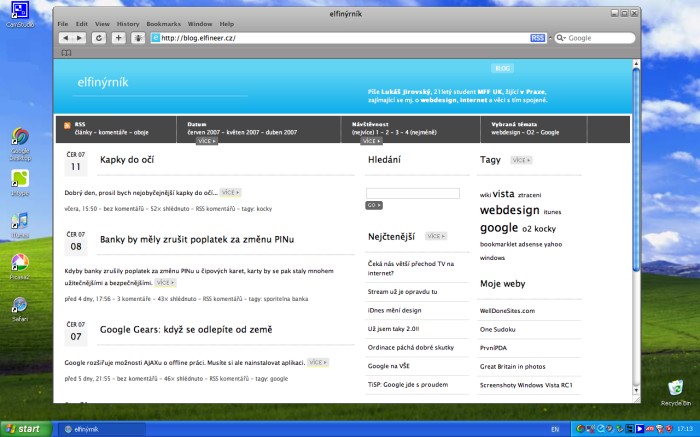 Problémy s instalací
Safari vám pravděpodobně nepůjde s českými Windows (jak XP, tak Vista). Dalším problémem je také uživatelské jméno obsahující české znaky.
I pokud se vám ale nakonec podaří Safari rozchodit, nemáte vyhráno a svůj defaultní prohlížeč zatím pravděpodobně nezměníte – skoro na každé stránce chybí nějaký text. Pravděpodobně to způsobují české znaky, ale nejsou jediným zdrojem problémů, text chybí například i na YouTube či v AdSense reklamách. Skoro mám pocit, že jediná stránka, která se načte bez problémů, jsou v Apple videu (odkaz Watch the video) předváděné New York TImes :).

Během chvíle krátkého používání jsem objevil dvě věci, které vždy způsobí chybu:
jakákoliv práce se záložkami (včetně například kliknutí na tlačítko +)
některý AJAX (ale ne každý XMLHttpRequest), padá například Seznam Našeptávač
Teď už ale jen pozitiva…
Rychlost
Safari je opravdu velmi rychlé. První spuštění u mě trvá asi 9s, další pak do vteřiny. Stejně tak přepínání mezi taby je rychlejší než u Firefoxu.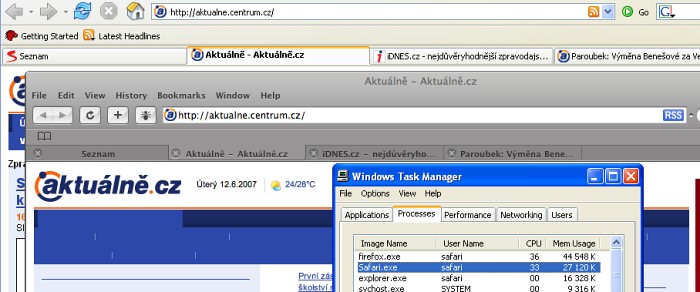 Systémové nároky Safari jsou u mě menší než u Firefoxu, důvodem, proč oba prohlížeče spotřebovávají tolik CPU, není nic menšího než O2 reklama na Aktuálně.
Prostředí
Prostředí kopíruje Mac OS velmi věrohodně. Například dialogy vyjíždějí zeshora (viz obrázek, který vypadá divně, ale vznikl PrintScreenem a ukazuje, jak efekt vypadá) nebo formulářová pole se po kliknutí do nich zvýrazňují svítivým okrajem. Co jsem ještě v prohlížeči nikdy neviděl a zdá se mi jako geniální věc, je možnost uživatelem změnit velikost TEXTAREA (v rohu se objeví textarey se objeví stejný trojúhelník jako v rohu prohlížeče). Co si budeme povídat, webdesigner někdy neodhadne všechno stoprocentně a když chcete napsat delší komentář, jde o užitečnou věc.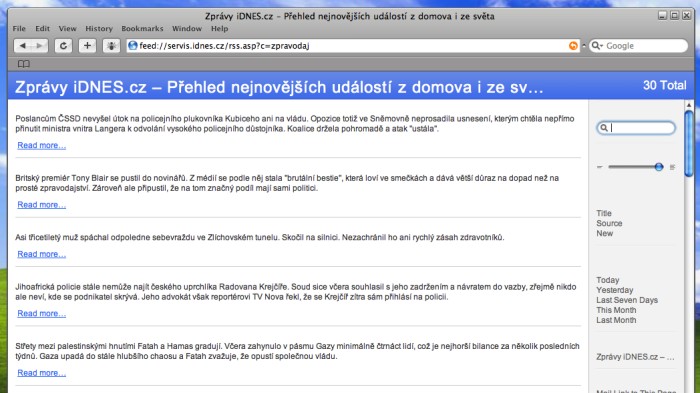 Vyhledávání v textu vypadá tak, že stránka celá zšedne a oranžově vyskakují nalezená slova. Zbytečné, ale hezké... :) Další taby se otevírají stejně jako ve Firefoxu přes Ctrl+T nebo kliknutí na odkaz kolečkem, Ctrl+Tab pro přecházení mezi nimi ale nefunguje.

Spolu s prostředím ale přichází trochu podezřelý font, který vypadá tak nějak… divně. Nevím, jestli je to anti-aliasingem (jestli ano, tak rozhodně ne ClearTypem), ale mám pocit, že takle vypadá i na Macu.
S videem ve Flashi (YouTube/Stream) jsem žádné problémy neměl.
Závěr
Ačkoliv je start nového Safari pod Windows poněkud rozpačitý (hlavně u českých uživatelů), už teď má u mě Apple velké plus (zkontrolovat web v živém Safari – i když s chybějícím textem – je mnohem lepší než čekat na Browsershots).
A taky myslím, že Apple posledním přístupem nemůže udělat chybu, jen si pomoct. Myslím například BootCamp (Windows na Mac počítačích) či iTunes a Safari, které nemálo uživatelů nadchnou svým prostředím... Navíc internetový prohlížeč používáme všichni čím dál více - určitě víc než MP3 přehrávač, který běží na pozadí.
středa 12. června 2007, 18:27 - 29422× shlédnuto - RSS komentářů - tagy: webdesign apple
---
Reklama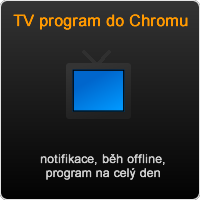 Reklama
Kvalitní domény, levný webhosting
Vyzkoušejte spolehlivý Český hosting. www.cesky-hosting.cz
Facebook tipy
Moje weby
---