led 07 17
Kde se AdSense nehodí
Jako pokusný web jsem použil One-Sudoku.com. Web jsem nedělal kvůli AdSense, ale i kdybych si od AdSense chtěl slibovat nějaké lepší výsledky, One-Sudoku je přesně ukázka webu, kde AdSense rozumně fungovat nemůže. Aktivní hráči se na server pravidelně vracejí, dokonce každý den (jen se podívejte do tabulky splněných :)). To je samozřejmě dobře, ale oni přijdou, zobrazí si přesně tři stránky (hlavní → vyhodnocení → žebříček) a odejdou. To, co je u blogů typický problém poklesu CTR po pár dnech (týdnech), protože stávající čtenáři si na reklamy zvyknou, je na tomto serveru ještě výraznější, protože zde není nic, co by se měnilo (například článek o televizi má jiné reklamy než článek z oboru webdesignu). Na sudoku stále uvidíte reklamu na sudoku-handheld apod., na to nekliknete ani jednou za týden, nejspíš ani za měsíc.
Text-Links-Ads.com prodávají samotné odkazy a co je na tom nejlepší, nemělo by to vadit na jedné stránce s Google AdSense (viz níže).
Pokud jsem alespoň já dobře pochopil smysl takového kupování linků, nejde zde ani tak o návštěvnost, ale kupujete si odkazy na webech se slušným GPR (myslím, že 4 je minimum) a ty weby si jako inzerent vybíráte – můžete si vybrat podobný obor a tak.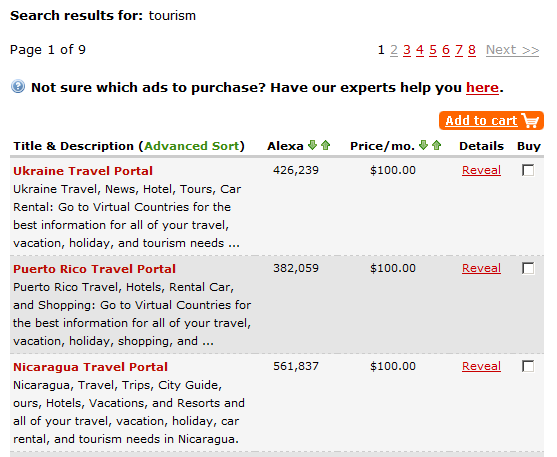 Jak to, že to funguje jako opravdový odkaz?
Integrace do stránky je složitější. U GAS přidáte javascriptový kód a Google už se postará sám. Reklamy ale nejsou trvalou součástí stránky, např. při pohledu do HTML kódu vidíte něco jako "a teď se zeptej Googlu, co tu zobrazit".
TLA na to jdou jinak (musí, pokud má link fungovat i pro SEO). Při přidávání webu dostanete jméno XML souboru, který máte vytvořit (např. local_12345.xml) a nastavit mu práva read/write (chmod 666). Do stránky pak vložíte kód (řekněme např. PHP), který
zobrazuje reklamy z XML souboru
plní XML soubor příkazy z TLA serveru.
Důležité je zde, že to pak jsou "opravdové odkazy". Po tom, co toto nastavíte, začne se ukazovat odkaz Text Links Ads (nebo tak něco), abyste viděli, že vše funguje, jak má. Po 12 hodinách odkaz sám zmizí a další by měly být už placené.
TLA je taky sympatické posíláním výdělků přes PayPal. Mimochodem, kromě normálních linků je možné vydělávat na reklamách v RSS – pouze v případě, že používáte Wordpress.
Weby jsou prý kontrolovány při přidávání, ale e-mail s textem *Your inventory was accepted!* mi přišel nějak podezřele rychle, takže řekl bych, že spíš až dodatečně.
Opravdu se to nebije s Google AdSense?
Jak jsem tak hledal na internetu, tak by nemělo. Ale je to jedna z mých otázek do diskuze – přeci jen Google nechce jiné systémy na prodej reklamy. Je tedy takový link reklama? Na jednu stranu jsou to "jen" linky (jako třeba link na vlastní web, na weby kamarádů), ale na druhou stranu to je reklama, i když jen ve formě obyčejného odkazu.
Moje zkušenost
U One-Sudoku se se mnou TLA server nějak přestal bavit – XML soubor naplnil jen hlavičkou (tedy samotný přenos linků funguje). Ale problém je, že sudoku má GPR 4, ale jen tak napůl (takový ten mezistav, kdy vám jeden den Google řekne 4 a druhý 0).
Zkusil jsem linky u svého jiného webu, který má GPR 4 stoprocentně (resp. podle předpovídací služby bude 5). Vše proběhlo jak má, teď čekám, jestli si někdo koupí link u mě. Pokud jo, napíšu o tom, pokud ne, tak ty linky tiše sundám :).
A kolik z toho?
Cena za umístění odkazu se odvíjí hlavně podle GPR, Alexa ranku (+ pravděpodobně na počtu podstránek apod.). Za web s fotkama z V.B. mi "bylo nabídnuto" $40 - $100 měsíčně (pokud seženou 8 odkazů, TLA vyplácí 50%). Pokud to bude fungovat, fajn :).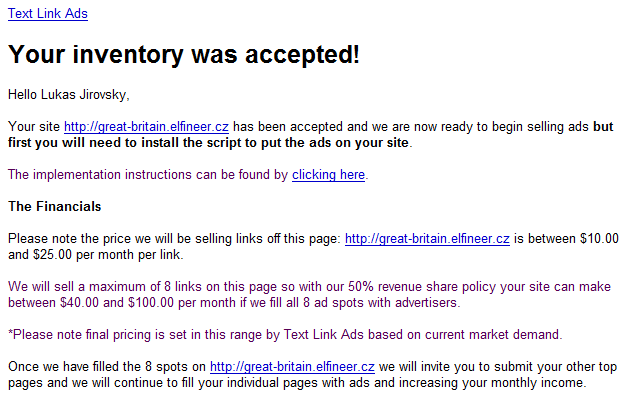 ---
Mimochodem, odkaz na TLA je přes affiliate program. Pokud se rozhodnete službu taky používat, tak bych z toho teoreticky mohl něco dostat, ale tenhle článek jsem nepsal jako reklamu na TLA – jsem zvědavý na vaše zkušenosti a taky na vaše názory (třeba možný konflikt s AdSense). Díky.
sobota 17. ledna 2007, 21:53 - 39155× shlédnuto - RSS komentářů - tagy: text_links_ads adsense webdesign
---
Reklama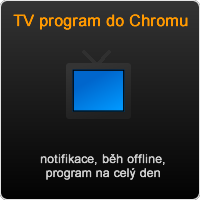 Reklama
Kvalitní domény, levný webhosting
Vyzkoušejte spolehlivý Český hosting. www.cesky-hosting.cz
Facebook tipy
Moje weby
---