srp 11 22
Ještě nedávno platilo, že příchody na váš web z Twitteru se rozpoznávaly poměrně špatně – pokud jste nepoužily kampaňové parametry (před použitím nějakého zkračovače), mohly mít návštěvy jako zdroj twitter.com, jiného webového klienta (Seesmic) nebo se také mohly tvářit jako přímé (pokud aplikace, například TweetDeck, otevírala prohlížeč) - tedy podobná situace jako s e-maily. Řešením je přidávání kampaňových parametrů, odkazujete-li například ze svého Twitteru na svůj blog, ale samozřejmě v případě, že někdo odkázal na vás, určitě parametry nepoužil.
Příkladem může být tweet odkazující na mou diplomku (který mimochodem i díky počtu RT považuji za velmi vysoké hodnocení :)).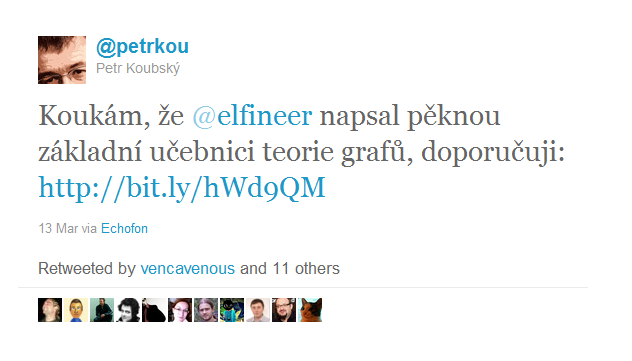 A jak se projevil na návštěvnosti webu podle zdrojů: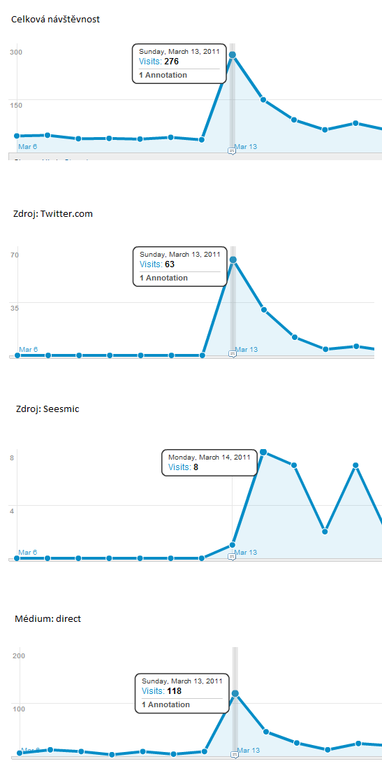 Co přináší t.co?
Twitter ale už nějakou dobu každý odkaz pošle přes svůj vlastní zkračovač t.co. Na první pohled jde čistě o užitečnou službu, odkaz na web je možné vložít přímo do Twitteru a není nutné používat jiné služby. Ve webovém klientovi (a někdy i na mobilu) dokonce "maskuje", že byl zkracovač vůbec použitý a to ne úplně jednoduchým javascriptem (takže třeba když kopírujete text odkazu, kopírujete ve skutečnosti cílovou t.co adresu).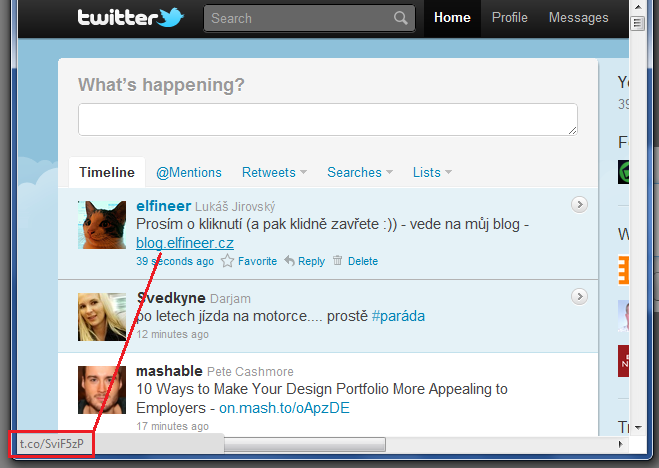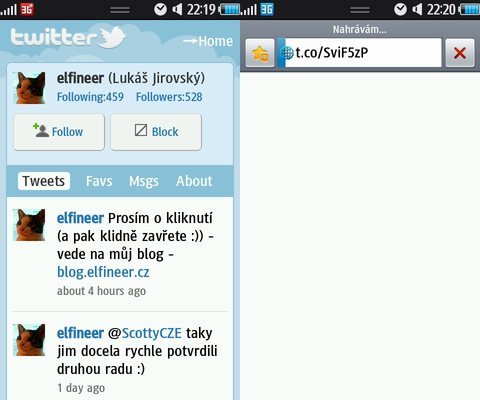 Tweet, jak byl předaný přes API webu Klábosení:

Twitter takto ale přesměruje i odkaz, který už byl zkrácený (například přes bit.ly):

Jak dlouho to Twitter dělá? Pravděpodobně změny nasazuje postupně, poprvé jsem si toho všimnul v červenci, kdy další přesměrování protahovalo načtení na mobilu; tweety, co posílám přes API, se takto změnily minulý týden:

Co to přináší měření?
Co je nejdůležitější – nyní se všechno, co projde Twitterem, hlásí jako ze zdroje t.co. Příchody přes můj tweet, který odkazoval na blog jednoduchým napsáním URL, jsou tedy jasně identifikovatelné, ne jako u příkladu s diplomkou:

T.co se ale díky výše popsanému přesměrování vnutí jako referer i v případě, že jste použili bit.ly: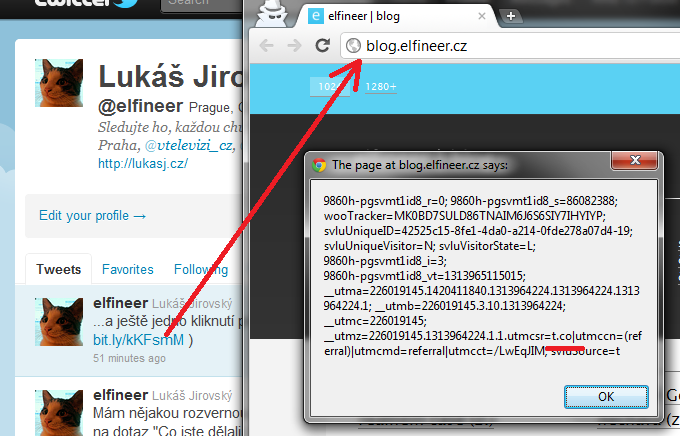 Jak přesměrovává t.co?
Díky tomu, že bit.ly používá HTTP přesměrování 301, nijak se ve statistikách neprojeví. T.co naopak přepisuje zdroj přesměrováním META, které pro jistotu kombinuje ještě se zvláštním javascriptem:

Závěr
Je možné, že Twitter chce ukázat svou sílu, kolik návštěv skutečně na web přivede, stejně tak se nějakou dobu mluví o analytickém nástroji od nich.
Výhodou je, že nyní lze lépe Twitter identifikovat, obzvlášť od odkazů, které nemůžete ovlivnit. Nevýhodou pak trochu ztráta svobody (Twitter sám říká, že může adresu zablokovat jako ochranu před škodlivými odkazy) – teoreticky tak Twitter váš web snadno odřízne, protože ať jste použili jakéhokoliv klienta pro vložení či vaši followeři na něj klikají kdekoliv, odkaz nejprve prochází přes t.co.
Zajímavý bude dopad na SEO, který by měl být spíše negativní (toto přesměrování je jistě mnohem pochybnější než 301ka), na druhou stranu Twitter je pro vyhledávače jistě dost velký na to, aby mu porozuměly.
Objevil se vám ve statistikách zdroj t.co?
Odkaz na zdroj/inspiraci prvotní myšlenky: The Next Web, Twitter Just Got the Respect it Deserves
pondělí 22. srpna 2011, 09:37 - 226139× shlédnuto - RSS komentářů - tagy: twitter social analytika google_analytics weby webdesign