bře 09 22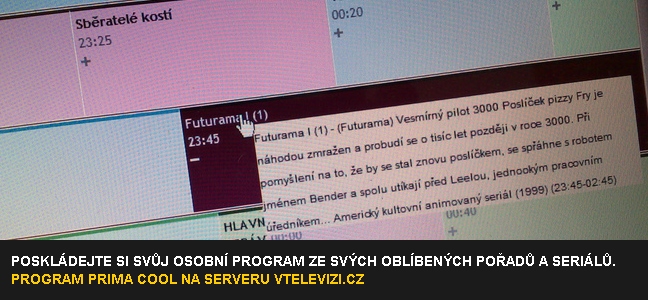 Pravděpodobně vám neunikly upoutávky na nový kanál TV Prima - Prima Cool; případně na DVB-T už několik měsíců strašila stanice Prima 2 s pouhým textem, že tam něco bude - nyní na tam běží také upoutávky.
Upoutávka
Prima Cool startuje příští středu (tedy 1. dubna) a bude vysílat převážně seriály a to nejenom opakování typu Xena nebo Lebkouni, ale i nové a úspěšné (The Big Bang Theory, Chuck...). Nebude vysílat celý den, ale začne v době, kdy přijdou studenti ze škol :) a to opakováním předchozího dne.
Na vtelevizi.cz si můžete už teď vybrat pořady z P. Cool do osobního programu a např. si vyexportovat do kalendáře ty, na které nechcete zapomenout.
Protože web (zatím) neumí jít v programu o tolik dní daleko (obzvlášť, když u jiných stanic program není), je nutné si (podobně jako u náhledu programu Barrandova) pomoct následující tabulkou odkazů:
V mobilních verzích (obyčejné mobily a iPhone - m.vtelevizi.cz a i.vtelevizi.cz) a v gadgetech (iGoogle) se Prima Cool objeví až opravdu pár dní před spuštěním.
Pokud vůbec neznáte web vtelevizi.cz, může se vám hodit následující video:
pondělí 22. března 2009, 23:23 - 24362× shlédnuto - RSS komentářů - tagy: televize
---
Reklama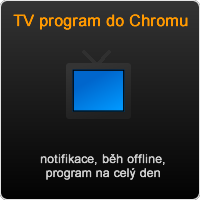 Reklama
Kvalitní domény, levný webhosting
Vyzkoušejte spolehlivý Český hosting. www.cesky-hosting.cz
Facebook tipy
Moje weby
---