kvě 08 06
První část prezentace
V první části prezentace Jaroslav Bengl ze švýcarského Googlu představil, co je na českých mapách nového:
Lokalizace
Kromě "samozřejmé" lokalizace (pojmy jako ulice, trasa…) je pěkné, že mapy chápou dotazy, které se mi v americké verzi zdály velmi efektní. Mám na mysli např. hotely v Praze, hospody v Brně… Chcete-li najít cestu z Prahy do Brna, stačí jen zadat "z prahy do brna". Také mimochodem funguje adresa mapy.google.cz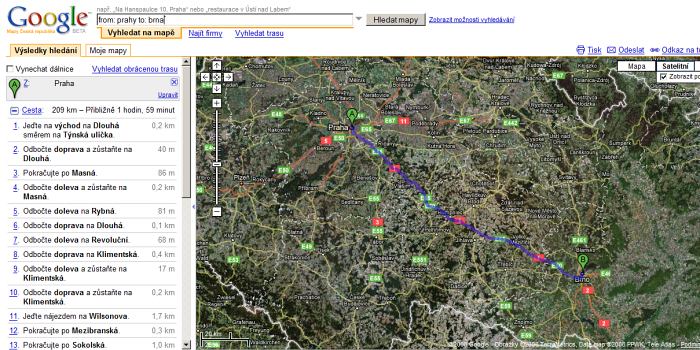 Mashupy
Vrstvy s informacemi třetích stran (známé hlavně z Google Earth) používají nyní i české mapy. Funguje hledání firem (většina informací od Mediatelu – Zlaté Stránky), samozřejmostí jsou také informace z normálního vyhledávání.
Jako takovou vrstvu s informacemi lze přidat např. mapu kriminální činnosti od Deníku nebo YouTube videa či fotky z Panoramia.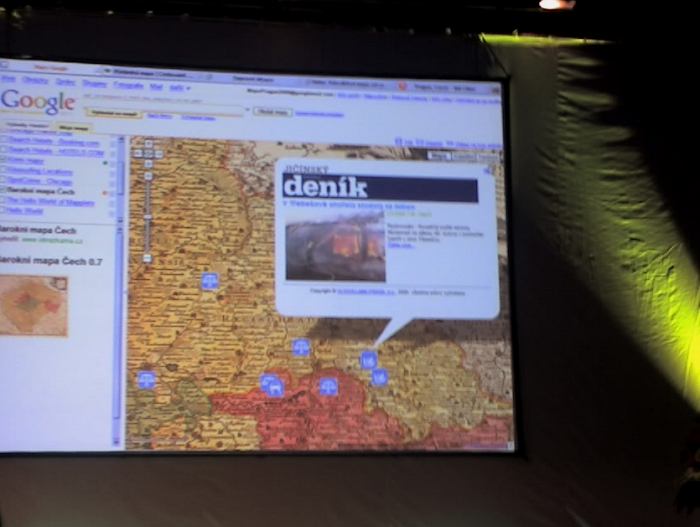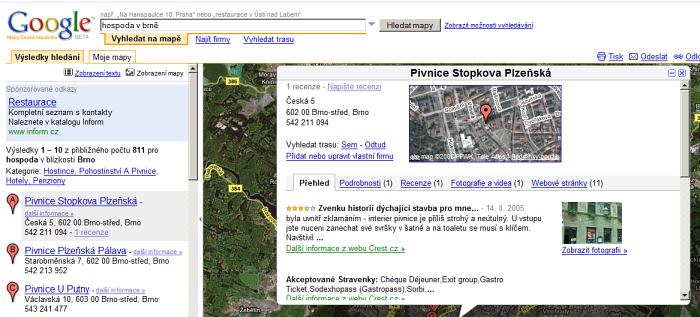 Mobilní aplikace
Google Maps Mobile zvládají určovat polohu podle BTS – stačí podržet 0 (+ případně GPS, zvládá-li mobil). Funkčnost z reklam na iPhone (najdi nejbližší kino), jen myslím, že tomu furt chybí ta lehkost, aby to používali všichni :) (spouštění java aplikace…)
Druhá část
V druhé části dva pánové (jedním z nich byl Jean-Laurent Wotton, bylo to napsané na prezentaci :)) z londýnského googlu v angličtině předváděli, jak mapy používat z pohledu programátora (a například embedovat do svých stránek apod). Prezentace zajímavá, všechny tyto věci jako event listenery jsem se před pár lety učil stylem pokus-chyba :)). Určitě tyto informace jsou/budou někde v Google Maps API.
Mimochodem Google umí tzv. geocoding – na základě adresy vrátí souřadnice. (Užitečná informace: geocoding lze provádět pomocí HTTP dotazu.) Java mapy umí také pracovat s KML podobně jako Google Earth.
Kromě map je možné do svých stránek vkládat i např. trasu od A do B (driving directions) a StreetView (panoramatické pohledy na ulice, u nás zatim ne).
Zajímavá byla ukázka aplikace Image Cutter, která umí rozkouskovovat obrázek na hromadu menších, které se použijí jako mapový podklad (ale nemusí jít o mapu, typicky panoramatická fotografie).
Třetí část a soutěž
V třetí části vystoupil Alexis Manach z Bezrealitky.cz – o Google mapách nic moc nového, spíš ukázka, jak je jejich server používá.
Nakonec byla představena soutěž Moje mapy – více na blogu Google ČR.
Šlapací Google Earth: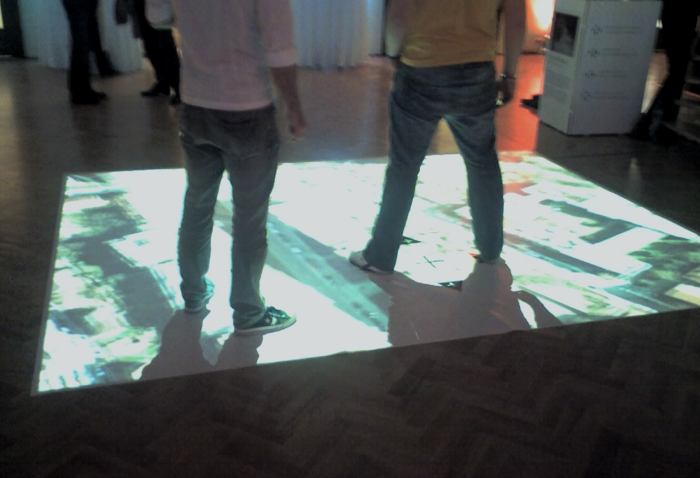 ---
Pak jeste pridam par fotek z mobilu, prezentace ale moc hezka, google dekuji za pozvani :)
sobota 6. května 2008, 16:51 - 62572× shlédnuto - RSS komentářů - tagy: google webdesign
---
Reklama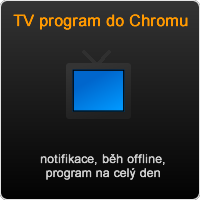 Reklama
Kvalitní domény, levný webhosting
Vyzkoušejte spolehlivý Český hosting. www.cesky-hosting.cz
Facebook tipy
Moje weby
---