říj 07 26
O One Sudoku
Server One Sudoku jsem založil loni v srpnu – jde o web, kde si můžete každý den zahrát sudoku, za to dostat pro svou zem (a nyní i město) body, ze kterých se udělá žebříček (a nikdo za to nic nedostane kromě dobrého pocitu, logika SETI :)).
Web měl před prázdninami pár tisíc hráčů. O prázdninách jsem web trochu předělal, přidal největších 2000 měst světa (btw na ČR vyšla jen Praha, Brno, Ostrava; na Slovensko Bratislava a Košice), Google Maps a trochu změnil bodování – za každý den, co nehrajete, přijdete o jeden bod a když jich máte méně než -10, tak se účet sám smaže. Všechny staré účty jsem smazal, dal možnost přenést body ze staré verze, takže počet aktivních hráčů je nyní pár set. Tolik k sudoku.
iPhone verze
Když jsem poprvé viděl JS/CSS framework na iPhone "aplikace" (viz níže), tak jsem si říkal, že by se toho dalo využít a udělat verzi pro iPhony – nakonec jsem si to ale z části rozmyslel a z části na to zapomněl.
Znovu mě na tuto myšlenku přivedlo spuštění katalogu webových aplikací na webu Applu a říkal jsem si, že tu hodinu až dvě, co mi dá práce pro iPhony zabrat, mi za ten pokus stojí. Nakonec to trvalo trochu déle, než jsem úplně rozchodil posílání formulářů, ale vše se povedlo a verze vypadající jako *iPhone-fine* a otestována na Safari 3 pro Windows byla hotova a funkční.
Dal jsem si záležet na tom, aby byly přes tuto verzi dostupné i alespoň základní žebříčky a aby bylo možné si hned po odehrání sudoku založit účet a na něj rovnou dostat body.

Předminulou neděli (14.) jsem zkusil web přes formulář na webu Applu přihlásit, na nástěnku jsem si vytisknul papír s textem Thank you for your submission a po dvou kontrolách webu Applu na to zapomněl.
Po několika dnech mě potěšila zpráva od Karla, který iphoní verzi zkusil u někoho ve škole a prý bez problémů šla – to mi zvedlo seběvedomí, jak pěkně vyrábím "aplikace" pro iPhone, aniž bych ho někdy držel v ruce :).
Dnes mě napadlo se kouknout do adresáře aplikací Applu a zjistil jsem, že tam je od včerejška odkaz na tu mou! Dokonce jako jméno firmy je moje jméno :).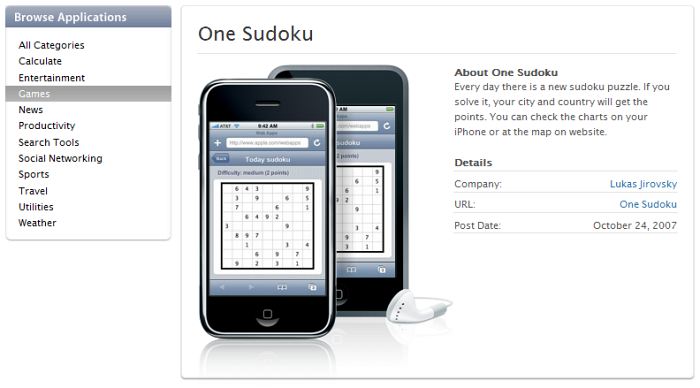 A první výsledky? Kromě toho, že to považuji za SEO plus pro sudoku web (odkaz z webu Applu mi přijde jako hodně fajn), tak samozřejmě doufám v nové hráče – jen za dnešní den se jich zaregistrovalo 100 (přímo z iPhonu, jsou odlišení).
Nyní jsou dvě možnosti:
hráči sudoku oželí grafiku jiných sudoku JS aplikací a budou hrát u mě, protože mám pěkné žebříčky (docela možné)
normální lidi se vykašlou na nějaké žebříčky a budou hrát radši na aplikacích, které jsou pěknější, barevnější a radí další tahy (taky dost možné).
Až budu mít nějaké delší statistiky, tak je sem napíšu (momentálně nemám žádné, protože statistiky ze serverových logů mají až několikadenní zpoždění a Google Analytics jsem v iPhoní verzi ze začátku neměl).
Vývoj aplikací pro iPhone
A k samotnému "vývoji": pokud jste někdy dělali wapovou verzi, tak verze pro iPhone je to samé, jen to všechno píšete do frameworku – jedním z nejlepších je asi iUI od Joe Hewitta. Stačí se podívat do zdrojových kódů příkladu a brzo je vše jasné.
Jediné, s čím jsem měl chvíli problémy, bylo, že když například stránka odpovídá na výsledek formuláře, tak nesmí mít HEAD ani BODY, ale už samotnou odpověď.
iPhone verzi One Sudoku si můžete vyzkoušet i v internetovém prohlížeči, ale bez Safari toho moc nepořídíte.
sobota 26. října 2007, 08:21 - 19341× shlédnuto - RSS komentářů - tagy: sudoku apple webdesign
---
Reklama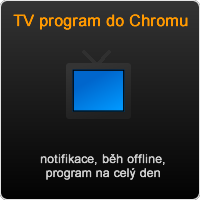 Reklama
Kvalitní domény, levný webhosting
Vyzkoušejte spolehlivý Český hosting. www.cesky-hosting.cz
Facebook tipy
Moje weby
---