zář 06 28

Původně jsem tím nechtěl začít, ale prostě nejde to neminout – je to přesně Yahoo!. V zájmu objektivity nutno říct, že Atlas je na tom úplně stejně, jen používá trochu (z mého pohledu hezčí) modré šrafování a Seznam je starší verze Yahoo!, která šla více svou cestou. Nezačínám zbytečné flamy, jen myslím, že bych asi neměl odvahu (drzost?) dát někomu jako svůj návrh webu něco takto podobného. Více o tom psal třeba Jirka Macich.

Ale Centrum nezměnilo jen design, upravilo i jiné věci:
Mnohem větší užívání Ajaxu
Konkrétně jednoho efektu: změna obsahu záložky. Doteď to využívaly portály spíš jen mírně, teď skro v každém boxu (stejně jako Yahoo! :)) – horní hledání, aktuální zprávy, přihlášení do e-mailu, další zprávy…
Tomu, že to s Ajaxem asi myslí opravdu vážně, nasvědčuje, že se nemění jen obsahy malých boxíků, ale v podstatě celá stránka (viz obr).

Nové logo
Se mi nelíbí, protože vypadá, jako kdyby někdo měnil rozměry minulého a zapomněl zaškrtnout Keep aspect ratio. Vypadá podivně splácle.
Mail
Když se přihlásíte do e-mailu, tak se dostanete na podivnou mezistránku. Nejste ani ve své e-mailové schránce (takovýten AJAX klient), ani na hlavní stránce – vidíte přehled e-mailů s oranžovým tlačítkem Vstoupit do schránky, fotky pár lidí, kdybyste se nudili a chtěli se seznámi a navíc login do jiného freemailu – zajímavé.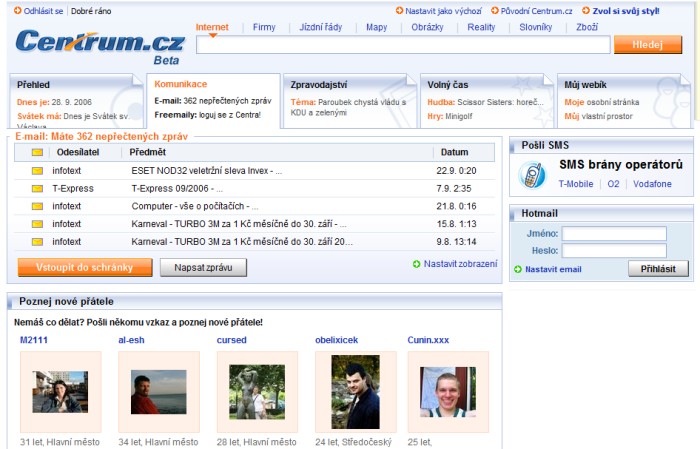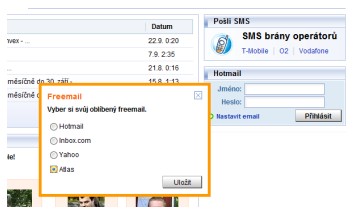 Opravdu se mi povedlo se přihlásit do schránky na Atlasu (tu jsem získal před pár dny úplně zbytečně k ICQ). Že by konkurenční boj? Možná se Centrum snaží nalákat uživatele, aby k nim přešli a zároveň se pohodlně dostali do svého původního mailu. Nejsem si jistý, jestli je to úplně eticky čisté (přeci jen mluvit o etice u něčeho tak bezvýznamného, jako je to, odkud se logujete do mailu, je přehnané), ale když se to Atlasu nebude líbit, může se Centra zbavit třeba kontrolou referreru.
Se satmonou schránkou se nic (zatím) nezměnilo, najednou máte pocit, jako že už nejste na tom samém Centru – hezky to popsal Jilm Blog.
Webík
Na ten jsem byl od začátku hodně zvědavý, podle prvních náhledů to vypadalo jako něco mezi eStránkami, Google Page Creatorem a weby, které lezou z iLife (Mac OS X) – na ten jsem si asi vzpomněl díky těm efektům jako polaroidové fotky poházené na pozadí atd.

Na webík vede jedna ze záložek pod vyhledáváním (jste-li přihlášeni). Nad webíkem je sice napsáno, že to je jen demo, ale když šel přesto upravit, zkusil jsem to – pak ale stránka nešla uložit. Navíc se objevilo, že webík je součástí Xchatu, ať si tam založím profil, ke kterému jako bonus dostanu schránku (kterou už mám). No jenže moje přezdívka už byla obsazená (tím, že tu schránku mám), tak mám ještě navíc lukas.jirovsky­2@centrum.cz. Možná je to jen vlastnost beta provozu, ale řekl bych, že tady je chyba jinde. Možná jsem se registroval v nevhodnou dobu, že ke schránce nám Xchat login. Mimochodem Xchat dostal taky nový kabát, nějak nevím, co si o něm myslet – ani +, ani -.
Na to, jak samotné Centrum webík docela vnucuje, tak u Xchatu to je jen docela nenápadný link nahoře.
První varování – nemám nic ve fotoalbu. Aha, tak asi nepůjde nahrávat fotky přímo z disku, ale nejdřív budou muset projít nějakým fotoalbem.
Celý webík je jeden velký flash soubor, kde přidáváte objekty a poměrně jednoduše tvoříte poměrně nesmyslé efekty (ohořelý papír, pootočený o několik stupňů).
Fotka se přidává pomocí Fotoalb (nová služba, viz níže). Nakonec se mi sice povedlo nahrát jednu fotku do fotoalb, ale webík furt hlásil, že tam nic není, tak jsem se na to vykašlal. Výsledek mého snažení si můžete prohlédnout tu.
Fotoalba
Asi takový český flickr – podobných služeb už ale pár je i v ČR.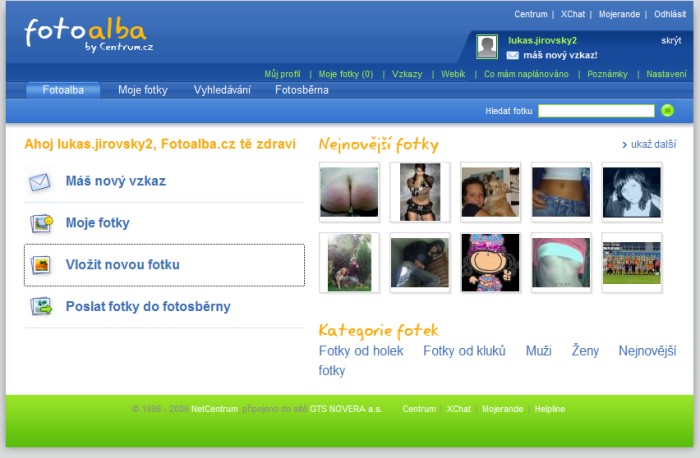 Z celého nového Centra mám pocit, jako by ty služby byly nějak špatně pospojované. Nejen graficky či názvy, ale třeba Centrum Xchat a Centrum Fotoalbum s podobným designem by dávaly větší smysl, takle kliknete v profilu Xchatu na fotoalbum a dostanete se na fakticky jiný server s úplně jiným designem (ale na stejné poddoméně kvůli Netmonitoru).
No hold nelíbí nějak celé :)… Třeba design hlavní stránky hezký, ale není moc původní a u zbytku bojuju s nepochopením propojení služeb a tak. Ale to, že se to mě nelíbí, nemusí nikomu vadit, já na portály moc nejsem.
Jsem docela zvědavý na boj Atlas/Centrum. Centrum sice přidalo nové služby (zmiňovaný webík) a i Xchat při měření návštěvnosti pomůže, ale ICQ od Atlasu je podle mě pro budoucnost lepší krok.
sobota 28. září 2006, 22:17 - 24717× shlédnuto - RSS komentářů - tagy: webdesign ajax centrum portály
---
Reklama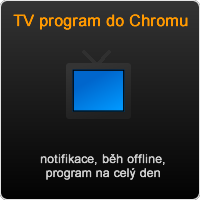 Reklama
Kvalitní domény, levný webhosting
Vyzkoušejte spolehlivý Český hosting. www.cesky-hosting.cz
Facebook tipy
Moje weby
---