bře 07 29
Buď jde o normální proces vylepšování prohlížeče a nebo chce Microsoft dohnat Apple dříve, než bude iPhone dostupný – novinkou je totiž velmi podobný způsob procházení stránek.
Způsob procházení webu
Zatímco standardní Pocket Internet Explorer se snaží stránky ořezávat a zjednodušovat, iPhone (a Deepfish) naopak zobrazí celou stránku jako na počítač a na ní zoomujete části, co vás zajímají.
Zoomování se nastavuje joystickem. Stisknutím vyvoláte šedý obdélník, kterým najedete na zvolenou část a stisknete.
Tato verze prohlížeče je viditelně velmi vývojová, občas padá a pokud se pokusíte přibížit něco na kraji stránky, tak se objeví divné pruhy. Ale až bude prohlížeč hotový, půjde pravděpodobně o velmi pěknou aplikaci. Také jde možná jen o můj problém (Acer n311 – zkušenosti), protože některé jiné komentáře se tváří nadšeně.
Celý nový prohlížeč by mohl být problém pro Operu, která z ne úplně dokonalého PIE těží a prodává svůj browser za $24, což je podle mě několikanásobně víc, než by bylo za tak malou aplikaci přiměřené.
Screenshoty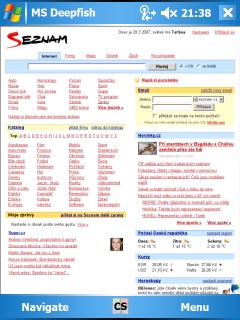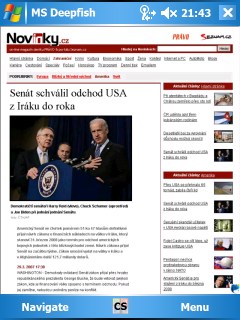 Video
Rychlost vykreslování ale za moc směrodatnou neberte, O2 FUP 128kbps :) (hold je konec měsíce). Navíc video je ve strašné kvalitě, je to nahrané Razrem - dobře ale ukazuje způsob zoomování.
Kde Deepfish stáhnout
Pokud si chcete Deepfish vyzkoušet, je to trochu problém. Microsoft sice uvolnil verzi k testování, ale jen pro omezený počet, který se rychle zaplnil. Jeden z beta testerů zkopíroval instalační CAB soubory na svůj web, ale browser se při každém spuštění připojuje k serverům MS kvůli aktivaci. Takže i když jeden funkční kód najdete v komentářích k článku na Diggu (i odkaz na instalaci), pravděpodobně moc dlouho fungovat nebude. Štěstí můžete zkusit i přímo u Microsoftu.
sobota 29. března 2007, 22:40 - 32454× shlédnuto - RSS komentářů - tagy: pda microsoft webdesign
---
Reklama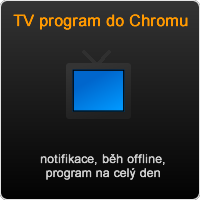 Reklama
Kvalitní domény, levný webhosting
Vyzkoušejte spolehlivý Český hosting. www.cesky-hosting.cz
Facebook tipy
Moje weby
---