úno 11 10
Nové stránky vypadají tak, jak se předpokládalo už koncem loňského roku (článek na Mashable) – šly pryč taby, objevily se nové funkce jako "přihlásit se jako stránka" a také pár dalších změn.

Co mě zaujalo nejvíc
5 malých fotek jako v profilu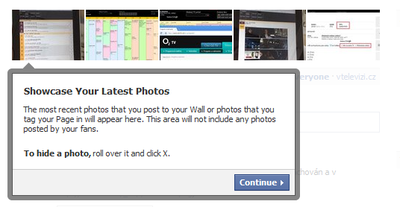 Malé fotky jako v osobních profilech vypadají zajímavě a budou využitelné jako nová "reklamní plocha" (třeba přehled funkcí nebo nějaké zajímavé efekty, jako se objevily s touto funkcí již u osobních profilů). Ale zatím to vypadá tak, že Facebook kašle na pořadí obrázků.

Řazení příspěvků od uživatelů podle důležitosti
Nové řazení příspěvků od uživatelů podle důležitosti bude užitečné na velkých stránkách typu ČT24 – čím více palců a komentářů ke svému názoru nasbíráte, tím bude relevantnější a výš, takže komentáře si budou muset pozici nahoře vybojovat, ne jako tenhle spammer: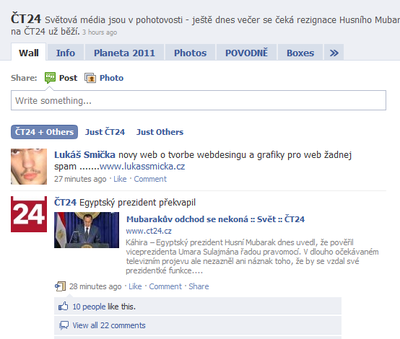 Ovšem u malých stránek, jako je ta moje, je to spíše nepřehledné. Naštěstí:
Možnost přihlásit se jako stránka
Při přihlášení jako stránka vidím vlastní novinky a když naopak kliknu na svůj osobní profil, tak vidím jen to, co je vidět veřejně všem. Nejcennější jsou na tom ale notifikace.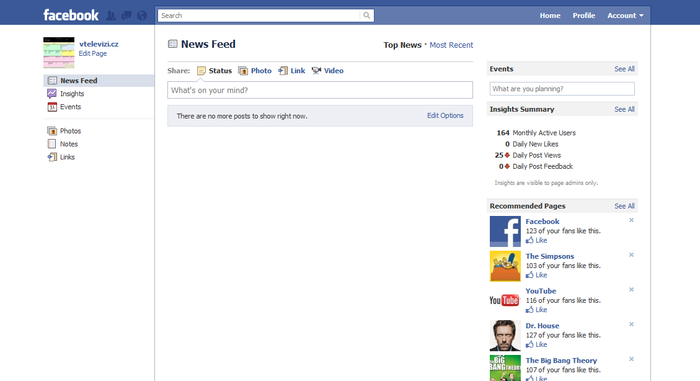 Neměl by vám tak uniknout ani komentář k něčemu staršímu. Dokonce je možné mít tato upozornění v RSS – takže kromě snadného sledování si je můžete v RSS čtečce označovat, na co je potřeba odpovědět apod. (nebo s tím pracovat ještě podrobněji). Takže už snad nebude potřeba služeb třetích stran.
E-mailové upozornění
mi sice žádné nepřišlo, i když mělo, ale také to vypadá nadějně.
FBML
funguje jako před tím, jen se nyní přepíná vlevo a ne taby.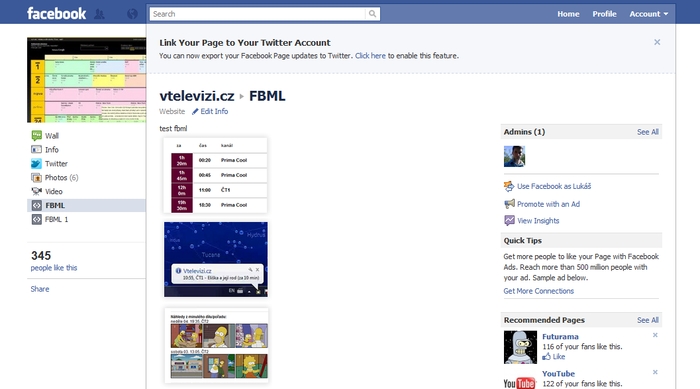 Zatímco u profilů, jakmile jste si u sebe zapli nový, tak jste i všechny kamarády už viděli nově, u stránek toto neplatí - může vám klidně patřit nějaká nová stránka i nějaká stará - vše tedy určuje admin.
Jaké jsou vaše názory? Oceňujete například nové řazení zpráv od uživatelů?
Update (11/2/2011): S tím Static FBML to asi nebude úplně ideální, viz článek na Pooh.cz.
pondělí 10. února 2011, 23:57 - 22583× shlédnuto - RSS komentářů - tagy: facebook weby webdesign
---
Reklama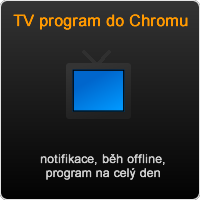 Reklama
Kvalitní domény, levný webhosting
Vyzkoušejte spolehlivý Český hosting. www.cesky-hosting.cz
Facebook tipy
Moje weby
---