srp 07 21
Zatímco loni 1. září s velkou slávou měnil grafiku Telecom na O2, letos provede změnu podobně obří ČT. Tedy, zůstává ČT, dokonce i s logem, ale změny jsou zásadní.
Proč?
Na změně se začalo pracovat již před dvěma lety, jedním z hlavních důvodů by měla být digitalizace a s tím spojený společný design většího počtu kanálů, protože se začal rozpadat na dvě větve – staré (ČT1 a ČT2) a digitální (ČT24, ČT4 Sport).
Znělky a loga
Změn je opravdu mnoho, nejvýraznější je nepochybně grafika. Znáte takové ty tiskové reklamy, kde je přes celou stránku velká fotka a k tomu malý obdélník na kraji, kde jsou uvedeny informace? Většinou to vypadá na papíře pěkně a efektně – tak touto cestou se dala ČT. Jenže u televize…
Zatímco teď si u ČT vybavím pěkně udělané znělky Událostí, které do sebe promyšleně zapadají podle témat, předěly na ČT24, fyzická studia zpráv hodící se vzhledem k černooranžovým znělkám apod., u Novy/Primy mi něco podobného chybí. Ano, znělky zpráv (silně počítačová krajina – Nova), upoutávky na pořady skládající se z PR fotky, oranžové barvy a textu (Prima), ale nic podobně výrazného jako u ČT.
Loga – to samé. Ta stara měla nápad, ty novější (24, 4) vypadala originálně, tato jsou číslo s čárkou. Navíc až bude dokončena digitalizace úplně, tak ČT dokáže svou modernost tím, že staré logo zahodí úplně a příjde jedno velké Č, které už teď zdobí gesta ve znělkách. Moderátoři už asi nebudou lákat na "čété-jedna", ale na "jedničku".
Nové znělky mi připomínají hudební televize, například když jsem viděl na Joostu IMF – musí se to hýbat, v kusu běží upoutávka na pořad, někde se v rohu ještě něco točí, aby bylo, na co se soustředit, když vás ukázka nezajímá… A celé to vypadá jako jeden velký obří playlist.
Jednotlivé kanály dostanou vlastní balík znělek, který je rozezná od ostatních a který je také velmi přesně cílí. Jednička bude mít ve znělce rodinu, kamarády…; Dvojka spisovatele, psychopatku…; Čtyřka běžeckou dráhu, hráče kulečníku…; 24ka ukazují, jak plyne čas (mraky nad Náměstím Republiky v Praze, lidi v metru…).
Obrázky znělek pocházejí z on-line archivu ČT (resp. screenshotů videa) a je nutné si odmyslit kromě dolního panelu i logo 24 a text ŽIVĚ.
Znělky 4 a 24 jsou ale velmi nápadité, čárku nad Č používají skoro až geniálně – ve zprávách z ní vylétává časová osa, ve sportu zastupuje tyč, kterou skokan přeskakuje apod.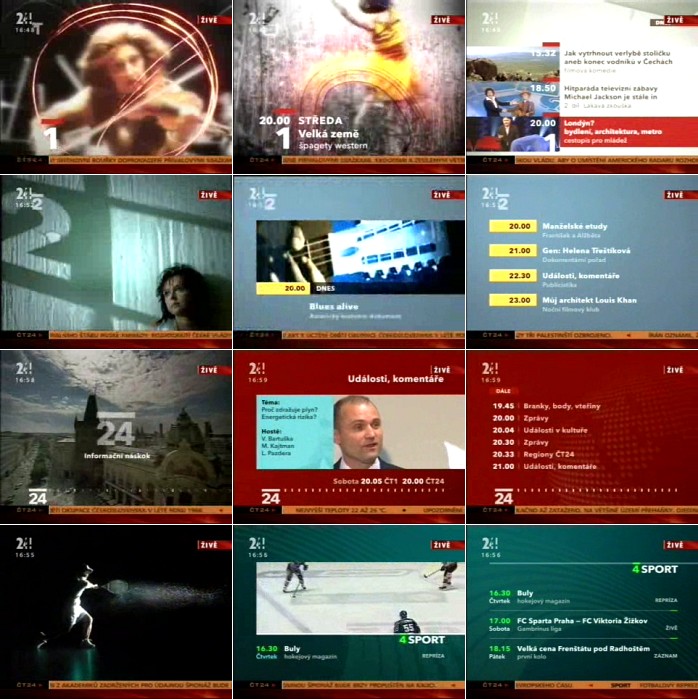 S novou grafikou souvisí i nový font, který bude u ČT naprosto všude. Samotný je opravdu pěkný, ale sem se dle mě naprosto nehodí – Avenir. Na znělkách na mě dělá pocit, jako by tím mělo být napsané 1 Kčs v kolečku a ne jako font pro …moderní a sebevědomou televizi… (jen ne kurzíva! ale co stávající?).
Odlišení kanálů
K dalšímu odlišení kanálů mají pomoct i nové hlasy patřící vždy ke konkrétnímu kanálu - například Jiří Dvořák k 1 či Vanda Hybnerová k 2 (imho bezva volba).
Nové jsou i slogany, které má každý kanál zvlášť - Vítejte na jedničce!, Jiný prostor., Žijeme sportem., Informační náskok. a celkový Jsme Česká televize..
S tímto stylem se budou ČT velmi dobře přidávat nové kanály - vezme se nejvyšší aktuální číslo, zvětší o jeden, napíše se na barevný čtverec, přidá háček, sežene hlas, vymyslí slogan a je hotovo. Napadá mě ale, co bude ČT dělat, jestli bude chtít mít více *jedniček* - nespecializovaných kanálů tak nějak pro všechny, do budoucna by na to mohla mít místo. Třeba se budou v budoucnu usmívat rodiny ve znělce na jedniččce i pětce.
Závěr
Ačkoliv celý článek vyznívá poměrně negativně, není to, že by se mi novinky nelíbily, protože redesigny se víceméně nelíbí nikomu, ale zvyknou si všichni - většinou mám podobně změny rád. A celá grafika a znělky se mi zdají pěkné, to ano. Jen bych je čekal od nějakého digitálního nováčka (i když ti mají po jednom kanálu) a ne, že bude ČT násilně bourat moderní, leč tradice dodržující a perfektně zapadající dojem za bílá čísla s háčkem a znělky, které teď přece v Evropě letí.
sobota 21. srpna 2007, 23:50 - 23716× shlédnuto - RSS komentářů - tagy: ct televize
---
Reklama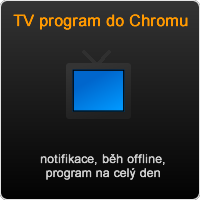 Reklama
Kvalitní domény, levný webhosting
Vyzkoušejte spolehlivý Český hosting. www.cesky-hosting.cz
Facebook tipy
Moje weby
---