led 12 01
Tradice těchto článků se mi líbí (2010, 2009, 2008) – na fotkách jsou zachycené poměrně zajímavé věci, ať už jde o z dnešního pohledu pěknou cenu benzínu nebo starý design Facebooku
Letos ale fotky nebudou, nějak jich nemám moc a jsou rozházené po několika telefonech, každopádně pár poznámek a linků si ani letos neodpustím. Vyhnu se ale "velkým" událostem, které stejně zmíní dost jiných webů, ať už jde o Fukušiku, smrt Václava Havla nebo Steva Jobse.
Letošní notýsek:
TV program si vede pěkně, za tento rok se počet uživatelů i fanoušků zdvojnásobil. Koncem roku se mi podařilo úspěšně přidat i slovenské kanály, takže až dodělám posledních pár detailů, začne fungovat i slovenská verze na adrese http://vtelevi­zii.sk
konečně jsem se naučil používat nové užitečné funkce HTML5 jako jsou databáze, uložiště… – v dubnu verze pro iPad (článek na blogu:článek na blogu), v prosinci Chrome motivovaná Googlí soutěží
s diplomkou jsem na Slovensku vyhrál 3. místo v kategorii na SVOČ
splnil jsem si dětský sen a pořídil si Macbooka (Air, 13") – brzy napíšu článek, jak se mi s ním žije – ne, že bych nebyl spokojený, ale chvílemi to nebylo snadné :).
Google spustil Google+ – sice si pořád myslím to samé, co jsem napsal v červenci ale na G+ alespoň jednou denně chodím kvůli zajímavému obsahu, kteří lidé, které sleduji, jinde nesdílejí
A ještě pár odkazů na blogy nebo služby, co mě letos docela potěšily:
Víc mě na blog nenapadlo, tento rok se budu snažit zas víc fotit :) Pěkný nový rok!
pondělí 1. ledna 2012, 20:47 - 18380× shlédnuto - RSS komentářů - tagy: rocenka
---
Reklama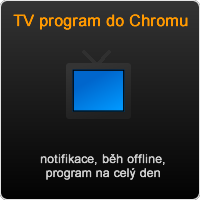 Reklama
Kvalitní domény, levný webhosting
Vyzkoušejte spolehlivý Český hosting. www.cesky-hosting.cz
Facebook tipy
Moje weby
---