úno 10 18
Mám na mysli server-side měření pro mobilní verze, které nepotřebuje na rozdíl od standardního Google Analytics kódu JavaScript, ale používá obrázek 1×1px, takže zaznamená i přístupy z obyčejných telefonů, ne jen smartphonů, které standardní GA kód většinou zvládnou. Jde o něco trochu jiného, než o čem psal Lukáš Zaplatílek (segment, který odliší mobilní návštěvníky na standardním webu). Podobnou funkci (měření mobilní návštěvnosti) už delší dobu poskytuje AdMob (loni Googlem koupený) nebo Bango.
Implementace měření
Chcete-li toto měření používat, je nutné si stáhnout ZIP soubor z adresy http://www.google.com/analytics/googleanalyticsformobile.zip, který obsahuje návod a kódy pro PHP, ASP, Javu a Perl. Implementace je jen o trochu náročnější, je nutné přidat jeden kód na začátek stránky (ještě před html) a druhý na konec před /body. Místo UA- je pak ID účtu MO-. V readme se vysloveně píše, že by se kód neměl používat s javascriptovým (dává smysl). Speciální mobilní údaje (typ zařízení, operátora) naleznete v GA ve Visitors, Mobile.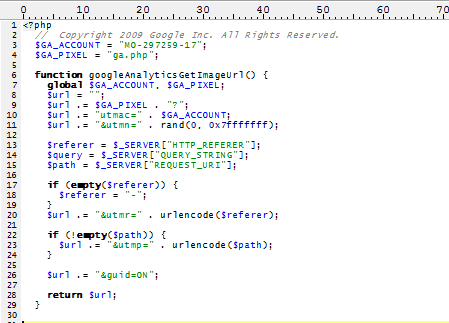 Zkoušel jsem měřící kód na mobilní verzi vtelevizi.cz, která sice nemá moc velkou návštěvnost, ale jsou tam vidět ruzní operátoři a druhy telefonů. Také už tam pár měsíců měří návštěvnost zmiňovaný AdMob.

Rozpoznávání telefonů
Zatím se mi zdá, že navrch má AdMob. Zatímco GA rozpoznává telefony na úrovni Symbian/Window­s/iPhone…, AdMob rozpoznává jednotlivé telefony (zvlášť vidíte např. Nokii 6300 a E51), což mohou být cenné informace například kvůli velikosti displeje (ty vám mimochodem AdMob dokáže ukázat ve speciální statistice). Řešením by možná mohlo být použít jako vlastní proměnnou x-wap-profil. X-wap-profil je odkaz na XMLko popisující schopnosti telefonu, například pro Nokii N95 je to http://nds1.nds.nokia.com/uaprof/NN95-1r100.xml, více na Wikipedii. V PHP se k němu dostanete přes $_SERVER["HTTP_X_­WAP_PROFILE"]. Myslím, že takto telefony rozlišuje právě AdMob, divil bych se, kdyby se k TAC kódu (=část IMEI) dostal někdo jiný než operátor. Zkusím vyzkoušet, jestli to takle s vlastními proměnnými v mobilní verzi a x-wap-profilem půjde.
Rozpoznávání operátorů
S rozpoznáváním operátorů si ještě neodpustím vsuvku, která na samostatný článek není, možná se ale někomu může hodit. Chcete-li rozpoznat operátora přímo ve své aplikaci (například kdybych chtěl zákazníky O2 z TV programu odkazovat na streamovanou televizi přes 3G), podle IP adresy to lze následovně:
operátor
IP
O2, APN: wap
začíná na 160.218.160.
O2, APN: internet
začíná 85. (tak začíná i ale například ADSL O2) a dál se, mám pocit, výrazněji mění, měl jsem na mobilu 85.160.205.152 a po odpojení a znovu připojení GPRSu 85.161.9.78. Výchozí nastavení O2 telefonů je ale WAP a například mobilní portál m.o2mobil.cz přes APN internet ani neotevřete, takže rozpoznat wap je důležitější.
T-Mobile
začíná 89.24.6.50.
Vodafone
začíná 217.77.165.
Pokud uživatel přijde z mobilu, ale přes wifi, nezjistíte nic, podobně asi u Opery Mini.
Návštěvnost
Poměrně mě ale překvapil docela výrazný rozdíl mezi naměřenými údaji obou služeb.
Pageviews naměřily za stejné období (3/2–16/2) víceméně stejně (GA: 2179, AdMob: 2136 (tzn. kolem jinak 2%). Může to být způsobeno také tím, že kód AdMobu je na stránce až po GA kódu.
Visits ale 509 (GA) a 707 (AdMob), to je docela velký rozdíl na tak malých číslech. Ostatní údaje jako hledané výrazy a další jsou u tohoto webu příliš malé, takže z toho se nic usoudit nedá.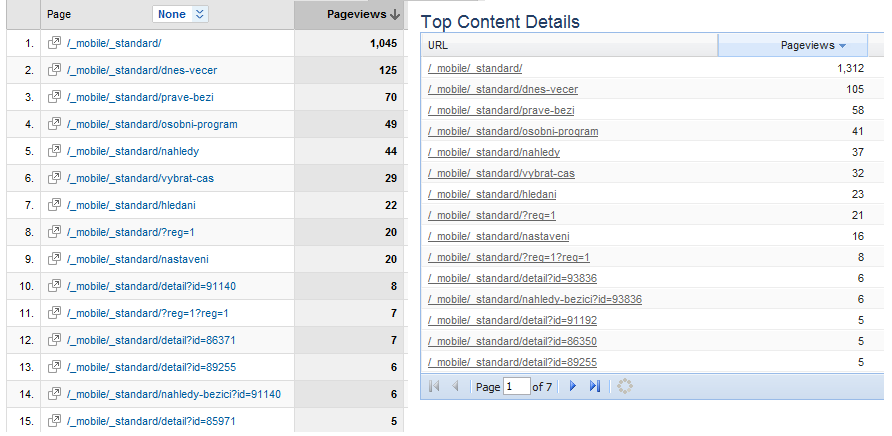 Máte někdo podobné zkušenosti z používání GA nebo třeba porovnání s AdMobem?
sobota 18. února 2010, 10:32 - 52010× shlédnuto - RSS komentářů - tagy: google google_analytics mobil o2 webdesign
---
Reklama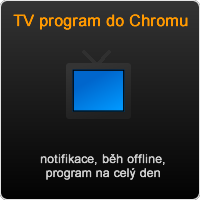 Reklama
Kvalitní domény, levný webhosting
Vyzkoušejte spolehlivý Český hosting. www.cesky-hosting.cz
Facebook tipy
Moje weby
---