pro 13 09
ČSOB aplikace v mobilu si při aktualizaci vyresetovala nastavení, takže jsem musel najít starou SIMku, kterou mám k účtu připojenou, abych mohl opsat ověřovací kód. SIMka byla bloklá, tudíž jsem hledal PUK. Omezím se jen na dobrou radu – nestírejte tu vrstvu IKEA imbusem, šlo to i málem s čísly (obrázek).
K tomu jsem ale našel starou smlouvu a leták z doby, kdy jsem nejprve opustil Paegas/T-Mobile k Eurotelu kvůli tomu, že měl neomezený datový tarif (myslím, že za 750), a následně jsem si tuhle Go kartu převedl na velmi výhodnou studentskou Pohodu.
Obrázky historických telefonů ani tak zajímavé nejsou (tu je mimochodem historie z roku 2000), ale přehled aktuálních služeb a datových i hlasových tarifů mi docela zajímavý přišel.
Jen pro kontext, v březnu 2005 Eurotel:
už 4 roky měl licenci na UMTS (za 3,5 miliardy, dráž než dnes LTE), ale teprve v prosinci spustil testovací 3G v Praze
už rok provozoval CDMA (tryskomyš)
probíhalo spojení s Českým Telecomem a následný prodej Telefónice
(Nechtělo se mi připojovat skener, je to vše z foťáku:)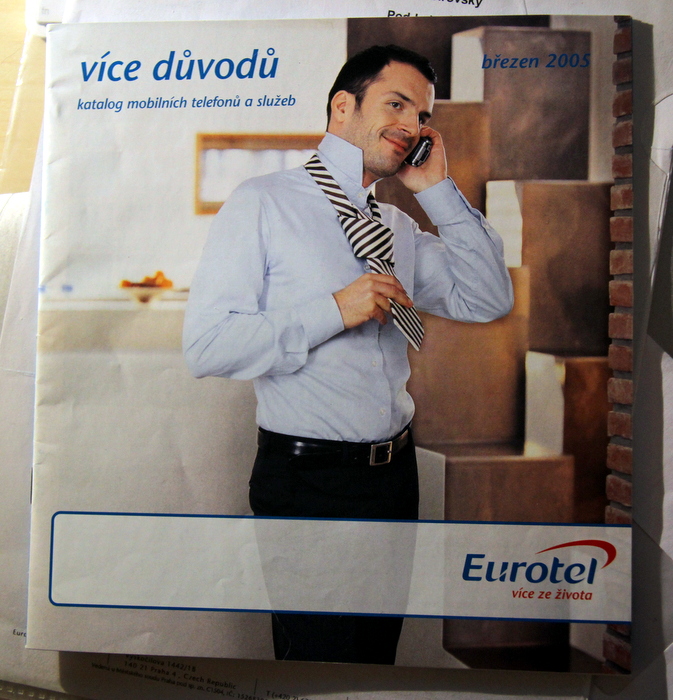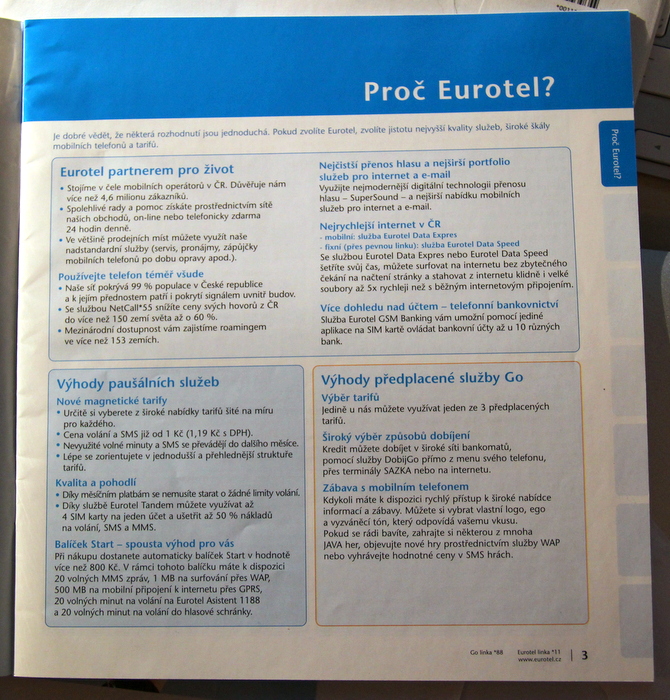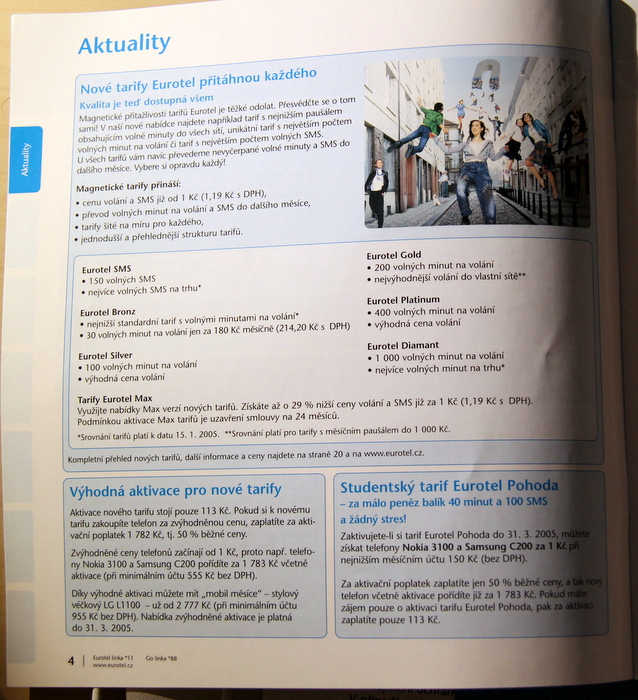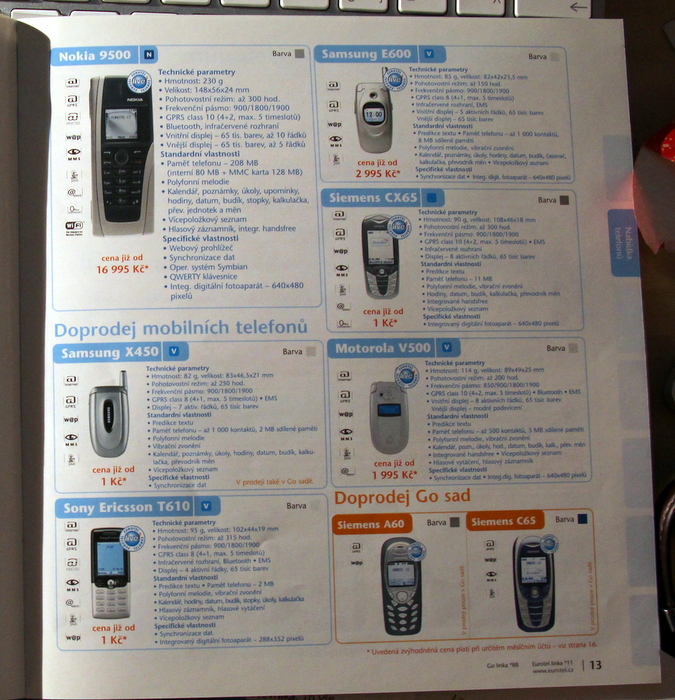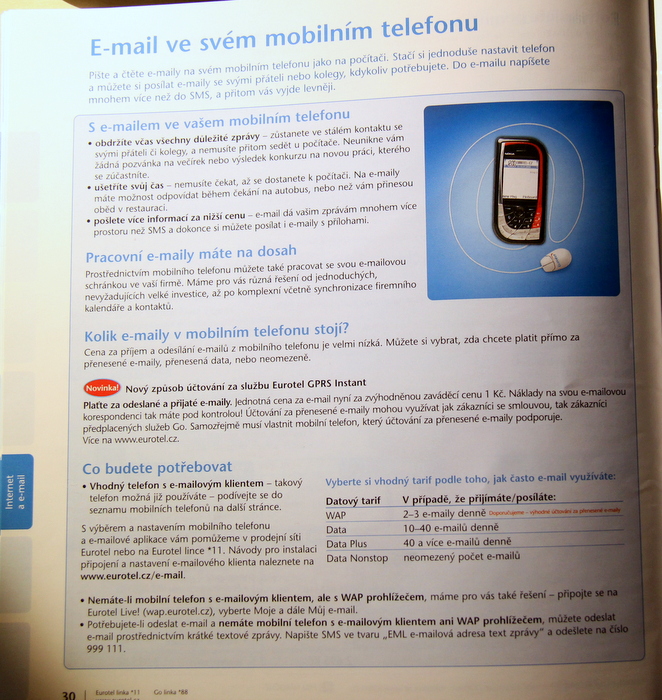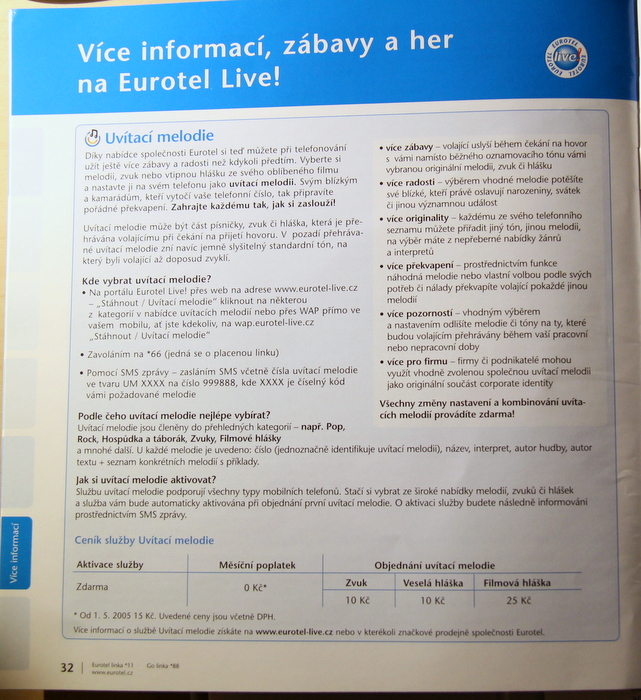 A link pro ty, co se chtějí kochat dále...
pondělí 9. prosince 2013, 22:42 - 23284× shlédnuto - RSS komentářů - tagy: eurotel o2 mobil
---
Reklama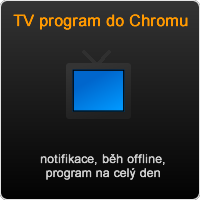 Reklama
Kvalitní domény, levný webhosting
Vyzkoušejte spolehlivý Český hosting. www.cesky-hosting.cz
Facebook tipy
Moje weby
---