lis 09 28
Před pár týdny jsem si v Google Docs vytvořil jednoduchou tabulku, ve které bylo uvedeno v který den se dá stáhnout jaký z populárních amerických seriálů (HIMYM, BBT…).
V diskuzi na Živě (mimochodem pod článkem popisujícím TV program Vtelevizi.cz (resp. Karlův program k němu – to je odkazů :) ) ) jsem narazil na zajímavý web – www.mytvrss.com.
Funguje velmi jednoduše – zaklikáte, na jaké pořady koukáte a dostanete RSS – co jeden díl seriálu, to jedna položka. Snadným odkazem můžete přímo vložit na iGoogle. Pokud pořad v TV nevysílají (mají-li například Díkůvzdání jako teď), tak se pořad neobjeví.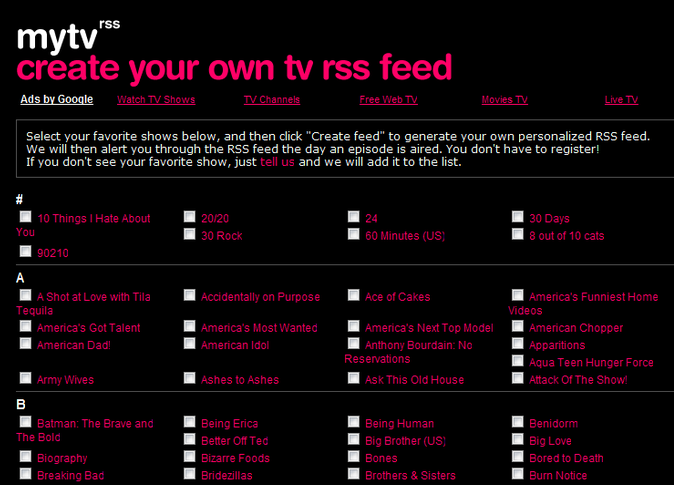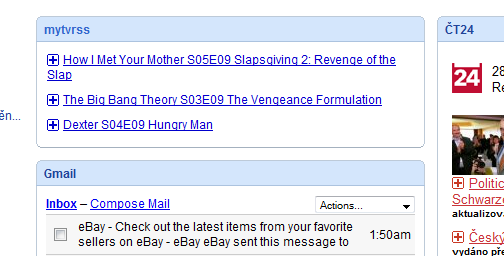 A ještě jedna věc se mi na tom webu líbí – nechce po vás žádný login. Chcete-li si přidat nějaký seriál, kliknete na odkaz v RSS, díky kterému opět upravujete svůj účet a nemusíte si nastavovat nové pořady (a zakládat tak jim na serveru nový účet). Jednoduché, rychlé… U důležitější aplikace asi trochu možná příliš jednoduché a nebezpečné, ale u seznamu seriálů naprosto dostatečné.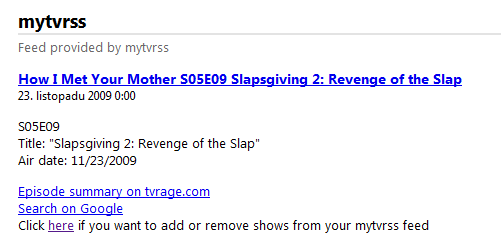 sobota 28. listopadu 2009, 14:39 - 8656× shlédnuto - RSS komentářů - tagy: televize
---
Reklama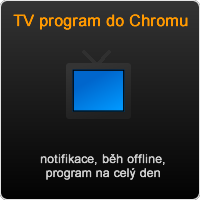 Reklama
Kvalitní domény, levný webhosting
Vyzkoušejte spolehlivý Český hosting. www.cesky-hosting.cz
Facebook tipy
Moje weby
---