úno 08 16
Původně jsem chtěl jen někomu poslat dvou minutové video ze seriálu The Office (Kancl, americká verze) – pěkně jsem ho popsal (včetně čísla dílu a do tagů napsal jméno i televizní stanice – NBC). Takže hláška (a e-mail), že jde o chráněný obsah, který mi dost možná nepatří, ani nepřekvapila a video jsem zas smazal.
Rozpoznání chráněného obsahu
Chtěl jsem ale zkusit, jestli YouTube video opravdu rozeznává podle otisku zvuku – Google takovou technologii testuje už od léta minulého roku. Video jsem trochu upravil a překódoval a záměrně nijak rozumně nepojmenovával. A zase, během asi hodiny mi přišel e-mail, že jde o video ze seriálu a že držitelem práv NBC Universal.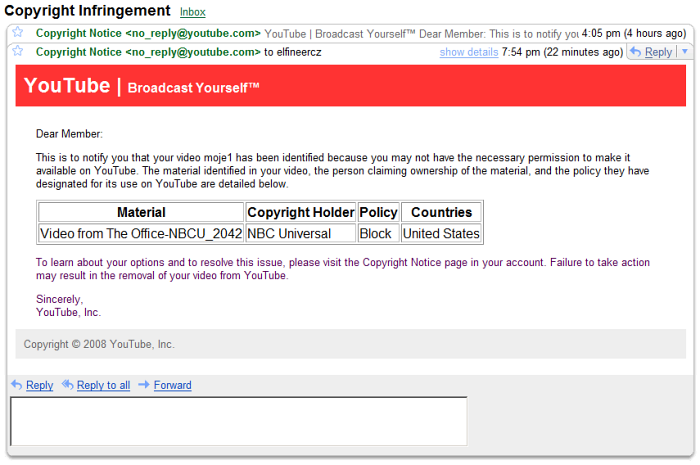 Takže rozpoznávání funguje :). Zajímavý ale musí být princip toho porovnávání - rozhodně nestačí jen porovnat zvukové stopy nějak "obyčejně" - video projde i několika kompresemi než je přístupné na YouTube. Že by třeba pauzy v řeči?
Blokace
Zajímavé ale je, že podle e-mailu se prý video zablokovalo pro USA a jinak se nic moc neděje. Ve správě videí se objeví tlačítko Copyright info, které nabízí dvě možnosti. První je nedělat nic (pokud vám nevadí, že je video zablokované pro USA) – In the countries where your video is blocked viewers will see a notice that the video is not available in their region. Your video will continue to play uninterrupted everywhere else.
Druhou je vyplnit formulář, že video je vaše nebo máte oprávnění ho na YouTube nahrát atd. Přímo v textu je také napsáno, že v takovém případě bude video zkontroláno majiteli práv – Please note that if you protest the claim made against your video, we will make your video available for view to the alleged rights owner. This is necessary for the rights owner to review the dispute, and will happen regardless of the privacy settings you placed on your video..
Zakázáno by také mělo být vkládání videa do jiných stránek (embed) – když jsem ho zkoušel, tak ale bez problémů šlo. Stějne tak i při připojení přes americký proxy server (který Spyber identifikoval jako Indianu) se video načetlo.
Závěr
Video jsem zase smazal, cílem nebylo prokovat YouTube ani NBC, ale ozkoušet, že rozpoznávání obsahu videa funguje. Zvláštní mi ale příjde politika zablokovat video z USA a nechat ostatním – čekal bych spíše opak jako u jen pro USA přístupného hulu.
pondělí 16. února 2008, 21:36 - 48482× shlédnuto - RSS komentářů - tagy: youtube webdesign
---
Reklama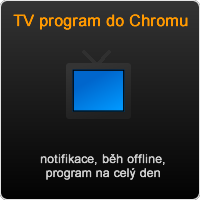 Reklama
Kvalitní domény, levný webhosting
Vyzkoušejte spolehlivý Český hosting. www.cesky-hosting.cz
Facebook tipy
Moje weby
---