bře 10 05
Jistě už jste se na Facebooku stali fanoušky (nebo alespoň někdo z kamarádů) nějaké stránky nikoliv kvůli sympatiím k dané věci, ale kvůli informacím, které se vám pak začaly mezi novinkami objevovat – typicky například stránka iDnesu nebo Kdo má dnes svátek?.
Podobně na Twitteru existuje pár kanálů, které publikují údaje automaticky – od Tower Bridge, který píše, jak se otevírá a zavírá, až po užitečné @Dneska.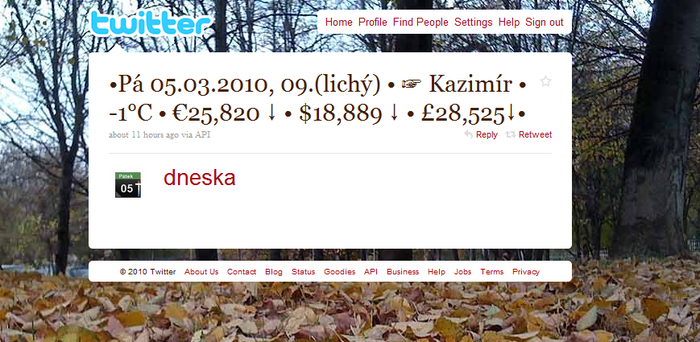 Chtěl bych se podělit, jak jsem vyřešil podobnou službu na Twitteru (kde funguje pěkně) i na Facebooku (kde funguje špatně - ukážu proč a jak to spravit :)) – večerní TV program (@TV_program na Twitteru / TV program na večer (stránka)). Ideálním cílem je nemuset nikde nic spouštět, o nic se starat a data se budou z vaší databáze objevovat sama.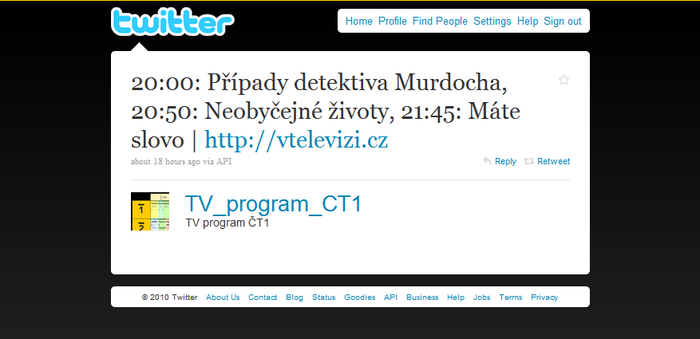 Pozor ale: pokud se rozhodnete, že takto jednorázově například založíte stránku/Twitter kanál vaší firmě, kam budou automaticky padat tiskové zprávy, mohli byste nadělat i více škody než užitku. Fanoušci vám budou posílat návrhy, dotazy a když na to budete kašlat, tak dost možná i nadávat.
Automatická publikace na Twitteru
POZOR! (aktualizace srpen 2010): následující návod není již kvůli novému API Twitteru funkční, nový naleznete například na serveru Programujte.com.
Velkou výhodou Twitteru je, že vaši zprávu uveřejní okamžitě – můžete tak nastavit publikaci na určitý čas každý den (@TV_program má vždy 17:00). Stačí mít tedy jednoduchou stránku, které nastavíte spouštění CRONem – vytáhne a zpracuje data, upraví délku, zkontroluje například, že funkce nevrátila například "NO DATA", nulu a podobně a nakonec pošle přes API do Twitteru. Samotné odeslání je jednoduché, já jsem použil tento skript.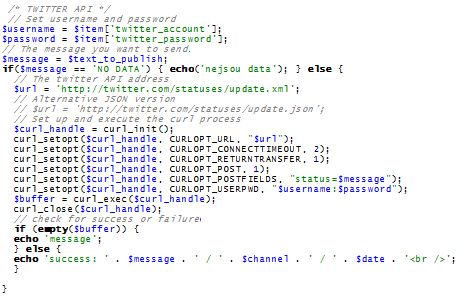 Automatická publikace na Facebooku
U Facebooku máte dvě možnosti. První, jednodušší, je použít import RSS kanálu do poznámek. Kromě toho, že takto můžete přenášet články, můžete také udělat speciální RSS kanál jen pro Facebook. Takto jsem řešil právě program.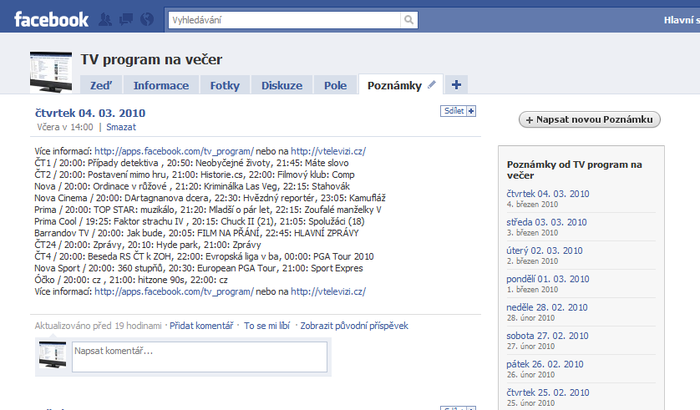 Nastavení je snadné, stačí jít do nastavení stránky, nastavení poznámek a zahájit import. Vždy když pak najde nový "článek", ukáže ho fanouškům jako poznámku mezi novinkami (a pro uživatele už pak není v podstatě žádný rozdíl jestli je to poznámka/odkaz/sta­tus…)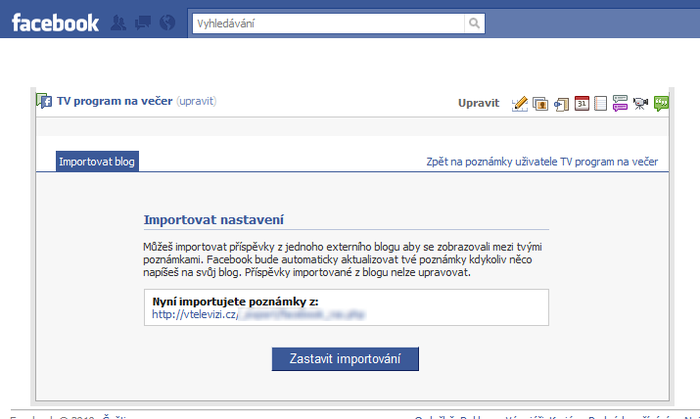 Toto řešení má ale jednu velkou chybu – záleží čistě na Facebooku, kdy přijde RSS robot a stáhne si a ukáže vaše data. Takže podobně jako na Twitteru je čas 17:00, u Facebooku to může být téměř cokoliv. Můžete RSS "probrat" tím, že ho odeberete a přídáte, to už by ale bylo jednodušší to psát přímo. Příklad, jak si stahoval Facebook RSS TV programu:
5/3, 3:57
4/3, 18:30
4/3, 12:27
4/3, 9:33
3/3, 15:03
3/3, 6:11
2/3, 23:13
2/3, 17:13
2/3, 11:40
Takže import RSS se nehodí pro pravidelné publikování, nehodí se to pro okamžité (třeba když budete mít překlápěný blog, tak nechcete, aby FB fanoušci byli "zpomaleni" klidně o půl dne).
Jaké je lepší řešení? Lepším řešením je vytvořit si na Facebooku aplikaci, kterou budete spouštět také CRONem, bude neveřejná a bude nosit data na vaši Facebook stránku. Protože tento postup může vypadat trochu šíleně, dal jsem ho do samostatného článku (odkaz pak bude na Twitteru třeba, je tam hromada screenshotů a přes 10 kroků, co je potřeba udělat :)).
pondělí 5. března 2010, 11:23 - 43667× shlédnuto - RSS komentářů - tagy: facebook twitter webdesign