lis 06 18
| | |
| --- | --- |
| Datum a čas | sobota 18. listopadu 2006, 00:58 |
| Tagy | i-legalne pda webdesign |
| Komentáře | 4 (přejít na komentáře, přidat nový, sledovat pomocí RSS) |
| Přečteno | 19558× |
| Popis | O novém serveru určeném ke stahování hudby se toho napsalo hodně, většinou nic moc pozitivního :). Vzhledem k tomu, že momentálně trpím počítačovou nouzí (už přes dva týdny notebook v servisu) a rozdávání kreditů na jednu píseň je časově omezené :), zkoušel jsem i-legálně.cz přes PDA. A překvapivě to (s menšími obtížemi šlo) – screenshoty. |

Jediný problém je, že k tomu potřebujete Operu pro Pocket PC, protože normální Pocket Internet Explorer nezobrazí jedno takové důležité tlačítko – Přihlásit. A i pokud by se vám povedlo se přihlásit, patrně PIE nezvládne zbytek webu, je tu vidět, že Opera toho unese víc i na webech, které nejsou primárně mobile-friendly (administrace AdSense, někdy tu a tam prvky AJAXu a tak). Podobné je to taky u přidání písničky do košíku – na počítači se vám ukáže javascriptové okno (viz. obrázek), zatímco na PDA vám vyskočí div s čtverečky, který vypadá, jako že se stala chyba – přidání do košíku se ale tiše podaří.

Stažení licence musí pravděpodobně proběhnout naopak přes Pocket Internet Explorer, jinak se licence asi neuloží či co – Opera řekne, že se podařilo, WMP se ale domáhá licence dál. Přes PIE se ale vše nakonec podaří a WMA lze dál přehrávat bez připojení k Internetu. Být si jistý, že se nákup podaří, tak asi vybírám lépe a neberu hned Helenu V. :) (aspoň Robbieho třeba).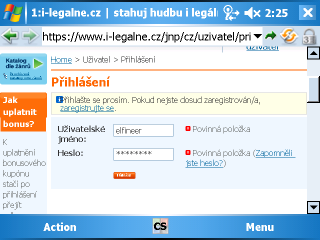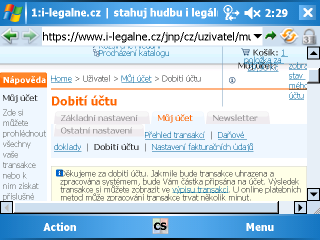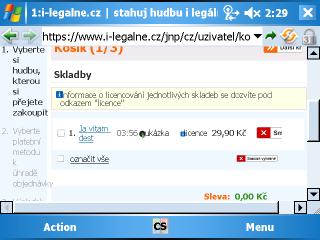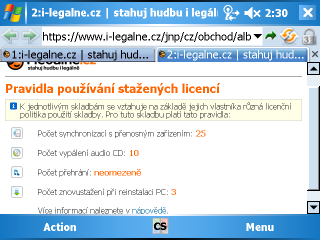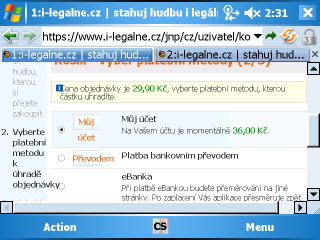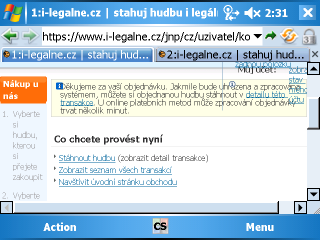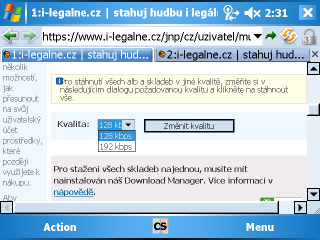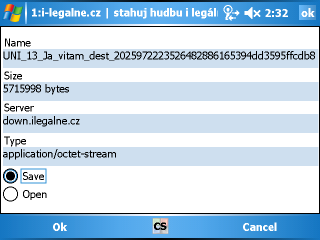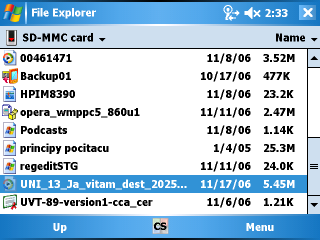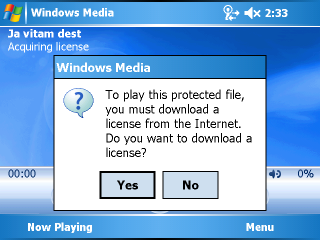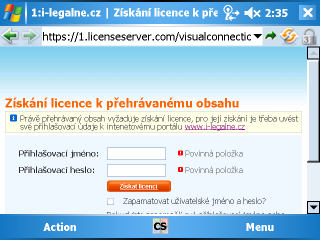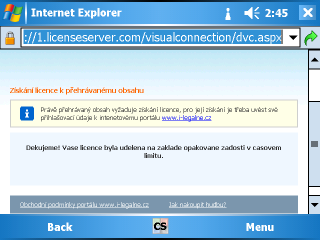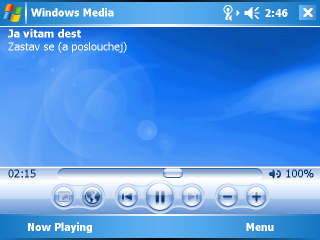 Já bych celý projekt hodnotil poměrně kladně (i když s objektivními nedostatky naprosto souhlasím a závěr dává smysl, nějak mám furt z toho pozitivní pocit :) ). Kdybych byl v pozici, že mám dost peněz / podnikatelskou jistotu a tak, že chci nějaký takový projekt udělat, asi bych to neudělal, právě kvůli DRM.
Pochybuju, že by mi nějaké hudební vydavatelství dovolilo prodávat normální MP3 (bez jakékoliv ochrany). Dokážu si sám sebe představit jako uživatele, který DRM odmítá. Pocit, že mě při každé reinstalaci počítače bude někdo kontrolovat (já vím, už teď je to aktivace Windows a nebo já vím, můžu si offline zazálohovat licence) mě vadí. Hodnotím kladně, že si člověk nekupuje jednorázově soubor, ale právo na něj takovým způsobem, že si jej může na jiném počítači po přihlášení stáhnout, podobně jako na iTunes (tedy že to není "nezazálohoval sis licence, smůla, plať znova").
Ale to je i kámen úrazu – nechci být pod dohledem někoho z i-legálně. Stejně tak podle zákona můžu kamarádovi / bratrovi půjčit CDčko na poslechnutí (pokud nově neporuším žádnou CD ochranu, super update zákona, jen tak dál) Tady bych mu asi musel dát můj login do i-legálně, on by mi vyčerpával limity a tak. Navíc by mě zajímalo, jak je to vůbec s MP3 přehrávači – já mám jako přehrávač PDA, ale takových lidí moc není. Co se stane, pokud takový soubor zkopíruju do přehrávače, který sice WMA umí, ale co s DRM? Nebo musím kopírovat přes Windows Media Player / Přenosná zařízení?
Spolu s tímhle mě napadá veselá příhoda, která vypadá trochu mimo. Spolužák (nebudu jmenovat, nechci si dělat z nikoho jmenovitě srandu :)) mi nedávno vysvětloval, že on účet v bance nemá, protože tomu nějak nevěří, aby měl peníze na kartě, jen někde v počítači (což mi přišlo vtipné u studenta informatiky :), btw už účet stejně má). Zajímavé je, že mít peníze v bance mi nevadí. Ale aby mnou zaplacené MP3 nepatřily mě, to mi nějak vadí. Ovšem kdyby mi ČSOB vysvětlila, že si za 2000 Kč smím koupit 2000 jejich eKč, které budu mít na účtu a můžu se na ně koukat jak často chci, ale že pokud se je pokusím vybrat víckrát než třikrát nebo z bankomatů, které od sebe nebudou vzdálenejší víc než jeden kilometr, asi by se můj názor změnil :).
Vypadá to rozporuplně, vždyť jsem psal, že na i-legálně pohlížím pozitivně. Celý projekt je fajn, má hezký design, vypadá jako by ten, kdo ho dělal, tomu rozumněl a ne, že jen tupě plnil plán "portál pro stahování hudby", dotažené jsou i drobnosti jako flashový přehrávač ukázek a tak. Zde mi přijde škoda, že si myslím, že moc nadějí na úspěch nemá a to právě kvůli DRM. Jen ať po mě nikdo nechce, abych kvůli tomu opustil CDex.
Na Linkuj tak oblíbenou výzvu Ignorujte i-legálně.cz! považuju za totální blbost, je to jako kdybych řekl, že pokud nemáte monitor s rozlišením…, operační systém… a já nevím co, tak vůbec nemáte nárok na to, abyste si můj blog četli (natož na papíře proboha, vždyt tím by se mohla ztratit moje několikahodinová volba ideálního fontu).
Mimochodem by mě zajímalo, co má název i-legálně společného s Applem, protože poprvé jsem takové spojení slyšel s Anetou Langerovou, když dělala reklamu iPodům a vyznělo to asi jako iTunes budou, těšte se!.
sobota 18. listopadu 2006, 00:58 - 19558× shlédnuto - RSS komentářů - tagy: i-legalne pda webdesign
---
Reklama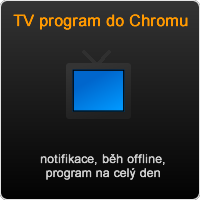 Reklama
Kvalitní domény, levný webhosting
Vyzkoušejte spolehlivý Český hosting. www.cesky-hosting.cz
Facebook tipy
Moje weby
---