říj 11 19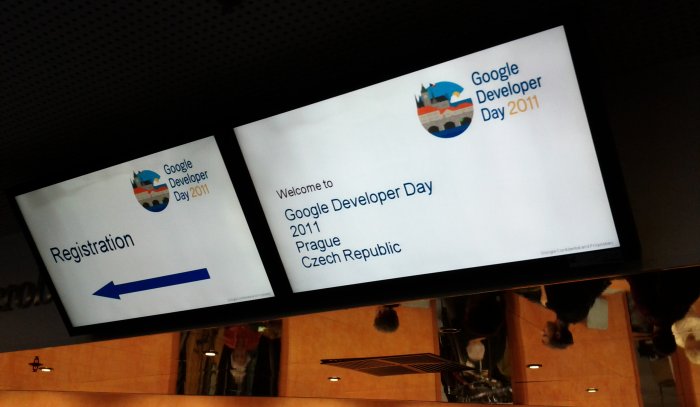 Keynote
Keynote se mi zdála tradičně nejzajímavější (byť na Twitteru bylo dost hlasů, že je keynote dlouhá a nudná). Oproti loňské byla tak nějak více konkrétnější – zatímco loni se mluvilo o tom, co je cloud atd., letos více "podívejte se, co všechno se dá s...".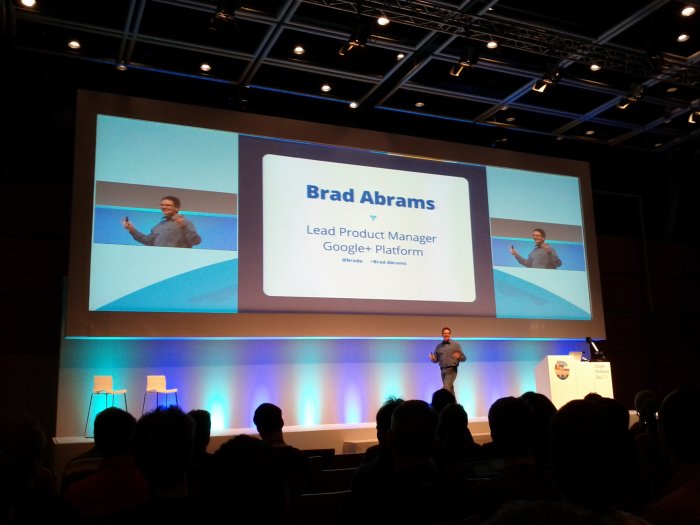 Po úvodním slovu Filipa Hráčka moderoval Brad Abrams (Google+); z jednotlivých částí:
Android: prezentace aplikace Sleep Droid
HTML5: celosvětově prý podpora kolem 70%, ČR 80%. Pěkný příklad s vodou a pár podobných (jezdící auta, kreslící stíny). Pár tipů pro DevTools (zformátování minimalizovaného JS), pište pro Chrome Web Store a následně vyhlášená soutěž.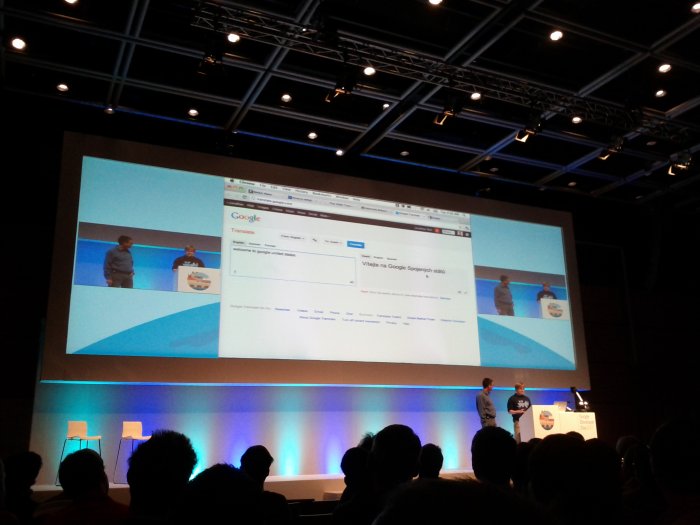 YouTube 3D videa: pod každým sedadlem papírové 3D brýle a trailer na novou Dobu Ledovou (toto video, ale v 3D) – přiznávám, že si nemůžu vzpomenout, co na tom bylo za technickou novinku. Efekt trochu funguje i na této fotce plátna.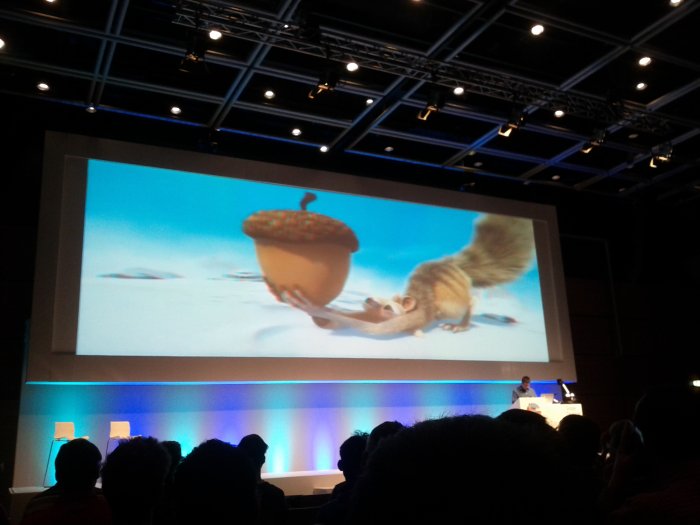 Mapy.google.cz: možnost zapnout vykreslování ve WebGL, kdy kreslí klient a nestahují se obrázky, ve výsledku je pohyb mnohem plynulejší (bomba). Ani pro StreetView pak není potřeba Flash.
AppEngine: hlavně se zmiňovalo nedávno spuštěné Cloud SQL; pro mě osobně velká novinka, že na AppEnginu lze provozovat i PHP (s pomocí Quercus) – někdy určitě vyzkouším.
Social: samozřejmě Google+ – tohle vlastně byl první GDD od spuštění G+, osobně jsem čekal, že bude na keynote zmiňován mnohem více.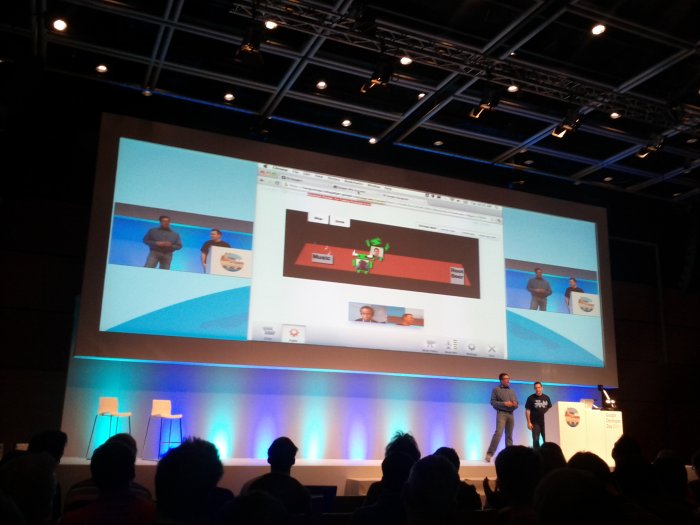 Z dalších přednášek, co jsem navštívil
Excellence in the Android User Experience – jak napsat aplikaci pro tablet i telefon, s Honeycombem přijde tmavě neonové barvy v duchu filmu Tron (update: přislo), pak tipy, jak psát aplikace správně. Ukázka aplikace OvuView, která má tak zábavně zpracované grafy, až to trefně vystihl @carnero_cc, z pohledu GDD šlo o rady, jak si vytvářet vlastní prostředí.
Displaying Large Geographic Datasets: Google Fusion Tables: hlavně ukázky API
Working Off the Grid: HTML5 Offline: velmi užitečná přednáška, shrnutí věcí jako je Local Storage, Session Storage, Index DB a WebSQL, FileSystem API… Já osobně například neznal stránku chrome://appcache-internals/ v Chromu.
VC Panel: Entrepreneurship, Incubation and Venture Capital jsem navštivil trochu z nouze, protože mě z daného řádku neoslovilo nic (zatímco v bloku 12–13 jsem se do poslední chvíle rozhodoval mezi třemi) a poslouchalo se to i poměrně zajímavě (byť žádéné start-up úmysly nemám), každopádně zjednodušování pana Rostocka na poučky, přes které nejede vlak, mi lehce nesedělo (něco jako dotaz od diváka, jestli není nebezpečné přemlouvat i kamarády, ať se pustí do start-upu se mnou a vykašlou na normální práci – odpověď: tak to pak nejste dobrý leader, do ničeho se nepouštějte a prostě jste idiot – ale třeba se to takle zdálo jen mně).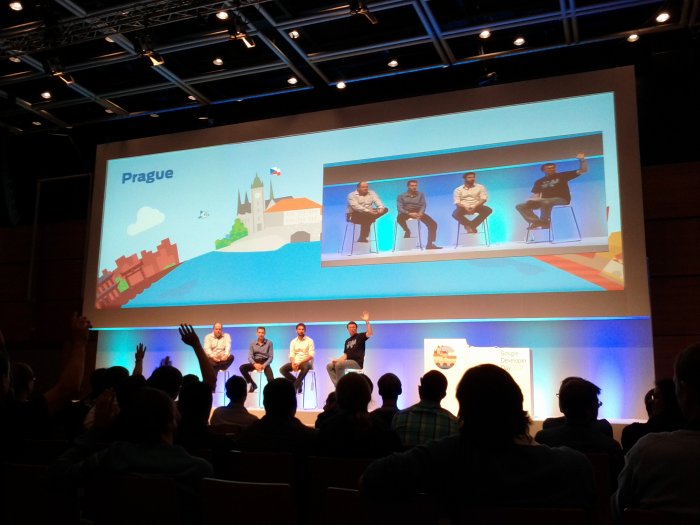 Bleeding Edge HTML5 – taky moc pěkná přednáška, zmíněné věci jako pageVisibility API, prerender, Web Intents – princip trochu jako když Android (či klidně i Windows) nabízí, kterou aplikaci chcete pro danou akci použít – weby se jako by zaregistrují pro danou akci (úprava obrázků, sdílení odkazů) a uživatel si pak vybírá – úplně do detailů jsem to ale nezkoumal. Základ prý pochází z Prahy z loňského GDD. Dále pak ještě ukázky Fullscreen API, WebRTC (Real Time Communication), Web Audio API – zajímavé, ale velice specifické využití.
DevTools Tips and Tricks – stejný přednášející jako u HTML5 ^, přednáška se mi zdála trochu nudnější než předchozí, ale taky měla smysl – ukázky, že v Developer Tools v Chromu jdou vypsat i obsahy jednotlivých Storage (Session i Local), databáze…
Ignite, a Series of Lightning Talks – tam jsem měl jít radši, ale určitě to bude na YouTube, stihnul jsem jen poslední, Davida Grudla (téma: Twitter) a tradičně perlil, zajímaly by mě ale i ty serióznější (jako internet věcí - update: už nevím, kde jsem ho vzal :) atd). UPDATE: vložené vide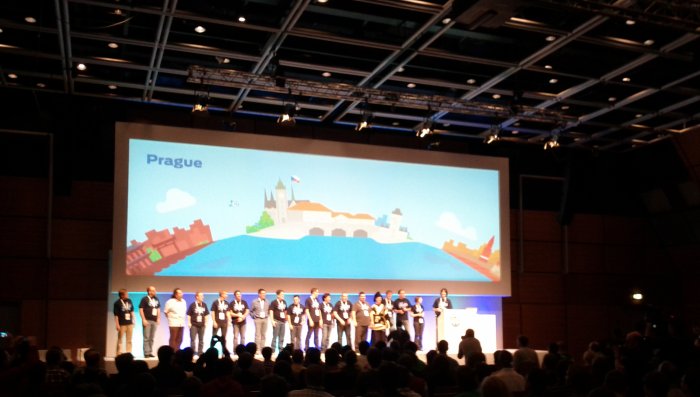 Další
No chválit Google za fajn akci každý rok je skoro až nuda, ale tradičně povedené, oproti minule bych dal velké plus (+1) za to, že přednášky mezi sebou byly časově kompatibilní (šlo mezi nimi přecházet, ne že by se přetahovalo), odznáčky na výměnu i offline +1 samolepky pěkný nápad, aplikace do telefonu povedená; vůbec celá organizace byla bezchybná (teda jen obří fronta ráno, tak na 20 minut, i když vypadala hrozivěji, jinak ale OK), Twitter zeď/námořní bitva fajn…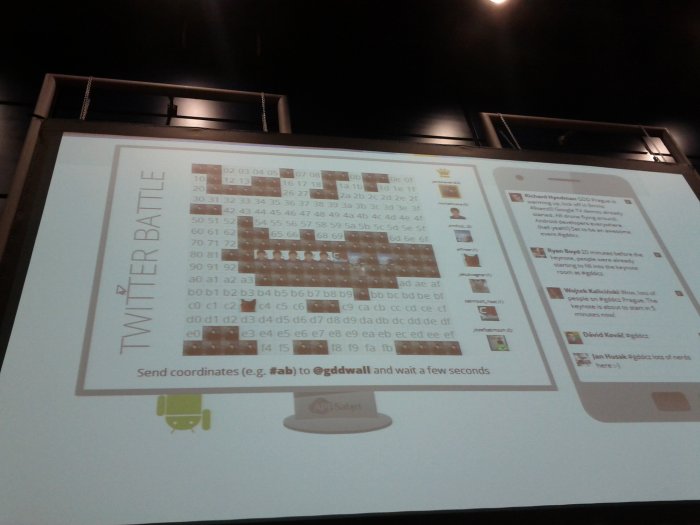 Tak můžeme doufat, že když se GDD letos koná jen v 8 zemích, tak že v nich ČR opět bude i za rok, když máme tak velkou hustotu vývojářů (mmch chtělo jít 2000 lidí, do Clarionu se vešlo 1000). Stejně nějak na GDD (ale i Webexpu třeba) oceňuji spíš než konkrétní znalosti tak nějak inspiraci/popíchnu­tí, člověk chvíli nejede pořád ve stejných kolejích, ale třeba se dozví, že už by mohlo mít smysl zkusit ten Chrome Web Store a tak…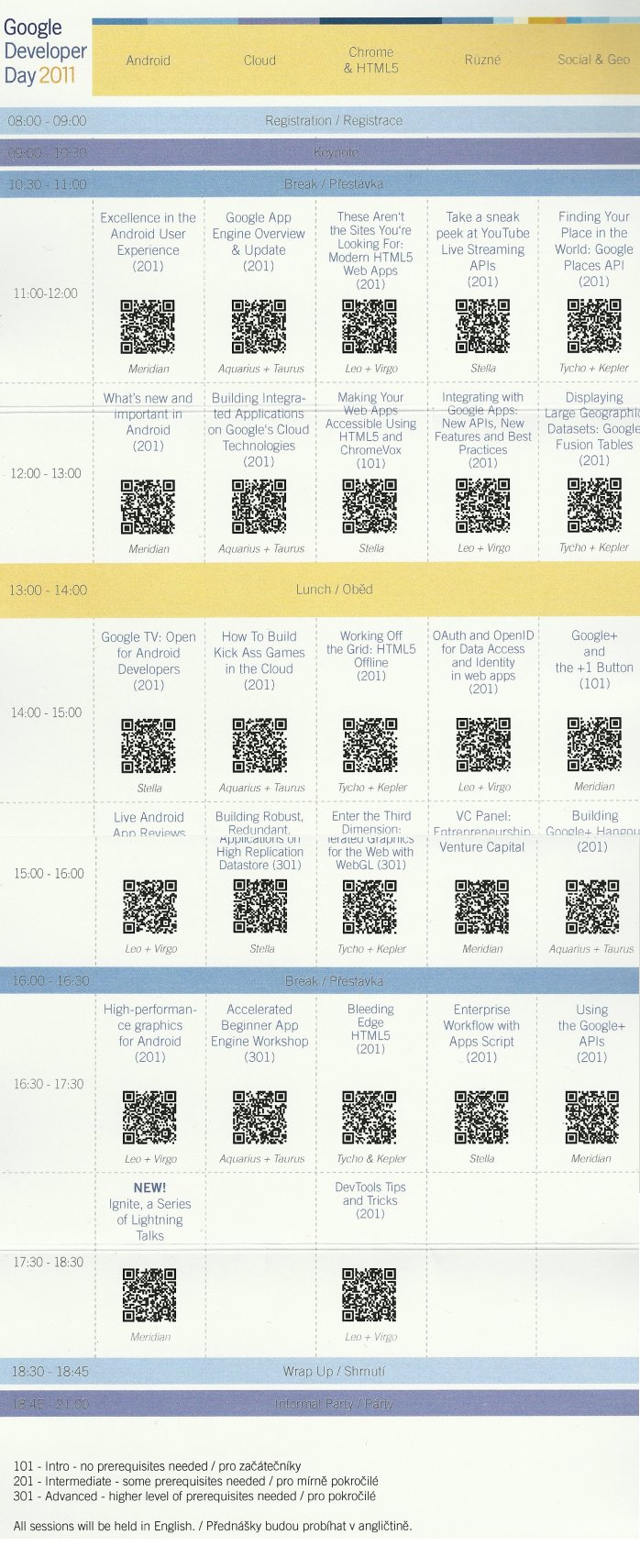 pondělí 19. října 2011, 09:55 - 16778× shlédnuto - RSS komentářů - tagy: gdd google weby
---
Reklama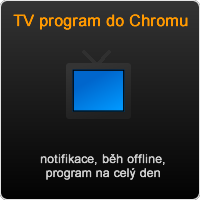 Reklama
Kvalitní domény, levný webhosting
Vyzkoušejte spolehlivý Český hosting. www.cesky-hosting.cz
Facebook tipy
Moje weby
---