lis 09 07
Toto je opravdu spíše jen pár mých poznámek, seriózních článků popisujících Google Developer Day bude jistě hodně na Weblozích, taky tradičně pěkné články plné informací míva na blogu třeba Milan Kryl. Já si moc poznámky nedělal (když mě zaujala nějaká konkrétní věc, tak jsem si ji napsal mailem sám sobě) a fotit mobilem se mi taky moc nechtělo s tím, že bude určitě spousta lepších fotek.
Zahájení kromě uvítání mělo z větší části upoutávky na to, o čem budou následující přednášky – ukázka základních funkcí Wavu, představení GoodData a podobně.
Sekce Entrepreneur
Hned jako první přednášku jsem si vybral Driving traffic to your site (Chewy Trewhella) a přišla mi nakonec asi z celého GDD nejužitečnější. Lehce mi splývá i s Engaging users od stejného autora (obsahem se místy překrývaly, ale ne moc) a nešlo ani tak o přehled nějakých nových funkcí, ale spíš prolítnutí různých možnosti využívání stávajících. Sice jsem v duchu záupěl, že jsem měl jít na Wave API, když začal na začátku popisovat základy Google Analytics ("…fungují tak, že vložíte do stránky takovýto kód…"), ale mluvil velmi rychle (a stále tomu bylo bez problémů rozumět) a stihnul např. iGoogle gadgety, Friend Connect, Co-op, video, Website Optimizer i se spoustou příkladů webů, jak je používají. I takovýhle přehled se hodil, například jsem nevěděl, že Friend Connect má tolik funkcí (jen stejně nevidím využití pro žádný ze svých webů). Úplnou novinkou pro mě byla ale funkce Subscribed links, kterou chci určitě v nejbližší době vyzkoušet a napsat tu o ní.
Vývoj pro mobily
Jako druhou věc jsem si vybral Intro to Mobile Development – místy to byl na mě až zbytečný úvod, ale to podle programu měl být (například porovnávání, kdy se hodí instalovaná aplikace a kdy webová). Zajímavý byl graf z Google hledání v Japonsku, jak lidé hledají u počítače a jak na mobilu (že v době oběda a večer kolem televize klesá desktop a roste mobil, jak ho mají uživatelé u sebe). Hezká byla i prezentace Pavla Petřeka z Inmite o příkladu, kde se hodila kombinace webu a nativní aplikace, či to, jak i web může pracovat s výstupem z aplikace (příklad se čtečkou čárových kódů).
Tato přednáška pak pokračovala vývojem pro Android (tam jsem nebyl) a Building High Performance Mobile Web Applications (Marc Wilson a Lukáš Kokoška ze Seznamu), ze které jsem si odnesl pár cenných tipů (jak lehce říct mobilu, ať nacachuje stránky; že u iPhona/Androida se dá použít CSS3 a příklad, kde to je vidět na iPhone verzi Seznamu), ale na používání klientské SQL databáze (jako třeba iPhone verze Gmailu, díky čemuž pak může běžet offline) bych potřeboval nějakou velkou motivaci, abych se to učil.
Geo a další
I když mapy mě moc nezajímají (ty aplikace jsou geniální, to jo), tak ozkoušeno z loňska, přednášky Jardy Bengla jsou zajímavé – stejně tak i dnešní What is new in Geo?. Čekal jsem spíše takové ty věci, o kterých už se psalo všude x-krát (takle vypadá auto, které fotilo Prahu, takle vypadá tříkolka, která fotila Hrad), ale ne - za prvé spousta funkcí map, které jsem neznal (že podporují geolokalizaci prohlížeče (kliknutím na kuličku v ovládání) nebo snadné procházení fotografií od uživatelů v kombinaci se StreetView). A za druhé zajímavosti, jako že 3D budovy v Praze nevytvořili čistě uživatelé ve SketchUp (nebo tom novém webovém modeláři), ale že pochází z dat modelu, co používá třeba magistrát, a také z dat, co posbírala letadla při měření laserem (a přitom také nafotily snímky ze 45 stupňů). Díky tomu lze také procházet ve StreetView klikáním na zdi budov (myslel jsem, že to nějak zjišťují z nafocených obrázků). Kromě toho také byla spousta příkladů API (např. StreetView API, 3D mapy ve Flashi nebo odpovědi na dotazy typu "nejbližší pizza v…"). Naopak nebyla ani zmínka o nové Androidí navigaci. Honza Řežáb popisoval Lokolu, co umí (hlavně propojení s Facebookem nebo StreetView API, které již používají).
Poslední byl Roman Staněk s přednáškou Start-up as a Service, kde popisoval prodej NetBeans a aktuální projekt GoodData (samozřejmě, že jsem si pak prošel doma ten web, čím že to je vlastně tak nové :)).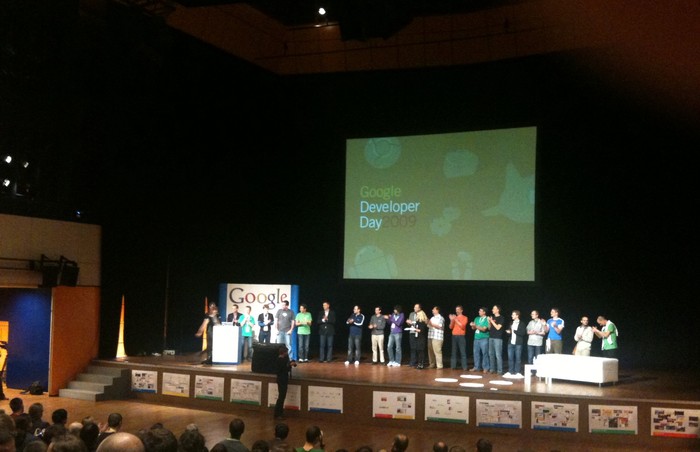 Další ve zkratce
letos prý asi 800 návštěvníků
soutěž s QR kódy vyhráli tři studenti ČVUT
zase jsem si po roce pokecal s Ivanem
tričko je hezčí než loni (modré, loni šedé), jmenovky kolem krku už na sobě neměly logo Googlu
letos byl Google DevDay v Kongresovém centru (vypadá jako kombinace "Je to tu docela pěkné po rekonstrukci kvůli MMF a pak po předsednictví EU" a zároveň "Pojďte mít kancelář v KCP, je to levnější než jinde!"), protože loňský hotel na Vysočanské (Clarion) byl plný (kde bude GDD za rok, se uvidí).
Závěr
GDD se mi samozřejmě líbil a byl jako vždy užitečný :). Pokud si chcete udělat dojem o atmosféře, doporučuji video od Václava Stoupy.
sobota 7. listopadu 2009, 00:13 - 16606× shlédnuto - RSS komentářů - tagy: gdd google
---
Reklama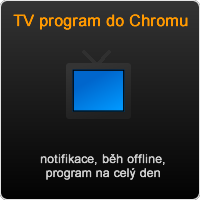 Reklama
Kvalitní domény, levný webhosting
Vyzkoušejte spolehlivý Český hosting. www.cesky-hosting.cz
Facebook tipy
Moje weby
---