pro 06 16
| | |
| --- | --- |
| Datum a čas | sobota 16. prosince 2006, 13:46 |
| Tagy | google_apps webdesign |
| Komentáře | 25 (přejít na komentáře, přidat nový, sledovat pomocí RSS) |
| Přečteno | 49534× |
| Popis | Od 14. prosince nabízí Google možnost zakoupení domény se službami jako Gmail, GTalk, Google Pages Creator a kalendář. Doména stojí $10, registruje se přes GoDaddy.com a je použitelná téměř okamžitě po zadání čísla platební karty. |
Registrace
Google už tuto službu nabízí delší dobu (článek na Kryl Blogu ze září) – dříve jste ale museli nějakou doménu vlastnit, přihlásit se do beta testu a doufat, že vás Google vybere. Nyní jakmile si zaregistrujete doménu, tak ji můžete okamžitě používat. Doména stojí $10, Google ji registruje přes GoDaddy.com a platba probíhá přes Google Checkout (což má pro vás jen takový význam, že se objeví logo Google Checkout a formulář Add Credit Card Number). Jako testovací doménu jsem si zaregistroval elfineer.com. Zajímavé je, že trvá opravdu jen pár minut, kdy začne doména reagovat na ping a objevíte se v WHOIS.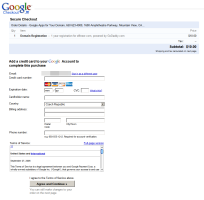 Start stránka
Na hlavní stránce (http://www.el­fineer.com) máte ze začátku stránku připomínající Google Personalized Homepage (já už tam teď mám něco z Google Pages Creator) a tuto startovní stránku na adrese http://start.el­fineer.com. Z této stránky se taky hlásíte do e-mailu a dalších služeb.
Administrace domény
V administraci můžete kromě přidávání a odebírání uživatelů měnit spíše jen drobnosti (logo, jméno). V administraci také můžete převést maily jiné domény do svého účtu (například bych mohl maily této domény elfineer.cz převést pod účet elfineer.com). Nutností by bylo změnit MX záznamy nové domény.
Uživatele můžete přidávat buď ručně a nebo pomocí CSV souboru.
Gmail
..je úplně stejný, jako každý Gmailový účet pouze s tím rozdílem, že nekončí gmail.com. Je možné k němu přistupovat přes mobilní telefon, používat stejné funkce jako u normálního Gmailu včetně Google Talku. Rozdíl je v kapacitě – tento Gmail má "pouze" 2048 MB.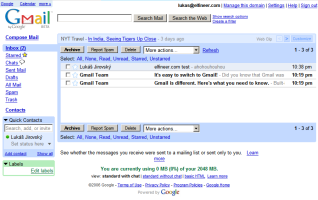 Domain web pages
Na takovéto doméně můžete mít webové stránky vyrobené pomocí služby Google Pages Creator (Kryl Blog). Jinak ale není možné použít vlastní stránky nahrané přes FTP! Google neposkytuje standardní webový hosting, tyto Google Pages jsou něco jiného.
Úprava úvodní stránky
Úvodní stránku si můžete upravovat jak z pohledu uživatele (standardní Google Personalized Homepage), tak administrátora domény.
Google Calendar je také stejný jako obvyklý kalendář, prohlédnout si ho můžete na adrese http://calendar­.elfineer.com.
Závěr
Jistě jde o zajímavou službu, jen nějak marně hledám využití :). Menší firmu by třeba zaujala možnost velkých mailů a společného kalendáře. Problém ale nastává s webovou prezentací – viděl jsem už několik domén, které měly normální webhosting a k tomu mail od Googlu, ale na to musely být vybrány v rámci Google Apps Beta programu (update: platilo pravděpodobně jen dřív, teď už automaticky), pro tyto desetidolarové domény to snad neplatí (pokud víte víc, napište prosím do komentářů). Zajímavé by to mohlo být také třeba pro skupinky lidí (spolužáci ve škole), kteří by mohli ocenit společné IM, nástěnku, maily, kalendář. Ale na to nakonec nepotřebují řešení od Googlu, ale mají ICQ a spolužáky.cz :). Napadá vás nějaké využití?
Update (1. 2. 2007)
Důležité je zde, že u domény koupené pro GAPS lze doménu nastavovat stejně, jako by patřila vám před zapojením do GAPS. Je tedy možné i na nové doméně provozovat webhosting spolu se službami od Googlu. Více v tomto článku.
sobota 16. prosince 2006, 13:46 - 49534× shlédnuto - RSS komentářů - tagy: google_apps webdesign
---
Reklama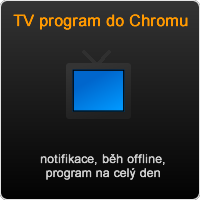 Reklama
Kvalitní domény, levný webhosting
Vyzkoušejte spolehlivý Český hosting. www.cesky-hosting.cz
Facebook tipy
Moje weby
---