čer 09 10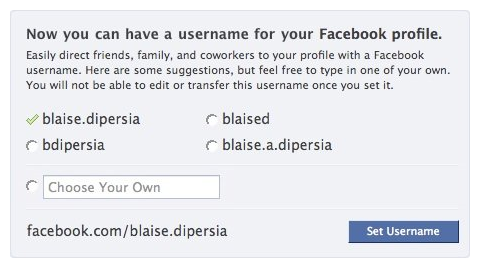 Na Facebooku se dnes objevila informace, že od soboty si každý uživatel bude moct zvolit uživatelské jméno, které bude mít v adrese místo aktuálního čísla (tzn. například www.facebook.com/el­fineer místo www.facebook.com/pro­file.php?id=1234567890. Normálním lidem to přinese hezčí adresy na odkazování z blogu, fajn.
Facebook Pages
Větší význam to ale bude mít pro firemní stránky (Facebook Pages). Také získáte adresu www.facebook.com/(ně­co). Opět nejspíše můžeme čekat boj o jména (takové domény v menším) – Facebook ho také očekává a oznamuje, že možná budou mít problémy ti, kdo si založili osobní profil ode dneška nebo Page od 31. června.
Takže nezapomeňte, jestli chcete mít unikátní adresu www.facebook.com/se­xymeda, přivstaňte si, v sobotu 13. května v 6 ráno našeho času si zaberte, co chcete :).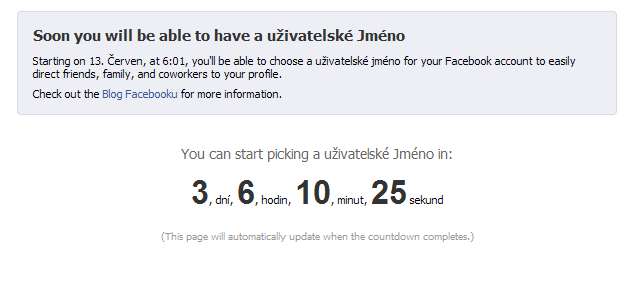 Jméno musí mít alespoň 5 písmen a nelze je už pak nijak změnit. Kromě písmen jsou povolená čísla, čárka a tečka. U Pages by neměla jít zaregistrovat běžná slova (pizza...).
Více naleznete na blogu Facebooku. Informace pro správce Pages zde.
Update (neděle 14/6):
Já to říkal :) - ČT24: Cybersquatteři osidlují jména celebrit na Facebooku.
pondělí 10. června 2009, 00:01 - 21401× shlédnuto - RSS komentářů - tagy: facebook webdesign
---
Reklama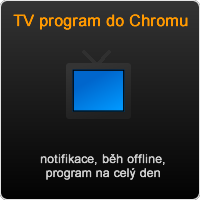 Reklama
Kvalitní domény, levný webhosting
Vyzkoušejte spolehlivý Český hosting. www.cesky-hosting.cz
Facebook tipy
Moje weby
---