říj 10 26

CZ.NIC dnes spustil MojeID – službu pro jednotné logování na různých webech, které MojeID podporují.
Jak to funguje?
Při přihlášení jste přesměrováni na mojeID, zadáte login, při prvním použití potvrdíte, jaké údaje webu předáte a pak jste vráceni zpět na web.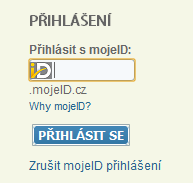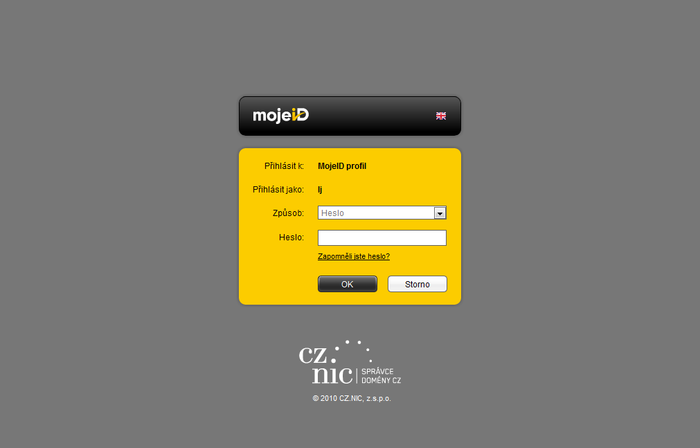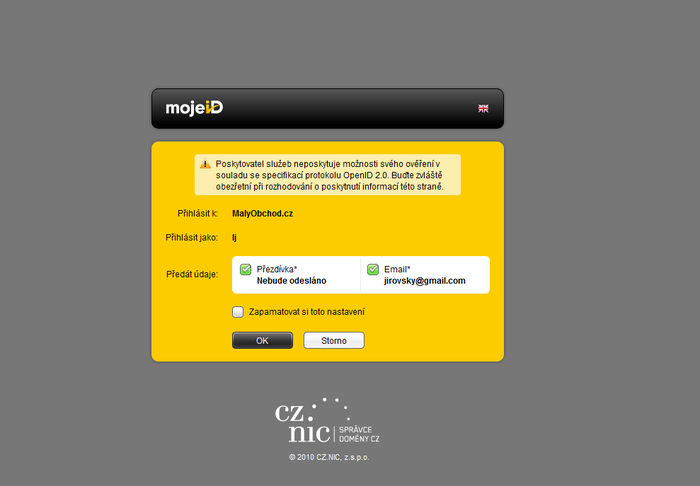 Nemělo by jít o nic převratného technicky, i když takto celá služba je unikát a zahraničí prý spíš kouká, jak se MojeID chytne. Moje ID je kompatibilní s OpenID, standardem, který tu už je docela dlouho. Pokud to ale zastřeší CZ.NIC, zní to věrohodněji (víte dobře, komu svěřujete svoje údaje a že je nijak nezpronevěří – jako prodej na spam) a taky to zaručuje kvalitu a to, že služba ze dne na den neskončí. (I když Seznam umí OpenID už téměř 2 roky a taky bych mu poměrně důvěřoval.)
CZ.NIC to také umí "prodat" jako užitečnou službu do zpráv České televize (koukejte večer; update: odkaz na ČT24.cz).
Pro "jednoduššího uživatele" (začínajících už dneska tak moc není) snazší na pochopení – má to svoje logo, podporu, web je udělaný tak, že rychle pochopíte, k čemu to je a zas tak moc se tam nemluví o těch chytrých OpenID slovech. (Přiznávám, když jsem viděl poprvé OpenID, tak jsem tak úplně nechápal, proč loginy vypadají jak poddomény – teď už ano, ale já to pochopit chtěl, normální člověk nemusí.)
Kouzlo MéhoID je také v tom, že předá údaje o lidech (jméno, e-mail, adresa) a vy přitom jasně vidíte, co se předává. Ne jako Facebook, který to tak neurčitě splácne "Osobní údaje, jako…") a moc toho nemůžete upravit.
MojeID existuje ve dvou možnostech pro provozovatele – lepší (placená) pro eshopy a podobné weby, a druhá, která je zdarma a hodí se pro různá fóra, komentáře apod. Liší se hlavně v předávání údajů, každopádně placená stojí jen 1000 na rok, žádná pohroma. Trochu otravnější je ale papírování.
Údaje každého uživatele se navíc ověřují e-mailem (PIN 1) a SMSkou nebo poštou (PIN 2) při registraci a pak ještě poštou (PIN 3). Taky nemáte mít více identit. Pro přihlášení je možné kromě hesla používat také certifikát v prohlížeči.
Doteď samá chvála – vážně myslím, že to vypadá jako velmi nadějná služba a aktuální problémy s nepochopením chybových hlášek jsou jen drobnosti při startu.
Facebook Connect
Ale co Facebook? (A to zanedbávám Twitter či Google Account.)
Facebook Connect se stal za 2 roky, co existuje (od května 2008), nejspíš nejčastějším takovýmto řešením - najdete ho i v eshopech (třeba Datart) a umí téměř totéž.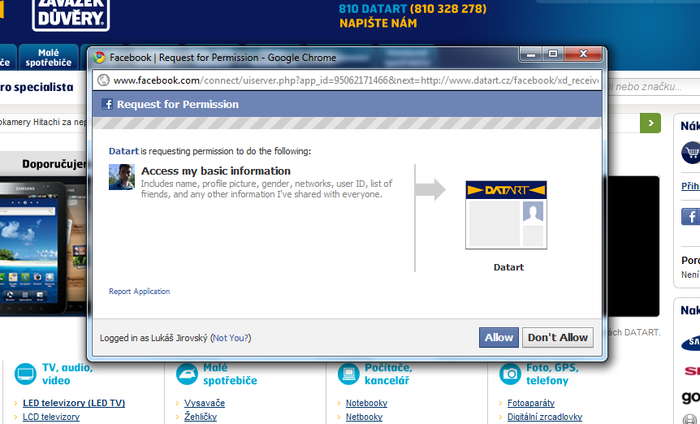 Porovnání Facebook Connectu a MojeID
Snadnost implementace – trochu vede Facebook, je jednodušší. Ale není to rozhodující údaj.
Pochopení pro uživatele – opět Facebook. Minimálně ze začátku bude nutné lidem vysvětlovat, co to je, k čemu to je, jak si to pořídit a mohlo by se stát, že je úplně odvedete od toho, co chtěli dělat. Tam má mojeID trochu riziko, aby neskončilo jako další nesmyslná ikonka v eshopech (něco jako "Zde můžete platit s juicePay!").
Reálnost údajů – zcela jasně vede MojeID. Pěkný byl z prezentace příklad, že eshop by mohl nabízet slevy lidem s ověřenou poštovní adresou, protože si může být jistý, že ten člověk existuje.
Neskončíte ze dne na den – opět jasně MojeID. Ne, že bych se s tím osobně setkal, ale Facebooku se můžete kdykoliv znelíbit a máte po logování (bez odpovědi, bez důvodu). Pokud jste se uživatelů alespoň nezeptali na e-mail, tak jim nemůžete poslat nový login a skončili jste. MojeID má výhodu, že se s vámi někdo bavit bude.
Opravdu jedna identita – opět MojeID. Facebook sice v podmínkách zakazuje dělat si víc účtů, ale to jsou jen podmínky. Každopádně například pro zablokování člověka na diskuzním fóru by mi Facebook přišel dostatečný – registrovat si kvůli tomu nový Facebook účet už je tak nějak moc (jako když Sheldon lhal a vymýšlel si bratrance).
Množství údajů – spíš Facebook, řekl bych. Například seznam kamarádů může být cenný. Poštovní adresu se z něj ale asi nedozvíte.
Kontrola nad předávanými údaji (z pohledu uživatele) – jednoznačně MojeID - snadno upravíte, co sdílíte.
Závěr
MojeID vypadá podle mě jako ideální na seriózní použití jako jsou zmiňované eshopy a podobně. Trochu se mi ale nelíbí jen ta jedna identita – ne, že bych na internetu vystupoval jako X dalších lidí, ale zase dělat z toho elektronickou občanku taky ne.
Co vy myslíte, chytne se MojeID?
pondělí 26. října 2010, 17:10 - 13984× shlédnuto - RSS komentářů - tagy: mojeid autentifikace
---
Reklama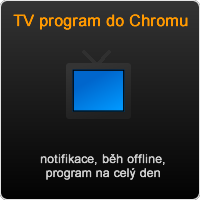 Reklama
Kvalitní domény, levný webhosting
Vyzkoušejte spolehlivý Český hosting. www.cesky-hosting.cz
Facebook tipy
Moje weby
---