říj 08 29
Pražská wifi síť s názvem Bezdrátová Praha je budována od roku 2007 pro vybrané městské části (kolem třetiny) a neměla by mít nic společného s jinými aktivitami jednotlivých částí v oblasti internetu zdarma jako např. na Praze 13 – více informací o Bezdrátové Praze naleznete případně na stránkách projektu.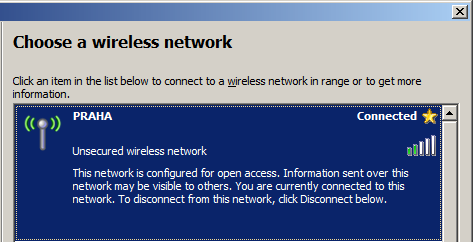 Poprvé se mi síť PRAHA objevila v notebooku během prázdnin, vím, že když jsem ji zkoušel, tak se mi povedlo se dostat rozumně jenom na web magistrátu a Prahu.eu. Vzhledem k tomu, že nám doma díky zrychlování ADSL odešel internet (nutno dodat, že chyba není na straně O2, nějak se odporoučel modem), tak jsem začal zkoušet, jestli se nedá přes PRAHU připojit k internetu nějak rozumněji.
Samozřejmě, že nedá* – jinak by to narušovalo tržní prostředí a město by dostalo po čumáku od EU (asi i právem), ale přestávám mít pocit, že to jsou jenom vyhozené peníze. *) Jde mi chat a soubory po Skypu (hovor netestován) – Skype si ale většinou najde cestu všude, ICQ nebo třeba meebo ani omylem.

Nejprve co se stane, pokud se podaříte otevřít nějakou "normální" stránku – např. Google. Objeví se upozornění, že máte smůlu a jste přesměrováni na Rozcestník. Ten docela slušně naznačuje, kam se asi tak můžete přes wifi dostat, obsahuje i pár hezkých věcí, jako že vám například na mapě ukáže, kde je umístěný AP, přes který jste připojeni. Občas se objevují drobné chyby – např. při hledání jízdních řádů z Rozcestníku nenajdete nic, ale přes normální web DPP vše funguje, jak má; webkamery jsou přístupné, ale potřebují si stahovat mapové podklady z Google Maps → nejdou; Rozcestník vede pro informace o odpadech na ipodec.cz, který je také blokován.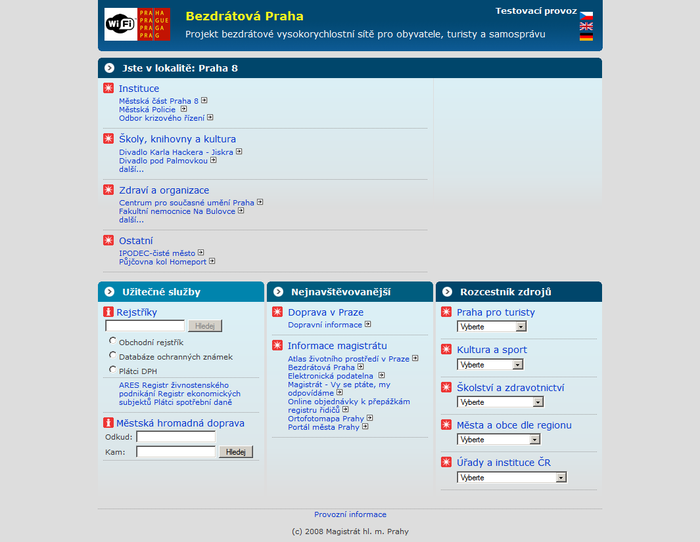 Teď ale na jaké weby se přes Bezdrátovou Prahu dostanete:
Praha.eu, Praha-Mesto.cz, weby městských částí
Portál veřejné správy (tzn. mj. kompletní zákony, i když obtížně použitelné)
Evropská Unie, strukturální fondy…
Weby mininisterstev
Weby vysokých škol (cuni.cz, vse.cz; cvut.cz nebo czu.cz překvapivě ne) – včetně HTTPS přístupu do Informačních systémů a školních mailů přes web (velké +)
Weby nemocnic, Městské policie Prahy (policie.cz a hasici.cz ale ne)
Weby soudů, justice.cz, ARES, Obchodní rejstřík
Pražská informační služba (tak pro turisty něco o Karlově mostě)
Některá divadla, Městská knihovna a weby přes ní dostupné, máte-li průkaz (ProQuest, Oxford Reference Online, CoToJe…)
Web České televize (ale ne třeba ct24.cz), Rozhlas.cz (pravděpodobné jediné použitelné zpravodajství, iDnes/Aktuálně­/Lidovky ani omylem)
A tak dále…
Uvítal bych nějaký vyhledávač – např. něco jako Google Co-op, i když asi na trochu profesionálnější úrovni – aby bylo jasné, co se dá najít. A asi by to chtělo trochu větší důslednost (např. všechny vysoké školy, užitečné by byly i např. weby středních a jiných škol, taková databáze se dá sehnat automaticky a ne je hledat ručně; na webech EU skončíte u chyby docela rychle…).
Co si vy myslíte o takovýchto metropolitních wifi sítích? Mají smysl? Takle vyjmenované množství dostupných webů zní zajímavě a užitečně, ale používá to někdo?
Mimochodem, shodou okolností dnes také vyšlý článek o Bezdrátové Praze naleznete tu.
sobota 29. října 2008, 08:25 - 34659× shlédnuto - RSS komentářů - tagy: wifi webdesign
---
Reklama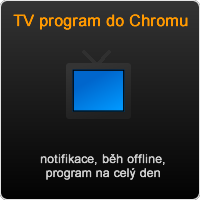 Reklama
Kvalitní domény, levný webhosting
Vyzkoušejte spolehlivý Český hosting. www.cesky-hosting.cz
Facebook tipy
Moje weby
---