kvě 08 22

O tn.cz už bylo napsáno hodně článků, takže řešit obsah samotných zpráv by byla škoda práce. Jen bych si rýpnul, že pokud na hlavní stránce zpravodajského portálu televize není zpráva Masturbace: jde to i bez ruky! to nejvíc do očí bijící, tak je to zvláštní.
Ale…
Název a propagace
Název se opravdu povedl. Tn.cz je dobrá zkratka, logická (Televizní Noviny) a dobře to zní :). Stejně tak propagace ve televizních zprávách v grafice je dobrá (ikonky v rozích obrazovky). Jen by ti moderátoři mohli mlčet, protože zpráv na Nově jsem slyšel za poslední týden dohromady asi deset minut a o té-en-cé-zet tam byla zmínka až nepříjemně často.
Videa řešena flashem
Díky tomu, že jsou videa na stránkách řešeny flashem, tak se začnou přehrávat do vteřiny po kliknutí na něj. U webů používajících WMV je to vždycky déle, alespoň tak pět vteřin u mě. Drobnosti, ale při používaní se podobné drobnosti projevují hodně.
90 vteřinový přehled zpráv
Říkal jsem si už dřív, že něco takového by mohla zavést ČT24 – mít na webu hned na hlavní stránce poslední zprávy, které jsou vždy aktuální, když je vysílá dvakrát za hodinu (pravděpodobně by se to muselo nějak zautomatizovat :)). Nova to vyřešila taky dobře – na hlavní stránce kliknete a moderátorka na vás rychle vysype několikrát denně aktualizované video a to vše má limit minutu a půl. Akorát zase ten obsah… řekl bych, že se dneska stalo i něco důležitějšího, než že nějaká paní vypadla z okna, protože chodila ve spaní (tak nějak).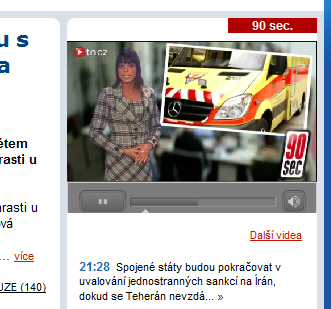 Reklama
Reklamy se objevují před samotným videem docela často a jsou nepřeskočitelné. Což z pohledu uživatele není moc příjemné, ale asi je to zajímavé pro inzerenty a možná tím Nova ukáže směr, jak by si na sebe mohl vydělat archiv seriálů apod. Stejně tak prvně vidím reklamní banner (ve videu pod menu) a nezdá se mi jako špatný nápad :). Jen ani americké televize (ABC, NBC…) si netroufnou dát na internet standardní 30 vteřinovou reklamu a dávají tak 10–15s.

Video nova.cz
Takový nenápadný odkaz na hlavní stránce, ani pořádné jméno to nemá. Ale když kliknete, zobrazí se celoobrazovkové ovládání videa (podobně jako související videa na YouTube, jen lepší), kde si rychle můžete vybrat reportáž, kterou chcete vidět (vybrané ze Snídaně a asi všechny z Odpoledních TN i stadardních TN).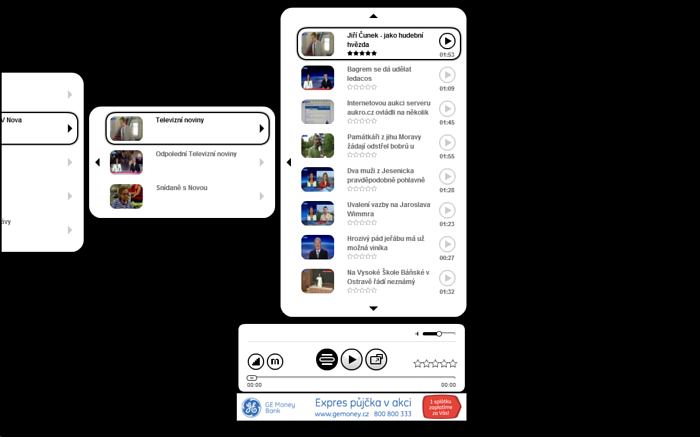 "Bonusový" obsah
Opravdu často Nova používá, že na webu jsou reportáže delší a jsou zde nějaké souhrnné informace. Někdy se také reportáže objeví na tn.cz ještě před normálními zprávami.
A poslední věc…
Sice se mi samotný design moc nelíbí (ničím konkrétním, jen mám radši "bělejší" weby jako třeba zmiňovaný ČT24), ale jedna věc se tvůrcům povedla – zabíjení času. Chcete si přečíst jednu věc a zjišťujete, že už čtete čtvrtou a koukáte na video. Něco podobného dobře zvládly servery Super a Novinky.
Závěr
Nechtěl jsem se pouštět do nějakého velkého rozboru toho webu, jen se mi zdá, že má i pozitivní místa :). Já zůstanu věrný ČT24 (jak televizi, tak zpravodajskému serveru). Bude zajímavé sledovat, pustí-li se Z1 (zpravodajská televize, co dnes začala zkušebně vysílat) do internetového souboje.
pondělí 22. května 2008, 22:31 - 31385× shlédnuto - RSS komentářů - tagy: webdesign televize
---
Reklama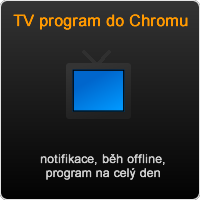 Reklama
Kvalitní domény, levný webhosting
Vyzkoušejte spolehlivý Český hosting. www.cesky-hosting.cz
Facebook tipy
Moje weby
---