čer 13 24
Cacoo používám úspěšně již přes dva roky a moje spokojenost s touto aplikací neklesá, proto jsem si už delší dobu říkal, že ji vychválím na blogu.
Jde o jednoduchý, ale mocný nástroj pro kreslení diagramů a dalších věcí, na které byste jinak potřebovali specializované nástroje. Například wireframy – sice nedokáže to přesně to samé jako např. Axure (žádný klikací prototyp zde nevytvoříte), pokud ale potřebujete nakreslit nějakou obrazovku či stránku, výsledky vypadají velice profesionálně.
Podobně například ER či UML diagramy. Oproti třeba Enterprise Architectu sice Cacoo nijak obsahu nerozumí, ale chcete-li jen obrázek do dokumentace, výsledek vypadá skoro stejně. Velmi dobře se kreslí také různé síťové prvky (switche, firewally, vymezení zón).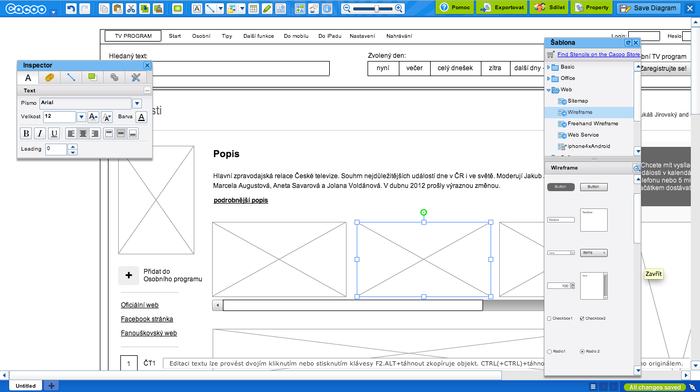 Důvodem, proč je aplikace geniálně jednoduchá a přitom podává slušné výsledky, je rozsáhlá knihovna předpřipravených prvků (např. v případě wireframů to jsou nadpisy, tlačítka, formulářové prvky…). Cacoo samozřejmě zvláda základní funkce jako grupování prvků, posunutí vpřed a vzad ("z-index"). Vrstvy jdou také, ale spíše omezeně (nový průhledný list).
Za zmínku stojí i perfektní spolupráce, která je udělaná velmi podobně jako v Google Docs/Drive.
Bohužel, nástroj není úplně zdarma – free verze nabízí 25 listů, pak musíte mazat. Stejně tak možnosti exportů jsou omezené – bez omezení můžete do PNG, ale například výhodou exportu do Powerpointu je možnost hýbat s jednotlivými prvky i v PPT. Možné je i PDF.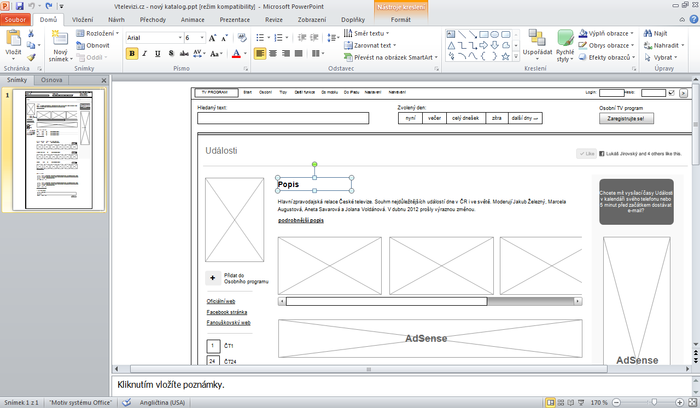 Naopak Cacoo se podle mě nehodí na diagramy, kde nezáleží na grafickém uspořádání – např. sekvenční UML nebo mindmapu bych použil něco jiného.
Každopádně doporučuji vyzkoušet.
(Linky mají můj referal code, protože 5 listů zdarma za nového uživatele se hodí, ale to nebylo hlavní motivací.)
pondělí 24. června 2013, 14:53 - 18299× shlédnuto - RSS komentářů - tagy: weby
---
Reklama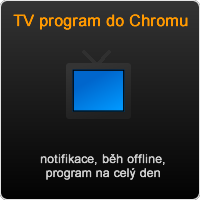 Reklama
Kvalitní domény, levný webhosting
Vyzkoušejte spolehlivý Český hosting. www.cesky-hosting.cz
Facebook tipy
Moje weby
---